SPDR S&P 500 ETF (ETF:SPY) - Tiki Barber Talks About His Biggest Financial Blunder And Why He Started Thuzio
Tiki Barber Talks About His Biggest Financial Blunder And Why He Started Thuzio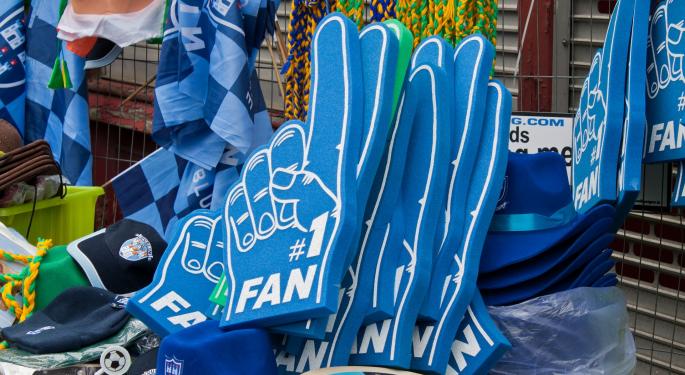 Tiki Barber is a former three-time Pro Bowl NFL pro who retired from the game as the New York Giants' all-time rushing and reception leader in 2006.
What Is Thuzio?
Barber went on to co-found Thuzio, a company that provides businesses and professionals with an "all access pass to celebrity talent and influencers through a comprehensive online platform, talent procurement services and event series."
MarketWatch profiled the former NFL star-turned-executive at Benzinga's own FinTech awards, an event that recognizes innovative financial technology companies.
Related Link: Here Are Your 2016 Benzinga Fintech Award Winners
Barber said he was "bored" with retirement and "needed something to do." He later met up with Mark Gerson, Thuzio's other co-founder and brother of a friend from university, to discuss issues facing former athletes. Specifically, how retired athletes become "not as relevant as they were" when they were playing the game.
"But they still have stories to tell, and there's an affinity that fans have for them," Barber told MarketWatch. "They just don't have a way to connect with them."
This led to the creation of Thuzio, or as Barber described it, a "marketplace for fans or business or whoever to connect with athletes that they love."
Barber's Biggest Financial Blunder
When asked what Barber's biggest financial blunder was, he answered that he bought a "ridiculously expensive apartment on the Upper East Side" in New York City. He added that the blunder was even more troubling as he bought the apartment before getting a divorce so he "had to worry about getting out of it."
"I think there's an intersection between your professional life and your personal life that a lot of people — not just athletes — don't pay close enough attention to," he added. "So it was a headache for a long time."
Posted-In: Benzinga FinTechFintech News Sports Events Success Stories Media General Best of Benzinga
View Comments and Join the Discussion!