Paul Tudor Jones Talks Trade Wars, Interest Rates, Charity In The Private Sector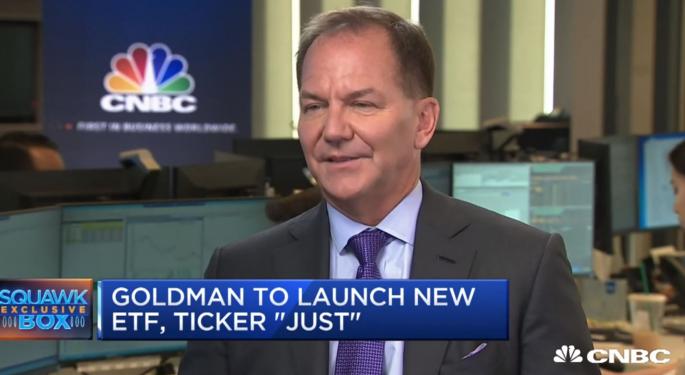 Paul Tudor Jones, founder of Tudor Investment Corp. and the Robin Hood Foundation, sat down with CNBC's Andrew Ross Sorkin Tuesday to discuss a plethora of investment topics.
The Trade War In Perspective
Some of the biggest concerns on many investor minds are unintended consequences from a trade war, but it's important to consider the bigger picture, Tudor Jones said. A weighted average tariff imposed by the four largest trading partners on U.S. exports is 6 percent, while the average tariff on imported goods to the U.S. from the same countries is just 3.5 percent, he said. While a 2.5-percent "unfairness" gap exists, it would amount to a $40-to-$50-billion "problem" in an $87-trillion global economy if it were quantified, he said.
If President Donald Trump's ultimate objective is to "do away" with bilateral trade deficits country-by-country, it's akin to "jamming a square peg in a round hole," Tudor Jones said.
Related Link: China ETFs Dealing With Trade Tensions
Fiscal Policy
If Tudor Jones was dictating Federal Reserve policy, interest rates would be 150 basis points higher today, he said. The economy boasts a 3.8-percent unemployment rate and 5-7 percent budget deficit at the federal level, Tudor Jones said. The last time unemployment was near today's levels was 2000, but the government at the time was running a budget surplus of 2.5 percent, he said.
Rates Will Move Higher
Interest rates are likely to move "significantly" higher as soon as the late third quarter, if not in the early fourth quarter, Tudor Jones said. The uptick in rates should have a positive impact on stocks, which are likely to not only "go a lot higher" but become "crazy" after the midterm elections, he said.
The move higher in stocks won't be sustainable indefinitely, Tudor Jones said, adding that higher interest rates will eventually lead to a recession, as was the case in 1987 and 1999. But that doesn't mean stocks will come crashing down.
"When you look at the stock market relative to GDP, we're at levels that historically in some other countries led to a blow-off [rally] and then some type of economic contraction," he said. "It's an old story, we'll probably play it again."
'Light' Exposure Until Q3
Since a rally in stocks isn't expected for a few more months, Tudor Jones said his exposure to the financial markets is "light." The summer months will be characterized by a "lull" in the markets, and heavy exposure to assets is only warranted when there is an "imminent price move directly ahead," he said.
Corporations Need To Be 'Just'
Philanthropic institutions allocate $360 billion to multiple causes, but the private sector is valued at $15 trillion. This is where Tudor Jones' Just Capital Foundation comes into the picture, as it ranks companies' commitment to bringing about social change and brings awareness to companies that do right by the investment community, employees, the environment and more, Tudor Jones said.
"If you're going to have true social change, if you're going to have real societal betterment, it has to start with the private sector," he said. "It has to start with business."
On Wednesday, a new Goldman Sachs exchange traded fund will begin offering investors exposure to a selection of companies based on the Just Capital Foundation's criteria.
"We are seeing clients think about this product in different ways," John Goldstein, a managing director within Goldman Sachs Asset Management, was quoted as saying in a New York Times article. "Some look to it as value-aligned market exposure, while others see a set of drivers of performance in a changing world."
Related Link:
What's The Volcker Rule, And Why Are Banks Celebrating The Fed's Proposed Changes?
Screenshot from CNBC.
Posted-In: Andrew Ross Sorkin CNBC Interest Rates Paul Tudor Jones Trade WarsFederal Reserve Media Best of Benzinga
View Comments and Join the Discussion!