Investor Movement Index (IMX) For May 2017: Tech Buying Continues
The old market adage "sell in May and go away" didn't seem to be holding true with TD Ameritrade clients last month as retail traders increased their equity exposure and the Investor Movement Index® (IMXSM) climbed to 6.13, up 1.16% from last month's reading, and remains close to the record high of 6.22 the index hit in March.
Major indexes continued their upwards climb during the May IMX period with tech stocks leading the way; the Nasdaq Composite (COMP) increased 2.3% compared to a 1.3% rise in the S&P 500 (SPX). For the first time since October 2016, the SPX posted a rare one-day decline of more than 1% on May 17th as concerns grew over federal policies, including tax reforms and increased infrastructure spending, would get passed in Congress. Despite the mid-month concerns, the S&P 500 and the Nasdaq remained resilient and bounced back to hit new highs on strong earnings—roughly 75% of the companies in the S&P 500 beat earnings estimates and overall it was the highest year-over-year earnings increase since 2011.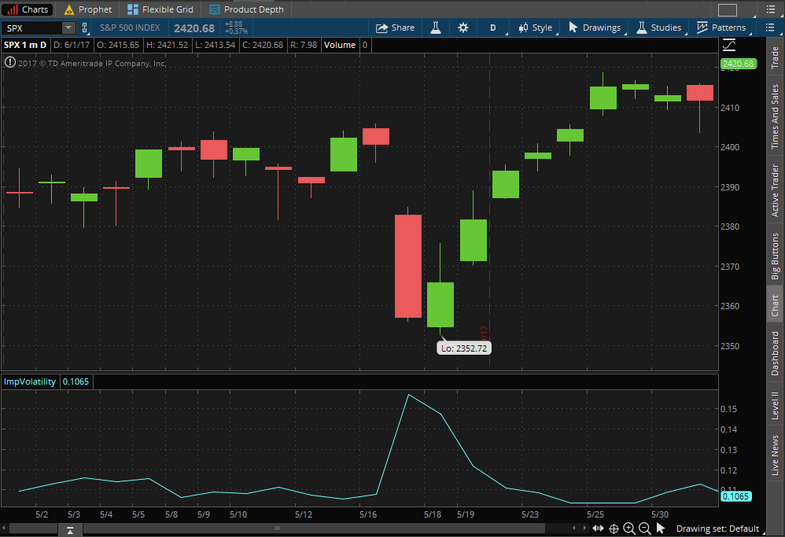 FIGURE 1: MID-MAY BOUNCE. The S&P 500 (SPX), plotted on the thinkorswim® platform from TD Ameritrade, posted its biggest decline in 7 months on May 17, but bounced back in the second half of May to post new highs. Plotted in the lower chart is the S&P 500's implied volatility, a statistical measure that reflects the likely range of a stock or index's future price change, which spiked over 40% on May 17 before declining back to the levels seen at the beginning of the month. Data source: Standard & Poor's. For illustrative purposes only. Past performance does not guarantee future results.
Some of the biggest names in tech were popular with TD Ameritrade clients: Amazon.com, Inc. (NASDAQ: AMZN) Apple Inc. (NASDAQ: AAPL), Facebook Inc. (NASDAQ: FB), and Microsoft Corporation (NASDAQ: MSFT) were all net buys during the period. AMZN reported earnings and revenue that beat estimates at the end of April, helping propel the stock to the $1000 mark for the first time ever towards the end of this month's IMX period. When FB reported first-quarter results on May 3, it also beat top and bottom-line estimates, pushing the stock to a new all-time high of $153.60. FB stock retreated with the broader indexes during the middle of the May, but has since bounced back above $150.
MSFT and AAPL's earnings beat estimates, but both came up shy on the revenue front. Speaking of AAPL, the company kicks off its annual Worldwide Developers Conference today where the company typically announces operating system and product changes during the week-long event. Automaker and energy company Tesla Inc (NASDAQ: TSLA) was also a net buy, possibly by opportunistic traders taking advantage of its post-earnings dip below $300.
In addition to the big names, several smaller tech companies were net buys among TD Ameritrade clients including chip-maker Advanced Micro Devices, Inc. (NASDAQ: AMD) and Shopify Inc (US) (NYSE: SHOP), the cloud-based multichannel commerce platform.
Moving on to what TD Ameritrade clients were selling, there were some new companies in addition to familiar names from previous periods. Citigroup Inc (NYSE: C) made the net sellers list after hitting a multi-year high of $62.69 following better-than-expected earnings.
Several stocks made the net sellers list following company announcements. Newell Brands Inc (NYSE: NWL), the maker of Rubbermaid food storage products, announced it sold its winter sports businesses to streamline its product portfolio. Our clients reduced their holdings in pharmaceutical company Bristol-Myers Squibb Co (NYSE: BMY) following a strong earnings report and an announcement that the FDA granted it priority review for one of its drug applications.
Both Whole Foods, Inc. (NYSE: WFM) and Arconic Inc (NYSE: ARNC) made the net sellers list again—the second consecutive month of net selling for WFM and the fourth for ARNC. WFM hit a 52-week high of $38.29 following its earnings results while ARNC and Elliot Management and affiliates, large investors in the lightweight-metals company, reached an agreement with management to end the proxy battle over board of director nominations in advance of the company's annual shareholder meeting.
To learn more about which stocks retail traders were buying and selling during the month, check out the video below for my take on the May IMX reading.
Q1 earnings season has come to an end and volatility remains low, but it could pick up depending on what happens at the Federal Reserve's upcoming June meeting. As of June 1, traders are projecting a 95.8% chance of a rate hike according to the CME's FedWatch tool. When it comes to trading, it's better to be prepared and proactive than surprised and reactive.
Posted-In: IMX TD Ameritrade The Ticker TapeFederal Reserve Markets Trading Ideas General
View Comments and Join the Discussion!