Market Moving FOMC Minutes Leaked Early
The FOMC Minutes for the meeting 3 weeks ago were leaked early to Bloomberg Terminal users. The FED Minutes showed members were ready to hike in June but wanted additional data. The bombshell in the report came in one sentence: "The risks to the forecast for real GDP and inflation were seen as tilted to the downside, reflecting the staff's assessment that neither monetary nor fiscal policy was well positioned to help the economy withstand substantial adverse shocks".
Word of the leak first came from Zero Hedge:
Jesus embargo broken

— zerohedge (@zerohedge) August 19, 2015
The official Twitter handle of Federal Reserve did not acknowledge the posting of the Minutes to the public Federal Reserve website until 1:54PM EDT:
Eric Hunsader of market data firm Nanex produced a a chart highlighting the swell of trading activity once the minutes hit Bloomberg Terminals: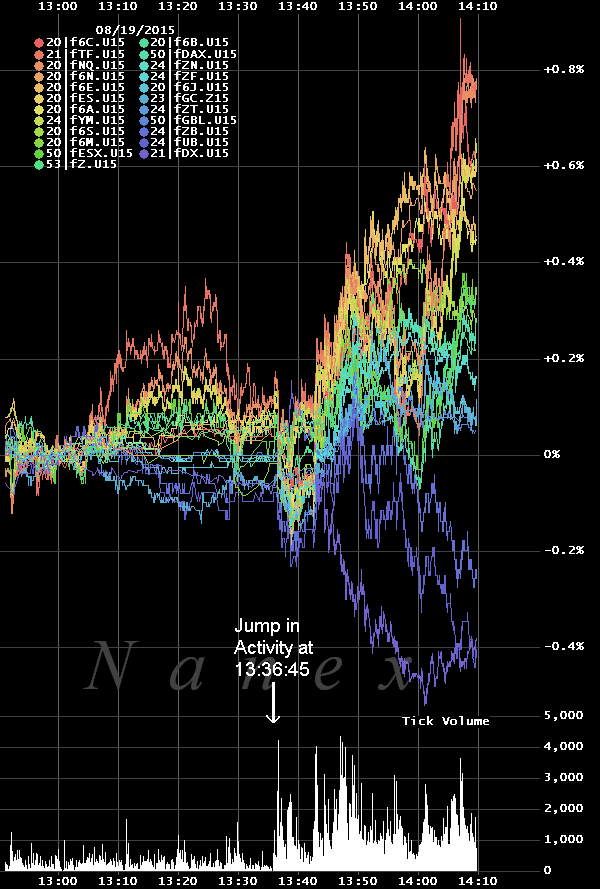 Whether anything will come of the leak of material information that was non-public for nearly 20 minutes is still unknown.
Posted-In: Federal Reserve
View Comments and Join the Discussion!