Janus Capital Group Jumps Headfirst Into The ETF World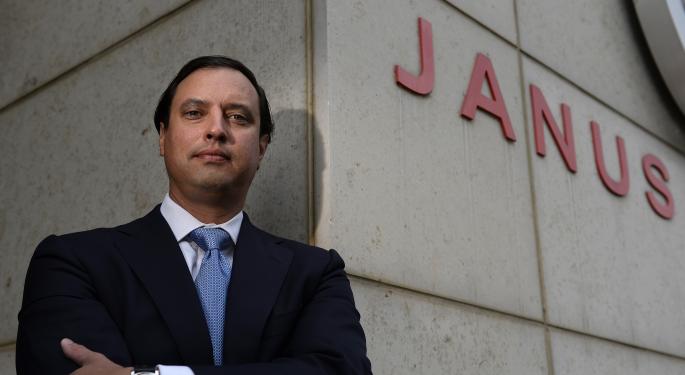 On Monday, Janus Capital Group (NYSE: JNS) announced it would be acquiring exchange-traded product provider VelocityShares, a unique developer of institutional-focused ETFs.
This move allows Janus to jump headfirst into the ETF world with an established brand and experienced team of professionals dedicated to expanding their existing product base.
VelocityShares currently offers a line-up of six ETFs that are most well-known for their ability to hedge market risks using VIX index futures.
The VelocityShares Volatility Hedged Large Cap ETF (NYSE: SPXH) is one example of an ETF that invests in a core portfolio of 85 percent large-cap equities and 15 percent volatility indexes. The end result is a diversified portfolio of holdings designed to reduce drawdowns when markets enter a corrective phase.
SPXH achieves their structure by using underlying ETFs such as the SPDR S&P 500 ETF (NYSE: SPY) and VIX futures contracts to decrease overall volatility. This fund charges an expense ratio of 0.65 percent annually and has more than $50 million in total assets.
As noted in the press release, "This acquisition positions Janus within the rapidly growing rules-based and active ETF universe, enhancing the customized solutions we can provide to our clients and enabling us to work with the growing segment of financial advisors and institutions focused on these instruments," said Richard M. Weil, chief executive officer of Janus Capital Group.
Related Link: REIT ETFs Gain On Interest Rate Tumble
Many market watchers have been speculating whether the recent move of fixed-income guru Bill Gross to join Janus' portfolio management team would ultimately lead to an ETF product startup or industry acquisition. Gross is recognized for spearheading one of the most successful introductions of an actively managed ETF in the PIMCO Total Return ETF (NYSE: BOND), which currently has more than $2.7 billion in assets.
This new marriage of Janus and VelocityShares may allow for a speedy delivery of new products ranging from fixed-income to actively managed strategies designed to attract a wider base of ETF investors. In addition, Janus will be able to pitch the current lineup of sophisticated VelocityShares products to its existing customers as well.
Ultimately, this move gives VelocityShares stronger financial backing and a reliable team of distribution and portfolio management to enhance its stature in the ETF world. I for one will be eager to see what new strategies are introduced in the coming years.
Posted-In: Richard WeilSpecialty ETFs New ETFs Previews Trading Ideas ETFs Best of Benzinga
View Comments and Join the Discussion!