Market Vectors Launches First Mainland China Bond ETF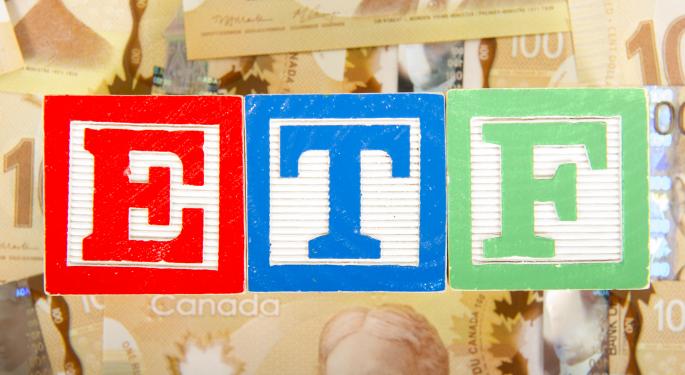 Emerging market bonds have been a hot sector of the fixed-income universe in 2014.
The iShares JPMorgan USD Emer Mkt Bnd Fd ETF (NYSE: EMB) has gained more than 8 percent in total return this year and pays a current yield of 4.61 percent.
While this benchmark index is suitable for broad-based exposure to emerging market bonds, investors with a specific country focus may seek to hone in on a burgeoning economy such as China.
With that goal in mind, Van Eck Global recently launched the Market Vectors ChinaAMC China Bond ETF (NYSE: CBON).
Market Vectors ChinaAMC
This fixed-income fund is the first of its kind to invest directly in Renminbi-denominated bonds of mainland China. This includes government, corporate and quasi-governmental agencies that are issued locally.
The fund is starting out with a modified duration of 3.88 years; however, yield statistics were not immediately available. Total net expenses for this ETF will total 0.50 percent annually.
Related Link: Tariff Removal Could Mean Fewer U.S. Jobs And Lower Priced Goods
Fran Rodilosso, senior investment officer for Market Vectors ETFs, noted that, "China is currently the largest emerging markets bond market, yet to this point investors outside of mainland China have been mostly excluded from direct ownership of locally issued bonds."
He added, "China's onshore bond market has had historically low correlation to core asset classes and has delivered attractive yields in comparison to developed bond markets in recent years."
Fund Competition: PowerShares Chinese Yuan Dim Sum
This new offering will go head-to-head with the PowerShares Chinese Yuan Dim Sum Bond Portfolio (NYSE: DSUM), which currently has more than $164 million in assets. DSUM was launched in 2011 and offers a similar mixed portfolio of corporate and government debt based on an Offshore China index developed by Citigroup. DSUM yields 3.74 percent.
In addition, CBON will complement the existing Market Vectors Emerging Mkts Local ETF (NYSE: EMLC).
For years, investors outside of mainland China were prohibited from accessing direct investments in A-share equity securities and other local fixed-income investments. However, the rapidly expanding global markets have tempted China to open its doors to outside investment opportunities that give U.S.-based portfolios additional options.
View Comments and Join the Discussion!
Posted-In: China ET Fran Rodilosso Van Eck GlobalNew ETFs Emerging Market ETFs Trading Ideas ETFs Best of Benzinga