3 Reasons Why Oil Is Soaring Today — And What's Next For The Commodity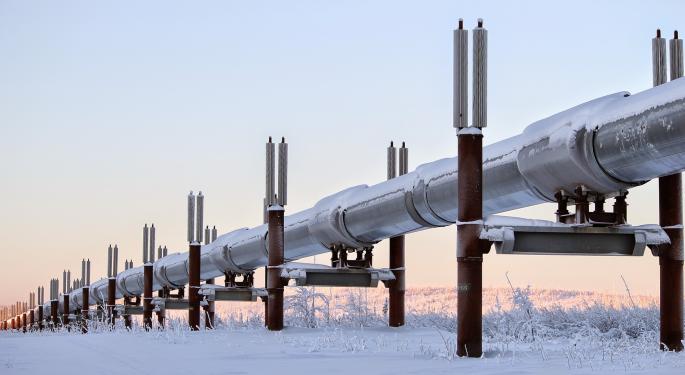 Oil was moving 4 percent higher Monday after three weekend developments:
Russia and Saudi Arabia agreed to extend oil output cuts.
Alberta Premier Rachel Notley shocked the oil market with a mandatory province-wide 8.7-percent production cut.
Oil-rich Qatar said it will leave the OPEC Jan. 1.
Russia, Saudi Arabia Strike Deal
Russia and Saudi Arabia's governments reached an agreement to extend their agreement to cut oil production. The informal agreement came days before the next OPEC meeting in Vienna, where new output cuts could be announced.
"This might be the critical breakthrough for OPEC and non-OPEC to cut," Derek Brower, a director at consultant RS Energy Group, told Bloomberg. "But the details are now what matter — how much will be cut, from when, for how long and, crucially, from what baselines."
Oil Markets 'Very Similar' To 2014's Crash
The price of oil peaked in June 2014 north of $100 per barrel, and a multiyear-long crash culminated in oil trading below $30 a barrel in 2016. The oil market heading into 2019 appears poised to share a similar fate as 2014 for several reasons, Andy Critchlow of S&P Global Platts told CNBC Monday.
For example, OECD inventories are showing continued buildups, while current expectations are calling for U.S. shale companies to help boost total production above 12 million barrels a day next year.
Related Link: G20 Developments Send Oil Prices Soaring
The Read On Qatar's OPEC Exit
Qatar's "sweet spot" in energy production is in gas, so its decision to leave OPEC won't shake the foundations of the intergovernmental organization, Ayham Kamel, practice head of Middle East and North Africa at Eurasia Group, told CNBC Monday.
OPEC's profile over the years has shifted over the years, with countries like Qatar holding little say and Saudi Arabia and non-member Russia in the lead, he said.
Conversely, S&P Global Platts' Critchlow said Qatar's exit from OPEC is not only a "big" event, but likely the most impactful event over the past two decades.
Qatar officials have served in senior leadership positions in OPEC, including Abdullah bin Hamad Al Attiyah, who was an OPEC president and asked to serve as secretary general.
His leadership was seen as a "diplomatic bridge between all sides of OPEC," so the exit of Qatar from OPEC implies "OPEC really doesn't exist anymore," Critchlow said, as the group is now composed of "two people — Russia [and] Saudi Arabia."
Alberta's Oil Move
Alberta Premier Notley's announcement will force oil producers to lower production by 325,000 barrels a day, which is greater than the total production output of OPEC's three smallest members combined, BNN Bloomberg reported.
The decision to cut back oil production comes at a time when Western Canadian Select crude is trading near its multiyear low of $13.46 a barrel. In fact, the price differential between Canadian oil and the U.S. benchmark oil hit a record high of $50 per month last month.
"It makes no sense for Alberta to stand by while its valuable oil resources sell for next to nothing, the provincial Treasury loses up to $100 million a day, job losses continue to mount and our industry suffers billions of dollars in long-term value destruction," Cenovus President and CEO Alex Pourbaix told BNN Bloomberg.
Related Link: The 'Spillover' Effect: Cramer Eyes Relationship Between Oil, Stocks
Posted-In: Alberta Andy Critchlow Ayham KamelAnalyst Color Commodities Markets Analyst Ratings Media Best of Benzinga
View Comments and Join the Discussion!