C-Suite Shakeups Could Change The Course Of Fannie And Freddie's Conservatorship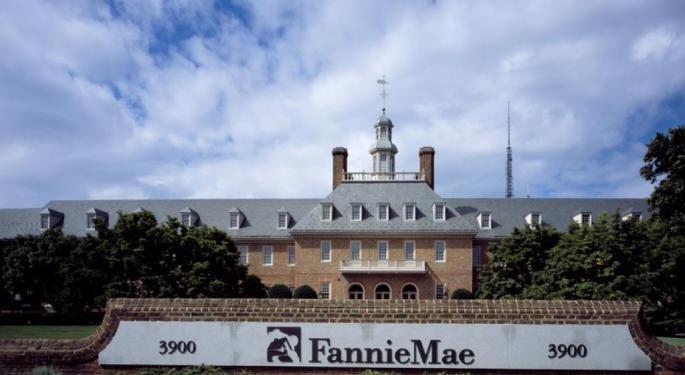 Love him or hate him, Treasury Secretary Steven Mnuchin may be the best and last hope for Federal National Mortgage Association (OTC: FNMA) and Federal Home Loan Mortgage Corp (OTC: FMCC) investors.
Mnuchin's ability to assemble a "dream team" of cooperators as heads of Fannie Mae, Freddie Mac and the Federal Housing Finance Agency could be the only way to move forward with a plan to recapitalize the GSEs and remove them from conservatorship, analysts from Height Capital Markets said in a note.
Putting Together The Pieces
Current FHFA president Mel Watt's term is ending Jan. 6, Fannie Mae CEO Tim Mayopoulos is stepping down Oct. 15, and Freddie Mac CEO Don Layton is resigning in the second half of 2019.
"Mnuchin is in a position to have input into the next FHFA Director, Fannie Mae CEO, and Freddie Mac CEO," Height wrote this week.
Height says the leading candidate for Watt's position is Office of the Comptroller of the Currency Comptroller Joseph Otting. Otting was previously CEO of OneWest Bank when Mnuchin held a controlling interest in the company.
Mnuchin's Dream Team
Fannie Mae board member Hugh Frater will serve as the interim CEO for the company, and Height said it's unclear whether or not he has Mnuchin's blessing to potentially take over as permanent CEO. Height expects the Fannie Mae board to seek Mnuchin's approval before naming a permanent CEO.
Height expects Mnuchin to have a similar say in the next Freddie Mac CEO as well.
"With these three positions aligned and supportive of Treasury's agenda for the GSEs, which we believe includes recapitalization and release from conservatorship, we view 2019 as the best opportunity for Treasury to act," Height wrote.
After initial market enthusiasm following Donald Trump's election victory in 2016, Fannie and Freddie's stocks are now down more than 65 percent each since Trump's inauguration.
Related Links:
Fannie And Freddie Investors Find A Silver Lining Amid Claim Dismissals
Fannie, Freddie's Fate Could Rest On Potential Trump Nominee
View Comments and Join the Discussion!
Posted-In: fannie mae freddie mac GSEsAnalyst Color Politics Management Analyst Ratings General Best of Benzinga