Tesla Analysts Weigh In On Musk's SEC Lawsuit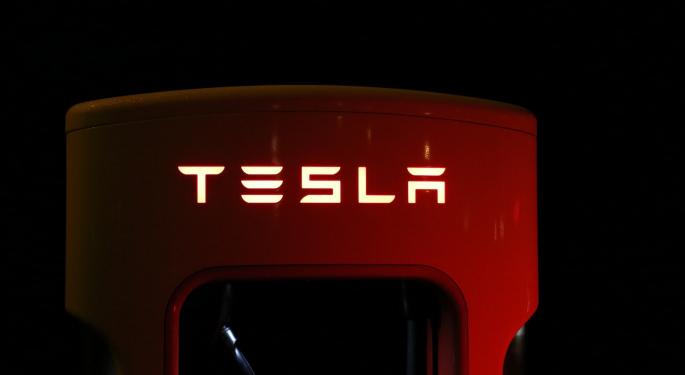 The Securities and Exchange Commission accused Tesla Inc (NASDAQ: TSLA) CEO Elon Musk of fraud in a lawsuit filed Thursday after determining Musk's take-private tweets were "false and misleading."
The regulators are seeking orders to bar Musk from company leadership and civil penalties — pain that may be felt outside of the C-Suite.
What Could Go Wrong
Analysts expressed relief that Tesla itself was not named a defendant, but the firm could suffer collateral damage.
"We believe this will raise the cost of capital to fund the two upcoming tranches of debt, which include $230 million in November and $920 million in March 2019," according to Cannacord Genuity.
Barclays predicted a CEO turnover could halve Tesla's market cap, with about $130 per share of "Musk premium" at risk. Citi shared a similar sentiment.
"There's little question that Mr. Musk's departure would likely cause harm to Tesla's brand, stakeholder confidence and fundraising — thereby increasing the risk of triggering a downward confidence spiral given the state of Tesla's balance sheet, in our view," a Citi analyst said.
By Citi's assessment, a rough leadership transition could inspire pursuit of a strategic partnership or equity-diluting capital raise. Other experts expect a departure to trigger a sharp reality check.
A Bank of America Merrill Lynch analyst said Tesla's stock has often been disconnected from its fundamentals, with the evidence beign a climbing stock price at the same time as ongoing production challenges, elevated cash burn, missed deliveries, earnings and other missed financial targets.
"In the event the court determines he be removed from the company, we think investors would be unlikely to take on the vision of another CEO, and rather focus on fundamentals, which we think would be a major risk to the stock."
The analysts identify fundamental issues with the company in the delayed Model 3 ramp and product rollout challenges; material cash burn that may warrant capital raises; and the risk of obsolescence brought by emerging competitors.
"Indeed, TSLA's ability to become self-funding at any point in the near future appears no more certain now than at its inception, in our view," according to BofA. "As such, we view the current SEC charges as added risk to an already fragile situation, and continue to be concerned about the longer-term profitability, cash flow and valuation of TSLA."
What Could Go Right
While conceding that the distraction and timing of the SEC lawsuit may hurt Tesla near-term, Loup Ventures remains optimistic.
"Despite this [setback], we think the company will survive," Loup's managing partners said, asserting even odds that Musk remains as CEO and greater odds that he stays with Tesla in another capacity.
They had previously advocated for Musk's removal from the board to increase the body's influence, and SEC pressure may help achieve that. Meanwhile, Loup suspects that Tesla's operations are improving.
On the latter point, Oppenheimer agreed.
"We remain focused on company fundamentals, which we believe continue to move in a positive direction," the sell-side firm said, forecasting strong deliveries in next week's earnings report.
What Could Happen
The SEC's investigation is ongoing, and Vertical Group's Gordon Johnson posited that Tesla, its CFO and its board could be implicated in the charges.
Tesla's investor relations team assured shareholders Musk's tweets were sincere; the CFO was complicit in pumping Musk's false announcement; and the board continues to back Musk, he said —which amounts to "aiding and abetting," in Johnson's view.
These factors point to a deeper culture of fraud at Tesla, Johnson said, adding that he suspects broader SEC charges will come.
"We think the best-case scenario for Tesla is a Chapter 11 filing where they restructure the debt and the company brings in a real CEO who knows how to run an auto company [and] they completely revamp their manufacturing operation," Johnson said on Benzinga's PreMarket Prep show Friday.
He considers this route unlikely, though.
"Under that scenario, the stock is massively lower, and it seems like they're not willing and not even considering doing that," the analyst said.
As the board delays exploration of a Chapter 11 filing, Johnson said he suspects it may be backed into a Chapter 7 — which would yield far worse repercussions.
The Ratings
Bank of America Merrill Lynch maintained an Underperform rating and $200 price target on Tesla;
Barclays maintained a Sell with a $210 target;
Canaccord maintained a Hold on the stock with a $316 target;
Citi downgraded to Sell and cut their price target from $356 to $225; and
Oppenheimer maintained an Outperform rating and $385 target.
Related Links:
Citi Downgrades Tesla To Sell, Faces 'Risk Of A Spiral'
Gene Munster: 3 Ways Elon Musk Is Hurting Tesla
Listen below to Gordon Johnson's full interview on Benzinga's PreMarket Prep:
View Comments and Join the Discussion!
Posted-In: Analyst Color News Downgrades Price Target Legal Top Stories SEC Analyst Ratings Best of Benzinga