The Longest Bull Run In History? Not Everybody Agrees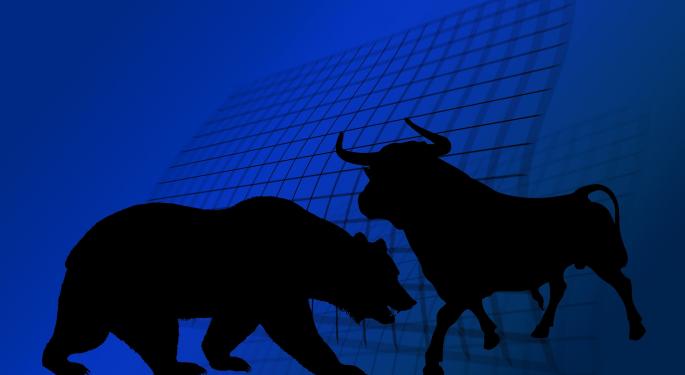 The bull market rally after the 2008 financial crisis has unquestionably been one of the longest and most powerful stock market rallies in history. But just how long and how powerful the bull market has been is somewhat open to interpretation.
What's A Bull Market?
The traditional definition of a bull market is a rally in the S&P 500 of at least 20 percent that continues until the first 20-percent decline. By one interpretation of that definition, the market rally that began in March 2009 is approaching uncharted territory in terms of duration. Barring a cataclysmic event, the current bull market will eclipse the 1990s bull market as the longest in history on Wednesday, Aug. 22 when it reaches 3,453 days.
Yet some experts argue that the 1990s rally that culminated with the bursting of the dot-com bubble was actually much longer in duration than today's bull run.
A Matter Of Interpretation
The controversy lies with the classification of a 19.9-percent drop in the S&P 500 way back in 1990. A majority of market experts seem to see the bottom of this drop as the beginning of the 1990s bull market, but others say 19.9 percent is technically not 20 percent.
"If you round the data, you're going to get a certain number of bull markets. If you don't round, you're going to get a different number," Bespoke Investment Group co-founder Justin Waters recently told Bloomberg. "If you want to do that, that's fine, but it's not using the standard 20-percent definition."
Prior to the 1990 pullback, the previous 20-percent drop in the S&P 500 occurred in 1987. Starting from 1987 lows, the 1990s bull market was 4,494 days long, more than 1,000 days longer than the current bull market.
Intraday Versus Closing Price
Some experts call into question the length of the present day bull market as well.
"From April through October 2011, the S&P 500 fell 21.6 percent intraday," Michael Batnick, Ritholtz Wealth Management's director of research, recently said. "However, on a closing basis, it fell just 19.4 percent, so an official bear market didn't make the record books."
Counting from October 2011 instead of March 2009 would shave more than two years off today's bull market.
What Really Matters
At the end of the day, the 20-percent threshold and how it's applied are as objective and arbitrary as any other technical levels in the market. Technical traders know that support and resistance levels are more of an art than a science, and splitting hairs over fractions of a point is a matter of personal opinion.
For most investors, the health of the bull market is much more important than precisely measuring its duration and its historical context. LPL Research Chief Investment Strategist John Lynch said earlier this month that it's full steam ahead for now.
"Although we see several potential stumbling blocks, we continue to believe this economy and stock market rally have plenty of fuel left in the tank," Lynch said.
The SPDR S&P 500 ETF Trust (NYSE: SPY) is up another 7.4 percent so far in 2018, and the S&P 500 is now up 323.6 percent from its low on March 9, 2009.
Related Links:
What Is The Buffett Indicator?
Analyst Says One Word Will Dominate Markets In The Second Half Of 2018: 'Recession'
View Comments and Join the Discussion!
Posted-In: Analyst Color Broad U.S. Equity ETFs Education Futures Top Stories Markets Analyst Ratings ETFs Best of Benzinga