Peter Brandt Talks Trump, Oil, Bitcoin And Gold: 'No One's Talking About Farm Prices'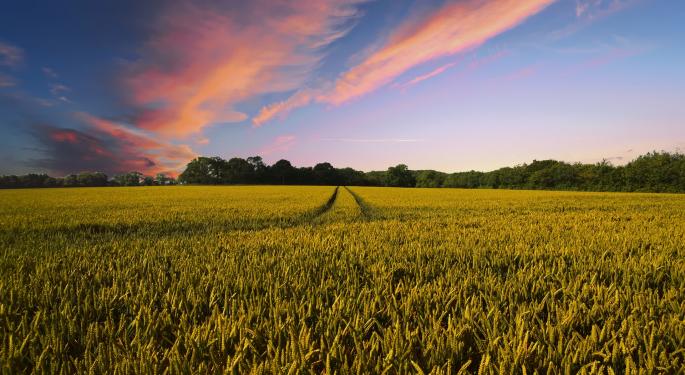 Commodity and forex trader and Factory Trading founder Peter Brandt joined PreMarket Prep on Wednesday to discuss a number of topics, including tariffs, interest rates, crude oil, bitcoin and gold.
Brandt is looking forward to trading in his sixth different decade when 2020 rolls around, and he shared some of his trading wisdom with listeners.
Trouble For Trump
Most commodity prices have been hit hard thanks to the international trade war, and Brandt said President Trump needs to remember in which states his supporters live or he could be in trouble.
"You take a look at where corn and wheat and beans are grown, and it's states that were won by Trump," Brandt said. "Everybody's focusing for the election on immigration; no one's talking about farm prices. I think the Trump White House is in big trouble if for no other reason than egg prices are skidding along the bottom of a 20-year low."
Interest Rates
Brandt said he's not buying the fears that rising interest rates will hurt stock prices.
"If the stock market gets hit, it's not going to be because of rates," he said. "I took a mortgage out in 1983 at 14 percent. These interest rates are mild. This economy can certainly handle 5 or 6 percent T bill rates."
Oil Outlook
Brandt also said crude oil prices could certainly continue higher, but additional upside may be limited at this point.
"There's going to be a point at which fundamentals start to change again, and we're already seeing supply start to come back online," he said. "I don't know where we go from here, but we could get back into the $80's I suppose. For me, there's no chart signal, so there's no trade."
Bitcoin's Bust
Brandt also discussed bitcoin's huge 2018 sell-off. He said that assuming bitcoin is the best expression of distributed ledger technology, long-term bulls need to keep the 2018 sell-off and the 2017 run-up in perspective.
"There's never been a market like the bitcoin market, that I can find," Brandt said about the 2017 run. "It takes a long time then to digest those gains...and it usually takes a lot longer than anyone thinks."
"The average peak to valley to eventually new peak in bitcoin's history as an instrument is 89 weeks, and that's closer to two years than one year," he said.
Gold Losing Its Luster
Finally, Brandt weighed in on gold prices, which have been dropping of late no matter which direction the stock market heads.
"I think the December 2017 lows are going to be crucial in gold," he said. "Gold has big headwind--gold's at 80 times the price of silver, 1.5 times the price of platinum."
"If I still was short gold, I'd still be hanging with it. Markets always provide a surprise, and the surprise in gold could be we go down and test the $1,000 level again."
Click here to watch Brandt's full interview.
Price Action
Here's a look at how some of the popular ETFs related to the commodities Brandt discussed have been trading so far in 2018:
Related Links:
Grown From Grain: Peter Brandt To Talk Career, Market Philosophy
View Comments and Join the Discussion!
Posted-In: BitcoinCryptocurrency Commodities Psychology Top Stories Markets Trading Ideas General Best of Benzinga