Experts: Viacom-Netflix Deal Could Spark New Media Trend Toward OTT Content Partnerships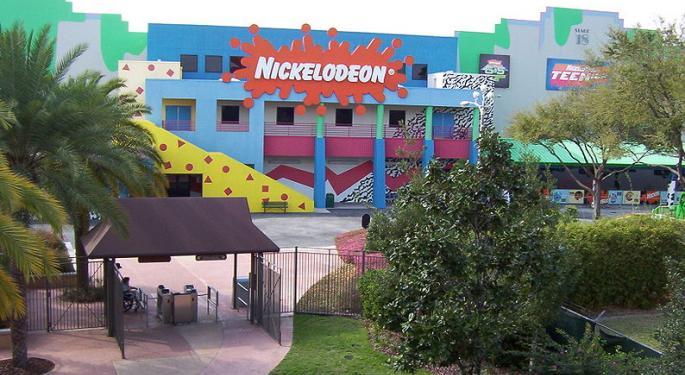 Viacom, Inc. (NASDAQ: VIAB)'s taking an unexpected risk to compete in an evolving sector.
Beginning with Nickelodeon, the firm's networks will soon produce content for Netflix, Inc. (NASDAQ: NFLX), according to The Information.
"In the wake of all these mergers and acquisitions and their competitors getting bigger and bigger, they had to do something," media consultant Brad Adgate told Benzinga.
The Facts
So far, Viacom CEO Bob Bakish confirmed Nickelodeon will develop two seasons, or 59 episodes, of cartoon mockumentary "Pinky Malinky." Although Netflix will distribute the Nick-branded show, Viacom will retain licensing rights for related products.
"This is all about finding ways to keep Nickelodeon front and center," Bakish told The Information. "[...] This will bring new consumers to the brand, and some will only consume it there, but some will consume it in more places."
The financial terms and length of the deal remain unknown.
Related Link: Daydreamers Line Up As OTT, Cable Networks, Film Studios Battle For Content Creators
The Expectations
Viacom is clawing for entry into the lucrative digital world, but Marc Berman, editor-in-chief of Programming Insider, doesn't expect a complete shift from its cable legacy.
"They're not going to abandon their cable networks, but they want to get into the space as big and as quickly as they can," Berman told Benzinga. "[...] They're trying to get both ends of the equation here."
The strategy to partner with the biggest OTT brand rather than build an independent platform is telling of Viacom's self-perception.
"They're probably thinking, 'We can get more bang for the buck, much more exposure, if we align with Netflix,' which is kind of interesting that they're doing that because in some ways it's like, 'We recognize that we can never be Netflix, we can never be Amazon.com, Inc. (NASDAQ: AMZN), we can't be Hulu, but we can align with No. 1,'" Berman said.
Viacom, it seems, has indicated its dismissal of a future Walt Disney Co (NYSE: DIS)-esque streaming strategy.
"I don't imagine they're going to do this for a year and then say, 'We're done, now we're going to work on our own OTT space,'" Berman said. "It sounds like to me a long-term strategic partnership."
Adgate agreed, noting that Viacom has neither the size, the branding power, the content nor the capabilities to follow Disney into the crowded, fragmented streaming space.
"Netflix is already there," he said. "They're at 125 million global streaming subscribers, and I think partnering with them probably gives them that instant distribution outlet, and that would be a lot quicker than building up on their own.... As things progress it's just going to get harder and harder to get a place at the table if you're a startup, even if you're a company like Viacom."
Why The Deal Makes Sense In Theory
For Netflix, a company with expressed interest in expanding family programming, the deal seems to make sense. For Viacom, the benefits are less obvious.
Viacom's portfolio — Nickelodeon, BET, MTV, Comedy Central, VH1 — already competes with Netflix for consumer leisure time.
"Viacom is a network that has been the first traditional media company to really feel the wrath of what streaming video can do to ratings, and it's primarily because their audience for many of their networks are very young, and these are the ones who are early adopters of streaming video," Adgate said.
As such, Viacom is essentially equipping its rival with a net to snag viewers.
But Adgate said Netflix's distribution platform could ultimately help Viacom scale, and the move is a step in the right direction. In fact, it may have been overdue.
"This is probably something that could've been done a few years ago," he said. "Viacom has been really hammered in earnings reports particularly with cord cutting and lower ratings."
What Could Happen From Here
Despite the clear benefits of digital distribution, Berman confirmed that linear platforms still reign, and that's not expected to change soon.
The partnership, then, may not yield expected performance improvements.
"Just because they're putting content on Netflix, it doesn't mean they're going to get the same ratings that they got on television," Adgate said. "It's really a competitive landscape over there in streaming video compared to TV. It's not a slam dunk."
He posited that partnerships with major distributors like Verizon Communications Inc. (NYSE: VZ), Charter Communications Inc (NASDAQ: CHTR) or DISH Network Corp (NASDAQ: DISH) could soon be in the works.
Related Link: Telecom M&A Poses No Near-Term Threat To Netflix
What It Means For Media
Nonetheless, Viacom's small or independent peers may attempt to replicate the Netflix model.
"It's all about scalability, and Netflix has scalability," Adgate said. "[...] If you're a smaller player, you may look at this and just kind of go along the same path. It's where the eyeballs are going, particularly the younger eyeballs, so why not go there?"
The trend could intrigue larger players, as well.
"I would imagine if Viacom is doing this, I think other places might follow in their footsteps because this is a business where if one platform does this then others might follow," Berman said. "[...] On one end of the spectrum, you still get the most number of eyeballs on a linear platform, and that's not going to change any time soon, but digital is becoming so relevant now, and Netflix is becoming so big, and it shows no signs of slowing down, so I imagine everybody wants to get into that space now."
Conversely, some may opt to launch a la carte services similar to those of ESPN, FX or AMC Networks (NASDAQ: AMCX).
Image: Public domain
View Comments and Join the Discussion!
Posted-In: Brad Adgate Marc Berman NickelodeonAnalyst Color Top Stories Exclusives Tech Media Best of Benzinga