Fatalities Will Decline With Autonomous Vehicles, Gene Munster Says After Uber Incident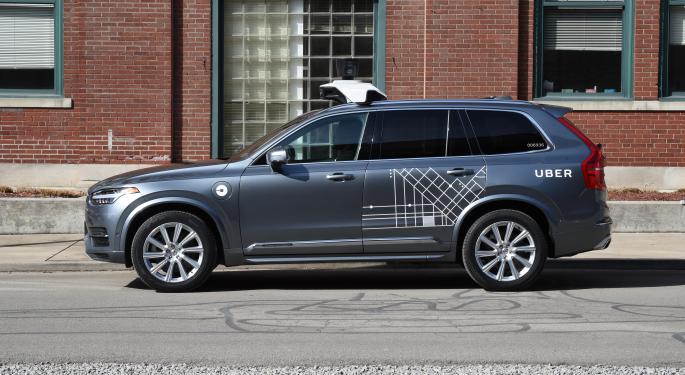 Loup Ventures has long said autonomous systems will be safer than human drivers, and it maintains that conviction even after Monday's fatal collision between a self-driving vehicle and a pedestrian in Tempe, Arizona.
"We've been asking ourselves: what's the right way to think about the risks of autonomy?" managing partner Gene Munster said in a Tuesday note. "Is the threshold for AVs zero accidents, or is it an improvement relative to human drivers? In the end, we continue to believe humans should not drive, and that traffic and pedestrian fatalities will decline under autonomy."
Autonomous vehicles are the future, he said, though he expects widespread adoption to take longer than anticipated — and sees no clear leader in the space.
"The initiatives and timelines for AVs given by these companies strike us as ambitious and unlikely to be met," Munster said. "It is unlikely we see something like a fully operational autonomous fleet shuttling folks around in the next five years."
Electrification, meanwhile, is viewed by Loup Ventures as "imminent" considering the trend's momentum and relative lack of hurdles.
Company-By-Company
Tesla Inc (NASDAQ: TSLA) set an EV standard with its preference for batteries over fuel cell technology, and while its autopilot system is the industry's most advanced, competitors are close behind, Munster said.
Ford Motor Company (NYSE: F) committed $11 billion over the next four years to produce 40 hybrid and electric models. The automaker, which intends to operate an autonomous ride-hailing fleet, will also invest $1 billion over the next five years in Argo AI for AV technology.
General Motors Company (NYSE: GM) is leveraging its "superior" manufacturing scale to achieve its goal to release 20 new EVs by 2023 and sell 1 million per year by 2026. Its vertical AV strategy includes a $100-million investment in Cruise AV production and the launch of a ride-hailing fleet in 2019.
Munster called GM's intent to produce a pedal- and steering wheel-free AV by 2019 "one of the most ambitious AV announcements to date."
Fiat Chrysler Automobiles NV (NYSE: FCAU) "is a laggard in adopting EV technology," Munster said. However, FCA is deeply integrated into the AV scene with Waymo and BMW-Intel Corporation (NASDAQ: INTC) partnerships.
Toyota Motor Corp (ADR) (NYSE: TM) announced in December that it was ramping up EV production and planned to offer electrified versions of every model. The firm also recently revealed a third generation of its self-driving vehicle, although rumors of a contract to use Uber's AV technology suggests slow advancement in the segment.
Honda Motor Co Ltd (ADR) (NYSE: HMC) pledged last summer to electrify two-thirds of its vehicles by 2030. It intends to produce Level 3 self-driving cars by 2020 and Level 4 self-driving cars by 2025.
Volkswagen recently announced a $25-million commitment to produce batteries for 3 million EVs annually by 2025, and to develop electric versions of all its models. It also discussed plans for an autonomous bus and showcased a concept AV without pedals or a steering wheel.
Volvo intends to offer only hybrid or fully electric vehicles by 2019, including a recently revealed model to rival Tesla's high-end Model S. The firm also struck a deal to sell Uber, an AV technology partner, 24,000 self-driving cars for its fleet service.
Related Links:
Which Chipmaker Leads The Autonomous Driving Space?
BofA: Lyft, Magna Could Be The First Of Many Autonomous Vehicle Partnerships
Photo courtesy of Uber.
Posted-In: Gene Munster Loup Ventures UberAnalyst Color Analyst Ratings Best of Benzinga
View Comments and Join the Discussion!