Analysts Break Down The Sec. 232 Steel Investigation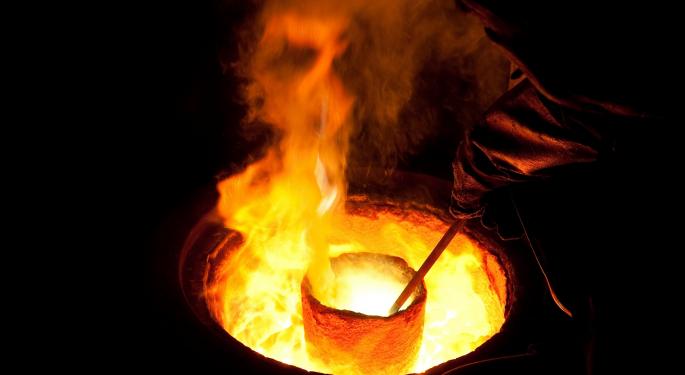 U.S. steel stocks are surging after the U.S. Commerce Department recommended that President Donald Trump enact a 24-percent tariff on all steel imports. Trump had ordered an investigation into the potential risk that U.S. steel imports pose to national security, laying the groundwork for him to potentially use his Section 232 powers to restrict steel imports.
The Commerce Dept. laid out three possible courses of action for the president:
A blanket 24-percent tariff on all countries.
A 50-percent tariff on the 12 largest U.S. importers and a quota equal to 100 percent of 2017 imports on all other countries.
No tariff and a quota of 63 percent of 2017 imports on all countries.
Investors clearly see the announcement as good news for domestic steel stocks. Here's what analysts had to say.
Voices From The Street
Trump will likely opt for a tariff-and-quota scenario, said Morgan Stanley analyst Piyush Sood. "We think that the tariff-plus-quota scenario, with [a] 53-percent tariff against [the] selected 12 countries and [a] quota set to 100-percent (of 2017 import levels) is most likely to be adopted," the analyst said in a Monday note.
Citigroup analyst Alexander Hacking said any of the three potential proposals the Commerce Dept. suggested would generate a significant tailwind for the domestic steel industry. "Prices would rise sharply, likely $150/ton, with [the] potential for shortages in the quota-limit scenarios," Hacking said.
Height Securities analyst Clayton Allen said the potential tariffs will be short-lived and may actually be designed to use as leverage in negotiations with exporting countries. "We still see significant problems with the structure of the Section 232 process and anticipate pushback from the Defense Dept. and other factions within the administration, which may hamper efforts to accelerate this process," Allen said.
Deutsche Bank analyst Chris Terry said quotas would have more immediate impact than tariffs. "Quotas on all countries will likely have the maximum impact as it would immediately support higher domestic utilization," Terry said.
BMO Capital Markets analyst David Gagliano said the major impact of the recommendation is that U.S. steel imports will likely drop. "We believe this will result in higher U.S. production, higher U.S. prices and lower unit costs," he said.
Credit Suisse analyst Curt Woodworth said Trump has plenty of motivation to act at this point. "In our view the president will likely follow through on some of these recommendations, given pressure from steel industry executives and the win it would serve up for his political base," the analyst said.
Price Action
Here's a rundown of how steel stocks are reacting to the news since Friday:
Related Links:
US Steel Shares Drop After Gordon Johnson Issues Sell Rating
Analyst: Steel Investors Need Action From Trump, Not Words
View Comments and Join the Discussion!
Posted-In: Commerce Department President Donald Trump Section 232Analyst Color Politics Top Stories Analyst Ratings General Best of Benzinga