Snap Vs. Twitter: Who Will Thrive In 2018?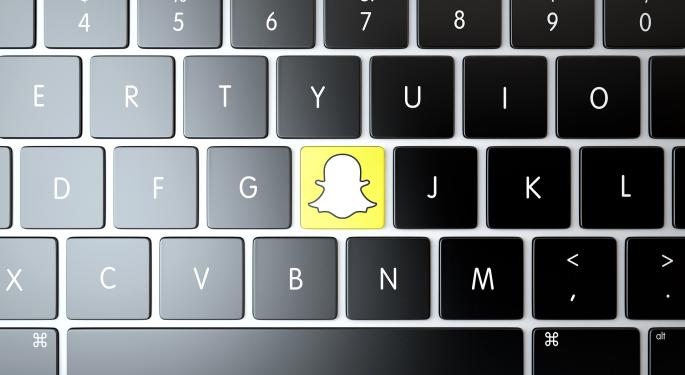 Snap Inc (NYSE: SNAP) and Twitter Inc (NYSE: TWTR) entered 2018 with similar valuations, but vastly different sentiments.
Snap started the year with an $18-billion valuation, and was one of the most anticipated yet disappointing IPOs of 2017.
Twitter shares fluctuated wildly in 2016 on merger rumors, but even as the rumors subsided, shares gained nearly 50 percent over the past year on strengthening fundamentals and improving sentiment. Twitter is valued at $18.16 billion.
Still, investors have struggled with valuing these two platforms moving forward.
Social Media Scarcity
"These companies are being valued the way bitcoin is being valued, with a scarcity valuation. There are not many social media networks and both of these companies are essentially global," Wedbush analyst Michael Pachter told Benzinga.
"There is one example of a phenomenally successful social network and not many others to choose from. Given the success of FAANG, I think investors are looking for the next home run."
Snap and Twitter have an identity problem with non-users, but the difference between the two is that non-users can't escape Twitter's influence on the mainstream media, Pachter said.
"I can't remember a day that goes by where I haven't seen a tweet quoted in a Washington Post article —you can't escape Twitter as a non-user."
While Twitter continues to be in the news cycle, Snap has remained relatively quiet, which could likely mean one of two things: the company is planning big innovation or CEO Evan Spiegel is just buying time.
Is Snapchat The Next Myspace?
Snap was crushed after its spectacles product was a huge flop, leading to a $40 million write-down.
"A lot of the criticism Twitter received has not been levied against Snap. I really don't think Snap is worth a lot more than $10 billion, and I think it is an asset that could go to zero. It could basically become a Myspace," said Sean Udall of Quantum Trading Strategies.
"Twitter has been net cash positive for a long time, but Snapchat's cash burn is magnitudes higher than Twitter's ever was. If Snap doesn't start having better quarters pretty soon, the cash burn is [going] to get serious," Udall said.
In Udall's view, Twitter is tremendously undervalued, and he has a $41 price target on the stock.
It appears one of the greatest tweaks the company made was the recent shift to 280 characters, which according to Udall has "improved engagement dramatically."
Feinseth: Twitter Still A Takeover Target
Udall said he doesn't believe Twitter will be sold, due to the small number of large shareholders who he said are aware of the company's inherent value. Another analyst has a different take on Twitter's M&A prospects.
"I still think that salesforce.com, inc. (NYSE: CRM) would buy Twitter, but I can't think of anyone that would buy Snap," said Ivan Feinseth of Tigress Financial Partners. "Twitter is in a place by itself. It could be a valuable business platform asset, whereas Snap remains a consumer platform and that's likely the key difference."
A deal for Twitter would fall in the range of $20-$22 billion, Feinseth said.
The analyst said Facebook Inc (NASDAQ: FB)'s Whatsapp poses a threat to Snap, and said he's shocked the company is still valued at north of $17 billion.
Related Links:
Summit Redstone: Twitter Is An Underappreciated Turnaround Story
Survey Says Snap Struggling To Woo Ad Buyers, According To Cowen
Be the first to get this news with Benzinga Pro. Sign up for your free two-week trial here.
View Comments and Join the Discussion!
Posted-In: Ivan FeinsethAnalyst Color Top Stories Exclusives Analyst Ratings Tech Trading Ideas Interview Best of Benzinga