Like A Lurking Hitman, 'Goodfellas' Is The Enduring Classic Nobody Saw Coming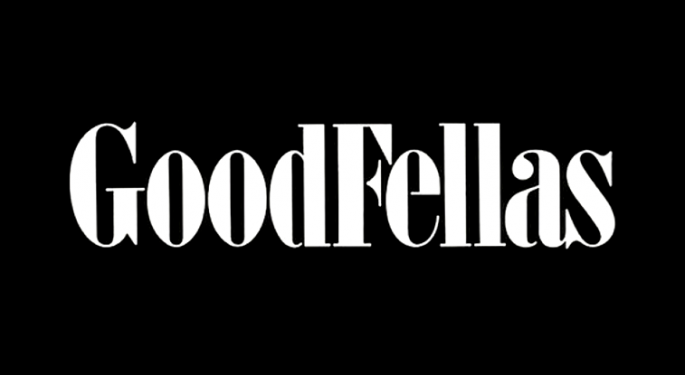 "I'm funny how? Like I'm funny like a clown? I'm here to amuse you? I make you laugh?"
Nope, that's not a line from the killer-clown hit "It," but a bit of menacing dialogue from one of the many, many memorable scenes in Martin Scorsese's masterpiece "Goodfellas," the ridiculously entertaining true story of charismatic mobsters and their lives, wives and brutal whacks.
Tuesday marks the 27th anniversary of the Sept. 19, 1990, release of the movie, which centers on Henry Hill and his chums, who grow up living the highs and lows of the New York-centric brotherhood of gangsters who don't hesitate to literally stab each other in the back.
The Timeless Classic The Critics Didn't See Coming
Box office guru Paul Dergarabedian, senior media analyst for comScore, Inc., is among those who count "Goodfellas" as their all-time favorite movie, one that has gotten better with age.
The intricate symphony of voice-over narrations by the key characters, the use of music to the point where it became a character itself, the brutal opening sequence and what he called the fever dream at the movie's end, put it at the top of his all-time greats.
"It has been since the day I saw it," he said. "I always liked Scorsese. 'Raging Bull,' 'Taxi Driver' — 'Goodfellas' literally catapulted over all of them."
"It was a great movie on an epic scale that pushed the genre to where we thought it would never go. It was like a punk rock version of a gangster movie."
'Goodfellas' Wasn't The Critical Darling It Is Now
"Goodfellas" got good reviews, but it wasn't considered in a class with, say, "The Godfather" and its sequel. The Pulitzer Prize-winning critic Roger Ebert, though, saw what film historians would later also believe, calling the movie a better gangster flick than Francis Ford Coppola's epics right when it came out.
On the other hand, Dergarabedian said, "There are some films that were considered masterpieces in their day but don't quite measure up today."
"'Goodfellas' was so far ahead of its time. Coming in the wake of 'The Godfather,' there was a realization of where else can you go with this genre?" he said. "It's hard to think of a more perfectly realized film."
Related Link: 'It' And 'American Assassin' Kill At The Box Office
Even The Trivia Has A Cult Following
The movie is a trivia junkie's treasure trove, for example:
Henry Hill's mafia career was so rich in crime that Scorsese couldn't squeeze in all the scores that Hill, played by Ray Liotta, pulled off. Most notably? The gangster played by Robert De Niro and Hill recruited Boston College players to shave points to stay within the spread during the 1978–79 basketball season, a murder-laden heist that was the largest in history.
Also left out: Hill reportedly took cosmetics magnate Estee Lauder out for a drink as his buddies lifted over $1 million worth of goods from her ritzy New York townhouse.
Lucchese crime family associate Thomas DeSimone, played by Joe Pesci as Tommy DeVito in the movie, was as psycho as Pesci played him, but the actual guy was 6-feet-2 and 255 pounds, a far cry from the diminutive Pesci.
Scorsese really likes F-bombs. "Goodfellas" has 300, "Casino" has 422 and "The Wolf of Wall Street" drops 506.
Pesci's classic "funny like a clown" scene was actually the actor's idea, based on his own personal, and discomfiting, experience when he was a young waiter and called a mobster funny.
Scorsese peppered the cast with real-life wise guys, including NYC cop Louis Eppolito, who was on the take from the Lucchese family and would later be convicted of murder.
More than 20 actors who appeared in "Goodfellas" would go on to play roles in the HBO series "The Sopranos," most notably Lorraine Bracco, who almost turned down the part because she'd already done the whole mob thing.
Scorsese will reunite with his "Casino" and "Goodfellas" actors De Niro and Pesci in "The Irishman," set to drop on Netflix, Inc. (NASDAQ: NFLX) in 2019, about the Mafia and the mysterious disappearance of Teamsters Union boss Jimmy Hoffa.
Jimmy Hoffa? It already has a "Goodfellas" vibe.
Related link:
'Detroit' Is A Hard Story For America To Stomach
________
Image Credit: By Unknown - Unknown, Public Domain, via Wikimedia Commons
View Comments and Join the Discussion!
Posted-In: Goodfellas Henry Hill IT Joe Pesci Lorraine Bracco Louis EppolitoAnalyst Color Media Best of Benzinga