The Reviews Are In: Apple Needed To Go Bolder, Better With New Lineup Of iPhones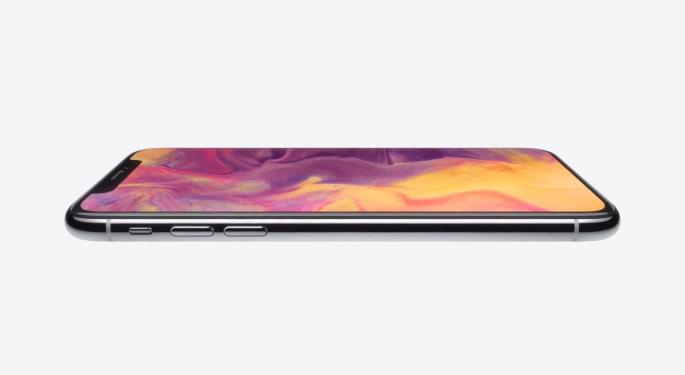 After all the hype and pomp-filled presentations, the tech community is taking a sobering second look at Apple Inc. (NASDAQ: AAPL)'s new smartphones, and the reviews are pretty mixed for the ballyhooed phone of the future.
The blowback from hands-on techno sages suggests that Apple didn't so much make the smartphone of tomorrow, but bought a bit of time for today's consumer market.
Bottom line: The flagship iPhone X is beautiful. But it hasn't really outsmarted the Android smartphones of its most bitter competitor, Samsung Electronic (OTC: SSNLF). And the iPhone 8 and 8 Plus are spare upgrades of the 7 series, awkward augmented reality emojis notwithstanding.
A Tour Of Hands-On Heavyweight Reviewers
Here's a roundup of what the tech cognoscenti are saying after recovering from the hangover of the Apple PR blitz unleashed Tuesday at Apple HQ in Cupertino, California.
Forbes: "Let's be clear, the triple-play of the iPhone 8, 8 Plus, and X are not going to be failures. I just wish there was more vision and bravery, rather than safety-first business decisions of a company that appears to be scared to make any radical change."
Related Link: Analyst: Why The iPhone X Lived Up To Lofty Expectations
The Verge: "It's just a $999 combo of iOS, a bezel-less OLED screen, wireless charging, and a polished glass back, right? We're familiar with all of those things, even the eyebrow-raising price, from the world of Android, so the radically redesigned new iPhone flagship shouldn't feel all that radical."
The Mirror: "The glass body picks up smudges and fingerprints easily, and time will tell how durable it is."
CNET: "It's clear that Apple is prepping iPhone users to wave goodbye to the home button, by framing its dismissal as a feature. But until we can thoroughly test it to see how well it actually works, we're dubious if this is an empty upsell.
Massachusetts Institute of Technology's Technology Review: "Apple needs an entirely new iPhone, not just a new version ... if Apple wants to retain the sense of consumer wonderment (and big profits) ... it's going to have to come up with another iPhone.
Edward Snowden, former NSA leaker: "Good: Design looks surprisingly robust, already has a panic disable. Bad: Normalizes facial scanning, a tech certain to be abused."
CNET: Samsung and Apple's top phones look great, but both missed opportunities to wow.
Stuff: "Are these features enough to make it a must-buy over the more familiar iPhone 8 — and take on Samsung's Galaxy S8, which got there with a bezel-busting display first? After getting my hands on one at the reveal event, I'm not entirely sure."
Digital Trends: "I brought an iPhone 7 along for comparison purposes, and while the Apple folks manning the display station wouldn't let me take side-by-side photos (noting that my phone has more scars and cuts than Nick Nolte), it was readily apparent they're essentially the same."
Endgadget: "When Apple unveiled the iPhone X, (CEO) Tim Cook said it was the reflection of the company's vision of the smartphone of the future ... I think Tim might have been overstating things. The X's set of features are progressive for Apple, but we've seen quite a few of them before.
Ars Technica: "The screen is probably going to make the iPhone X a must-buy for the most dedicated and affluent Apple users. If you're a high-end Android user, I don't know that the screen is going to be as new to you as it will be to an iPhone 6S or iPhone 7 owner."
Wired: "The major tech companies are already gearing up for the successor to the smartphone, a non-obtrusive augmented reality headset that brings computing to our heads. In the meantime, who can blame Apple for harvesting profits while we wait for the next big thing?"
Related Link: 10 Years Later, iPhone X Arrives
View Comments and Join the Discussion!
Posted-In: Android AppleAnalyst Color News Events Analyst Ratings Tech Media Best of Benzinga