Previewing Q2 Earnings For The 5 Big Players In The Restaurant Space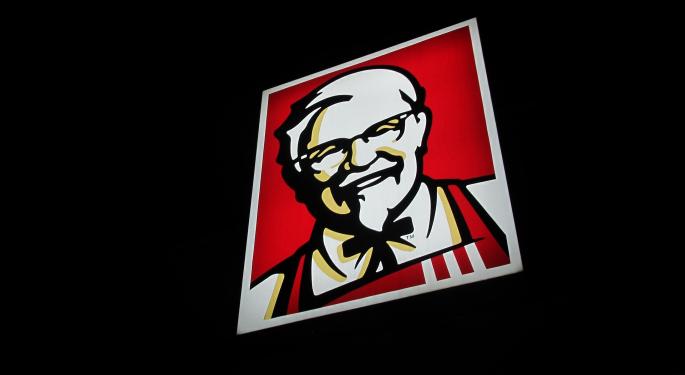 Previewing second-quarter restaurant results, Bernstein said broader industry comps improved in the second quarter, as the gap between the food at home, or FAH, and Food Away from Home, or FAFH, inflation narrowed notably. The firm also noted that macro data relevant for the restaurant industry, namely job growth and consumer confidence, improved.
Citing the Black Box Index, the firm said second-quarter comps fell 1 percent, a more modest decline than the 1.6-percent drop in the first quarter. Additionally, traffic shrank 3 percent versus a 3.6-percent contraction in the first quarter, while same-store sales did not vary substantially month to month, the firm said.
Among the categories of restaurants, analyst Sara Senatore said only fine dining and upscale casual reported positive same-store sales growth. The analyst termed fast casual and bar & grill as the weakest performers.

The analyst noted that consensus expectations have increased for McDonald's Corporation (NYSE: MCD) and Yum! Brands, Inc. (NYSE: YUM)'s KFC but have moved lower for the rest of the companies in her coverage. The weakest among them being Chipotle Mexican Grill, Inc. (NYSE: CMG), Starbucks Corporation (NASDAQ: SBUX) and Brinker International, Inc. (NYSE: EAT), the analyst said.
Sell-Side Comp Expectations
Chipotle: +9.5 percent.
Domino's Pizza, Inc. (NYSE: DPZ): +8.7 percent.
Yum's Pizza Hut U.S. business: (-5 percent).
Brinker: (-1.8 percent).
Yum's KFC: +4 percent.
Buy-Side Comp Expectations
McDonald's: +3-3.5 percent Vs consensus of 3.1 percent, helped by strength in value and Signature line.
Domino's: 7–8 percent versus consensus of 8.7 percent.
Wendys Co (NASDAQ: WEN): 3 percent versus 3.2 percent consensus estimate.
Bernstein indicated that buy-side estimate was generally ahead of sell-side estimate for Yum's KFC. The firm also said buy side expects a miss on Taco Bell, but Taco Bell's comp is still very healthy and aggregate comps of Yum would likely beat estimates.
See also: Whet Your Restaurant Sector Appetite: A 2017 Outlook
Bears Target Chipotle, Starbucks And Brinker
While noting that the credit card breach Chipotle disclosed in April is dragging comps, Bernstein sees comps currently running at 7–9 percent range compared to the 9.5-percent consensus estimate. The firm indicated that momentum at Starbucks waned over the quarter, with some bearish expectations pitching comps at 3 percent versus the consensus estimate of 5.3 percent.
TD Ameritrade Director Of International Trading Victor Jones added that the stock is extremely succeptable to headline risk at the moment.
"Right now the market is just very aware of everything that goes on with the company. It's sort of like, you fool the consumer once, they were willing to forgive them. You do something twice and it becomes very difficult for the consumer to forgive," he said. "Whether or not two strikes within a year and a half is enough to do a lot of damage to the consumer, time will tell, but they've got a lot of PR and customer trust issues."
Bernstein also noted that investors are now increasingly comfortable with a negative comp for Brinker.
"As commodity inflation reemerges and labor pressures persist, earnings will be primarily a function of top line growth — though some margin improvement opportunities exist for individual concepts," Bernstein said.
"On balance we believe modest inflation is a net benefit to restaurants as it should support improving industry demand trends as the FAH-FAFH gap narrows."
The firm expects modest inflation for diners, quick service restaurants and fast casuals. Additionally, the firm sees modest inflation in poultry, a significantly less deflationary environment for beef and a mixed environment for produce.
On valuation, Bernstein noted that relative valuations are generally below 5-year historical averages, except for quick service restaurants such as Yum Brands, McDonald's and Domino's. Starbucks and Brinker are trading at trough valuation and Chipotle and Wendy's are at less than a standard deviation below average.
"We think companies that can meet or beat top-line expectations will be rewarded," the firm concluded.
Earnings Schedule
Domino's: July 25, before the market open.
McDonald's: July 25, before the market open.
Chipotle: July 25, after the market close.
Starbucks: July 25, after the market close.
Yum Brands: August 2, before the market open.
Wendy's: August 9, before the market open.
Brinker: August 10, before the market open.
Rating/Price Target
Domino's: Market Perform/$215.
McDonald's: Outperform/$170.
Chipotle: Outperform/$564.
Starbucks: Outperform/$67.
Yum Brands: Outperform/$80.
Wendy's: Market Perform/$16.
Brinker: Market Perform/$50.
View Comments and Join the Discussion!
Posted-In: Analyst Color Earnings Long Ideas News Previews Reiteration Restaurants Analyst Ratings Best of Benzinga