11 Wall Street Analysts Weigh In On Netflix's Blowout Quarter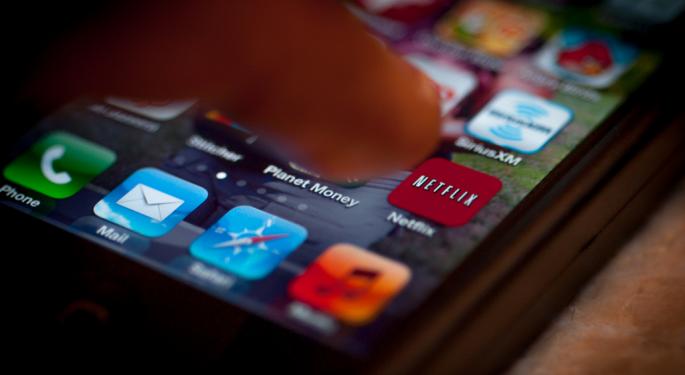 Netflix, Inc. (NASDAQ: NFLX) shares surged 13.3 percent on Tuesday after the company reported blowout subscriber growth in Q2. A number of Wall Street analysts commented on the stock following the report.
The stock closed Tuesday at a new all-time high of $183.60, up 13.5 percent on the day.
Here's a summary of what the analysts had to say.
The duel threat of subscriber growth and original content is a winning combination, Jefferies analyst John Janedis said.
"Although higher cash burn expectations are a concern, we expect the stock will continue to be driven by accelerating sub growth and profitability in the near term, particularly in int'l markets," he wrote.
JPMorgan analyst Doug Anmuth said Netflix's virtuous circle continues to spin around its core of strong original content.
"We believe 2Q17 may have been NFLX's strongest content quarter ever, leading to 5.2M global streaming net adds coming in well above our projection of 3.2M, w/significant upside in both US & Int'l," he wrote.
See Also: Mark Cuban Sees Half A Billion Subscribers Ahead For Netflix
Pivotal Research Group analyst Jeffrey Wlodarczak said Netflix should continue to benefit from subscriber growth and higher prices.
"Overall, NFLX 2Q and guidance continues the strong subscriber trends from the last 3 quarters, as they have taken advantage of the drawing power of originals to generate strong subscriber growth, while also taking a successful material price hike, a very powerful combination," he wrote.
RBC Capital analyst Mark Mahaney said Netflix's future is looking bright.
"Netflix continues to defy bear expectations that the company was becoming saturated in the U.S.," he wrote.
Nomura Instinet analyst Anthony DiClemente called Netflix's journey the unbreakable growth story.
"We are increasingly confident in our bullish outlook for Netflix, with the view that the company continues to build on its defensible position as the largest distributor of content globally," he wrote.
Cowen analyst Josh Blackledge said investors should expect Netflix to have very high margins once its growth stage has passed.
"We view NFLX as a pioneer in online streaming, with further expected growth in subs in the US and expectation for long-term sub growth internationally in existing and new markets," he wrote.
BMO Capital Markets analyst Daniel Salmon said Netflix has more strong content coming in the second half of the year, but lapping last year's price hikes could make for more difficult comps ahead.
"As NFLX begins to lap the un-grandfathering of price increases, we expect the potential for new increases to return to focus, especially as AMZN has established itself as a global low-cost provider," he wrote.
Baird analyst William Power pointed out that under the headline beat, free cash flow losses continue to rise.
"We wouldn't fight the current content/subscriber momentum, but also view risk/reward as fair in light of rising FCF losses," he wrote.
Goldman Sachs analyst Heath Terry said investors shouldn't be too concerned with Netflix's cash burn as long as its growth story remains on track.
"While the projection for "many years" of continued cash burn raises the risk profile, with ~25% growth in content spend (est.) this year, a growing distribution ecosystem and expanding addressable base, we believe that Netflix remains on track in building out an unmatched global entertainment platform," he wrote.
Related Link: Cramer: Netflix Proves It Belongs In The 'FANG' Group
Loop Capital analyst David Miller said growth investors shouldn't sweat Netflix's huge run-up in recent years.
"We're happy with the 30.6% lift in NFLX so far this year, but continue to believe it's not too late for growth-oriented managers to take new positions in what remains the only true large-cap growth story in Media/Entertainment," he wrote.
UBS analyst Doug Mitchelson said Netflix's keys to success are broadening its original content offerings, locking down additional distribution partnerships and executing on its growth strategies in Asia and in mobile.
"We believe Netflix's core competencies in both content and technology will drive a virtuous circle of greater subs and increased viewing time, enabling higher ARPU and revenue, which will fuel content spending to attract even more subscribers, and so on, positioning Netflix to sustain its position as the clear global leader in the emerging online video subscription business," he wrote.
While Wall Street remains mostly bullish on Netflix following its Q3 report, some firms are more bullish than others:
Jefferies has a Hold rating and $165 price target.
JPMorgan has an Overweight rating and a $210 price target.
Pivotal Research has a Buy rating and $200 price target.
RBC Capital has an Outperform rating and $210 price target.
Instinet has a Buy rating and $195 price target.
Cowen has a Buy rating and $197 price target.
BMO Capital has a Market Perform rating and $180 price target.
Baird has a Neutral rating and $175 price target.
Goldman Sachs has a Buy rating and $200 price target.
Loop Capital has a Buy rating and $205 price target.
UBS has a Buy rating and $190 price target.
Image credit: Shardayyy, Flickr
View Comments and Join the Discussion!
Posted-In: Analyst Color Earnings News Price Target Reiteration Top Stories Analyst Ratings Tech Best of Benzinga