Pivotal Checkpoint: The Bull And Bear Sentiment Around Tesla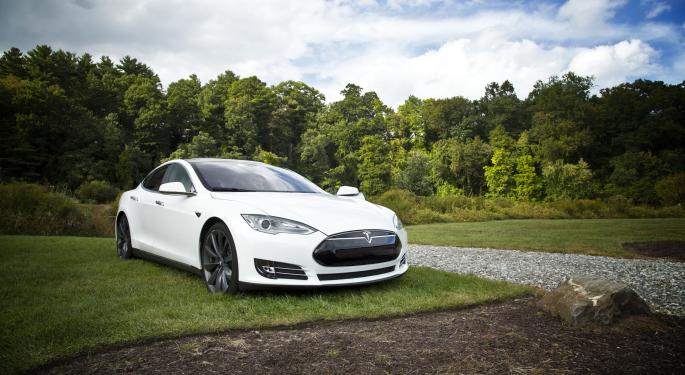 With Tesla Inc (NASDAQ: TSLA) set to roll out its first ever Model 3 on Friday, Tesla bulls and bears are digging in their heels and bracing for would should prove to be a pivotal stretch for the auto maker.
For anyone who hasn't taken a side in the hotly-contested debate, here's a rundown of the bull and bear cases for Tesla.
The Bull Case
The bull case for Tesla centers on the company's potential to transcend the auto industry and become the next great transformative tech giant. Most Tesla bulls believe the company's true identity is closer to Amazon.com, Inc. (NASDAQ: AMZN) than General Motors Company (NYSE: GM).
"Most people think of [Tesla] as an electric car company, but their mission statement is to accelerate the globe's transformation to renewable energy," Loup Ventures analyst Gene Munster recently said. "When you start thinking about that, you can see them grabbing market cap from energy companies, which are some of the largest market-cap companies."
Tesla bulls are laser-focused on the company's long-term growth potential, and Baird analyst Ben Kallo recently said that Tesla's growth opportunity is unparalleled among its tech peers.
"Based on consensus revenue compound annual growth estimates for 2016-2019E, we do not believe there are any companies of comparable market cap which offer a similar top-line growth profile. Additionally, with several upcoming catalysts, we believe it will be increasingly difficult to short the stock," Kallo wrote of Tesla earlier this year.
"While tech companies focus on developing autonomous driving or battery technology, and traditional automobile companies are beginning to invest in electrification, we think TSLA has a unique expertise across all of three of these businesses, which should enable it to outperform competitors over the long term."
Tesla bulls are hoping growth will cure all of Tesla's ills in the long-term.
Related Link: Skeptical Of Model 3, Goldman Now Sees 50% Downside For Tesla
The Bear Case
Most Tesla bears focus less on the company's future potential and more on the company's current fundamentals and the stock's steep valuation. This week, Goldman Sachs analyst David Tamberrino said Tesla stock has been valued at roughly twice what it should be.
Tamberrino questioned Tesla's ability to deliver on its aggressive growth targets.
"We remain Sell rated on shares of TSLA where we see potential for downside as the Model 3 launch curve undershoots the company's production targets and as 2H17 margins likely disappoint," he wrote.
Other bears focus on Tesla's current valuation. Greenlight Capital's David Einhorn placed a large short bet on Tesla after looking at the company's valuation compared to its earnings and free cash flow potential.
"The enthusiasm for Tesla and other bubble-basket stocks is reminiscent of the March 2000 dot-com bubble," Einhorn said on a recent earnings call. "As was the case then, the bulls rejected conventional valuation methods for a handful of stocks that seemingly could only go up. While we don't know exactly when the bubble will pop, it eventually will."
Tesla bears likely see the stock's 14 percent decline in the past week as the potential bursting of the bubble, while bulls see it as a healthy pull-back within a long-term uptrend.
The stock traded at 4313.44 at time of publication, up 46 year to date.
View Comments and Join the Discussion!
Posted-In: Baird Ben Kallo David Einhorn David TamberrinoAnalyst Color Top Stories Analyst Ratings Trading Ideas Best of Benzinga