Celebrating The 10th Anniversary Of The iPhone: A Look Back And What's Ahead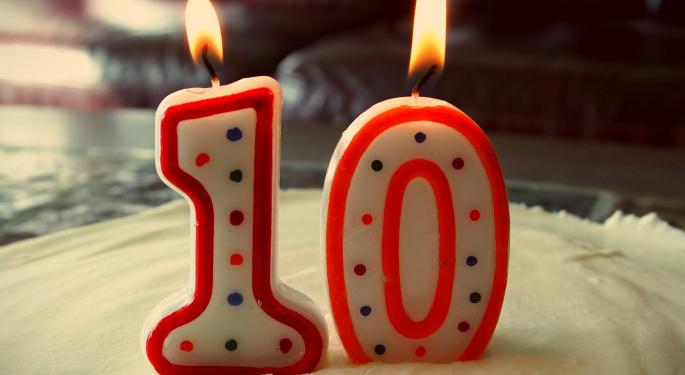 It's party time as one of the most coveted and aesthetically designed gadgets of all times, with high utility value is set to celebrate its tenth anniversary of existence.
A Historical Perspective
The first iteration of iPhone, the smartphone line up from Apple Inc. (NASDAQ: AAPL) and running the iOS mobile operating system, was released on June 29, 2007. From it's first iteration, it has featured a multi-touch screen with a virtual keyboard — a breakthrough success in moble-phone technology.
This multi-functional device lets you take videos and photos, play music, send and receive e-mail and text messages, browse the web, provide GPS navigation, receive visual voice mail, perform mathematical calculations, play games, socially network and more.
The pedigree of people behind one of the most successful products ever is also impressive. The original iPhone team comprised Scott Forstall, who took care of the software development; Sir Jonathan Paul Jony Ive, the wonder design man; Phil Schiller, the marketing wizard; and Greg Christie, Andy Grignon and Jeremy Wyld, among others.
Evolution
Thus far in its history, the company has released 15 models of iPhone, a measly figure when compared to Samsung Electronic (OTC: SSNLF), which introduced 31 models in 2016 alone.
Here is the list of the iPhone iterations of Apple:
iPhone: 2007
iPhone 3G: 2008
iPhone 3GS: 2009
iPhone 4: 2010
iPhone 4S: 2011
iPhone 5: 2012
iPhone 5C: 2013
iPhone 5S: 2013
iPhone 6: 2014
iPhone 6 Plus: 2014
iPhone 6S Plus: 2015
iPhone SE: 2016
iPhone 7: 2016
iPhone 7 Plus: 2016
The iPhone SE is an attempt to target the vast potential the developing markets offer, where customers extremely price sensitive. With a screen size of 4 inches and priced at a discount to its other models, it targeted the mass market, especially in countries like India and China.
Click here to see the comparison statistics Apple has for its currently marketed iPhone models at its website.
1 Billion And Ticking
Apple managed to reach the magical 1 billion mark in terms of iPhone sales in July 2016, about nine years after its introduction. At the end of the March quarter, the latest official statistics from the company available, cumulative iPhone shipments stood at 1.16 billion units.
The average selling price of the iPhone, during the holiday quarter of 2016 was $695. A Business Insider report, quoting Morgan Stanley analyst Katy Huberty, predicted ASP to rise to $753 in 2018, predicated on surging demand for the rumored next iteration of iPhone, named iPhone 8 by analyst, which is supposed to come with an all-new design, OLED display and bezel-less front face.
IPhone,indisputably, is THE tech innovation of the century, having generated revenues of about $700 billion and net profits of more than $100 billon for its innovator. From a $19 billion-revenue company in 2006 ahead of the launch, iPhone has helped Apple to grow its revenues to $216 billion in 2016.
All Eyes Trained On iPhone 8
With the iPhone 8 being Apple's tenth anniversary product, there has been a lot of expectations, a lot of hype surrounding the next iteration of iPhone. Some of the features rumored to be part of the much-awaited model are:
5.8" OLED display
Faster A11 processor
Glass body
Edge-to-edge display
Camera and touch ID integrated in display
No Home button
Wireless charging
Three models: One OLED, two standard
Several design leaks and dummy models gave a peek into what we can expect from the iPhone 8. Onleaks through its Twitter Inc (NYSE: TWTR), giving credit to TigerMobiles, carried a video giving details of the likely design based on the rumors that have surfaced thus far.
The video highlights the edge-to-edge to display, a top bar that will accommodate the front-facing camera and sensors, a vertical dual-lens rear camera and a glossy black chasis made of glass and indistinguishable steel band around the edges.
Stating that iPhone normally goes on sales a week or two after IFA, a major technology conference in Germany, the Independent suggested that the iPhone 8 may be released between September 15 and 22, with pre-orders accepted normally a week before the release.
Until it is officially released, rumors are likely to flow in thick and fast concerning one of the most celebrated products in tech history.
Related News:
The App Store Is The Jewel In Apple's Services Crown, But Has Its Growth Peaked?
Posted-In: Analyst Color News Education Previews Events Top Stories Tech Media Best of Benzinga
View Comments and Join the Discussion!