Post Office Reform Act Likely Dead This Year After House Republican Investigating Trump Steps Down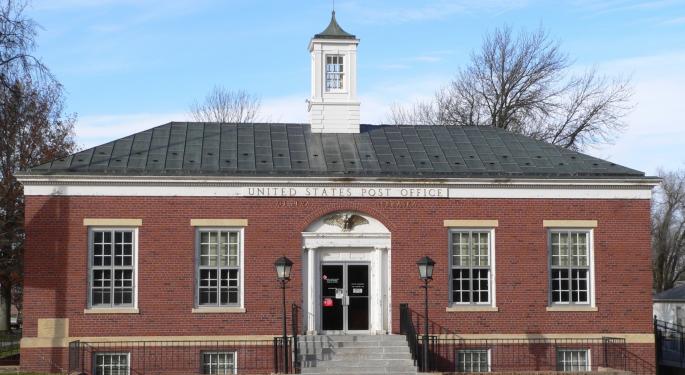 The Postal Reform Act of 2017, a bipartisan attempt to overhaul the perennially ailing U.S. Postal Service, appears headed for the dead letter office amid the chaos in Congress.
Even though the U.S. House Oversight and Government Reform Committee approved the sweeping legislation on March 16, Congress likely will tackle health care, tax reform, the debt ceiling and other priorities at the expense of postal reform, said Height Securities analyst Shrey Verma.
He wrote that the bill, which is supported by the American Postal Workers Union, AFL-CIO, was also crippled by the abrupt announcement last week of its lead sponsor and the committee's chairman, U.S. Rep. Jason Chaffetz (R–Utah) that he was leaving Congress to return to the private sector.
Chaffetz' committee is also leading the U.S. House investigation on whether President Donald Trump and his team colluded with the Russians to derail the presidential campaign of Democrat Hillary Clinton.
Congress Fiddles While USPS Burns
Chaffetz used his position as chairman to ardently pursue Clinton's email leaks, which U.S. intelligence agencies have linked to the Kremlin. He was criticized by liberals for seeming less eager to pursue the Trump investigation, which he said will go on in the House.
"There are lots of good people who care about these issues and are well-suited to carry out these investigations," Chaffetz told the Associated Press (which was actually formed in 1849 by New York city publishers frustrated by the post office's slowness).
He is the second House Republican to bail out of a Trump investigation. Rep. Devin Nunes, the chairman of the House Intelligence Committee, recused himself from that investigation after he visited the White House to look at dubious documents that Trump contended showed he was surveilled by former President Barack Obama's administration.
Post Office Loses Billions Annually
Meanwhile, the Post Office is just one of the casualties of Congress' distraction by the Trump administration. Height's Verma said all is not lost for the Postal Service.
"(The) conclusion of the Postal Regulatory Commission's (PRC) ten-year review of the postal rate system this fall, especially as it relates to potential changes to USPS's work-sharing arrangements, could unlock significant gains for USPS's largest workshare partner," Pitney Bowes Inc. (NYSE: PBI).
She said the USPS has lost money for ten consecutive years, a total of $62 billion since fiscal year 2007.
"A longstanding decline in mail volume coupled with an increase in costs associated with salaries and benefits are driving losses for USPS. But perhaps the most important drag on profits is its unfunded liabilities that amounted to $121 billion at the end of FY 2016," he wrote. "It is no surprise, therefore, that USPS and associated stakeholders are clamoring for Congress to intervene and right the ship."
Though an American institution — it was created by the Second Continental Congress on July 26, 1775, and briefly headed by Benjamin Franklin — critics are increasingly irked by its chronic requests for bailouts.
"One of the USPS's most maddening characteristics is its willingness to play both sides of the line: preening as a private-sector behemoth that should be allowed to compete with other businesses when it suits them, and as a beleaguered federal agency seeking relief from Congress and flirting with a taxpayer bailout when the going gets rough," wrote Leslie K. Paige of The Hill.
Related Links:
Special Prosecutor Holds Key For How A Trump Impeachment Might Unfold
Which Media Firms Are Benefiting Most From President Trump?
______
Image Credit: By Ammodramus (Own work) [Public domain], via Wikimedia Commons
Posted-In: Analyst Color News Futures Politics Legal Markets Analyst Ratings General Best of Benzinga
View Comments and Join the Discussion!