Was Mark Fields Given Enough Time To Lead Ford? Cramer Doesn't Think So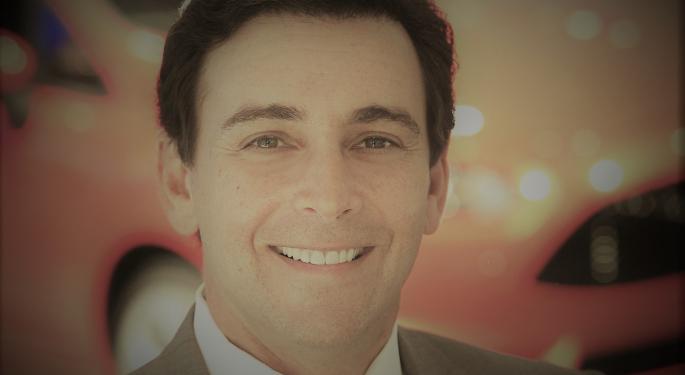 An executive shuffle occurred at Ford Motor Company (NYSE: F) as Jim Hackett, the former CEO of office furniture giant Steelcase Inc. (NYSE: SCS), was named CEO Monday. He will replace Mark Fields, who stepped down after overseeing a 40-percent plunge in the carmaker's stock price since taking over in mid-2014.
Cramer: Fields Was Fired
According to CNBC's Jim Cramer, Hackett, considered by many to be a turnaround specialist, will take over from Fields who was in reality fired.
Speaking during Monday's "Squawk on the Street" segment, Cramer shared his belief that Fields was working very hard and fast on all fronts, from working on an autonomous car to being a "worldwide" executive. But, at the end of the day Fields wasn't quick enough to fix Ford's woes in Latin America and Europe and was too slow with a push into China.
As such, Cramer wasn't surprised to see Fields fired based on Ford's underperforming stock price, but that doesn't mean it was justified. He added that Fields was given a nearly impossible task of competing against industry giants such as Alphabet Inc (NASDAQ: GOOG) (NASDAQ: GOOGL) and Tesla Inc (NASDAQ: TSLA), both of which are focused on their own self driving cars.
Fields' Major Flaw
Cramer went on to highlight a major flaw of Fields. He recalled a recent conversation with the executive in which Cramer wanted to highlight the fact that Ford could report good numbers in the bottom half of 2017 as several investments are finalized. But Fields wasn't interested in this narrative and was discouraged by what Cramer had to say.
"You had a CEO who basically said, 'Listen, we are going to have a down year — and it's a down year and don't tell us it won't be a down year,'" Cramer said. "And that is a very discouraging thing for a shareholder to hear."
Related Links:
Hackett In, Fields Out: Ford Seeks To Change Culture At Car Company
Ford CEO Mark Fields Shares Details Of Meeting With Trump
_______
Image Credit: By Ford Motor Company A/S [CC BY 3.0 (http://creativecommons.org/licenses/by/3.0)], via Wikimedia Commons
Posted-In: CNBCAnalyst Color News Topics Management Tech Media General Best of Benzinga
View Comments and Join the Discussion!