Earnings Strength Keeps Driving Market Despite Concerns About GDP, Geopolitics
The earnings train that's pulled markets upward most of the week continues to click along nicely, perhaps putting concerns about geopolitics and a weak GDP report on the back-burner.
There were some rumblings on the political and data side early Friday that could trigger caution. President Trump's warning about the potential for a "major, major conflict" with North Korea helped re-kindle geopolitical fears. And the federal government faces a potential shutdown at midnight if Congress and the White House can't agree on how to move forward.
Additionally, the first Q1 gross domestic product (GDP) estimate from the government came in at just 0.7%, well below Wall Street analysts' consensus expectations for 1.2%. Going into the report, the thought was that anything below 1% might be concerning, and that's what we got. It's definitely not a good number, and continues the string of weak Q1s that have been so puzzling over the last few years.
All that said, pre-market trading after the number made it look like a non-event. S&P 500 (SPX) futures stayed pretty flat, and bonds actually saw some selling, with 10-year Treasury yields rising to 2.33% in the minutes after the data. It just goes to show how earnings can impact the market, and earnings have been good enough that people may be discounting this weak GDP report.
It's been a tremendous earnings season so far, with a lot of companies beating expectations. Thursday afternoon brought strong numbers from Amazon.com, Inc. (NASDAQ: AMZN) and Alphabet Inc (NASDAQ: GOOG) (NASDAQ: GOOGL), and the technology-heavy Nasdaq could finish the week up 2%, barring some major disaster today. The SPX also has a chance to climb 2% this week if it rallies a little more.
Numbers from Microsoft Corporation (NASDAQ: MSFT), Starbucks Corporation (NASDAQ: SBUX), and Microsoft Corporation (NASDAQ: MSFT) didn't look so robust, but General Motors Company (NYSE: GM)picked up some of the slack early Friday with a big quarter that outdid expectations on the top and bottom lines.
The energy sector comes into focus today with earnings from Exxon Mobil Corporation (NYSE: XOM) and Chevron Corporation (NYSE: CVX). Oil prices have been sputtering between $48 and $53 a barrel over the last few weeks, but were up pretty significantly from last year over the quarter. So we'll see how that processes into energy earnings. XOM beat Wall Street analysts' earnings per share estimates by nearly 10 cents, and cash flow also topped analysts' predictions.
European and Asian markets were mixed Friday, and oil recovered slightly from recent lows but remains below $50 a barrel.
Keep an eye on volatility, by the way. These really low levels for VIX — the most widely followed fear index — may face a challenge if a government shutdown starts to look more likely. Also next week brings the April jobs report, a huge pile of earnings reports, and a lead-up to the May 7 French election. All this could cause volatility to gallop back, as well.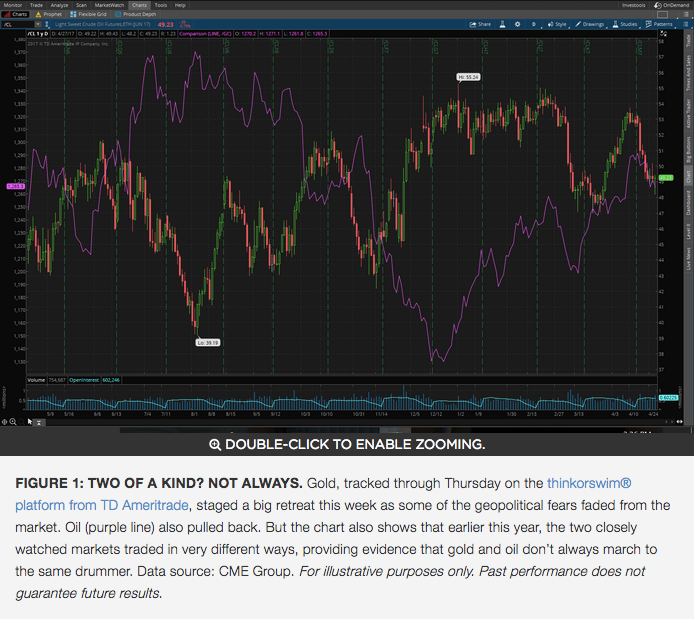 Tracking Rate Hike Odds
The futures market now projects about a 70% likelihood of an interest rate hike by June, and the weak GDP report this morning didn't appear to change those expectations. Chances for another rate increase following that one don't hit 50% until the December meeting, Fed funds futures suggest. So a three-hike year seems to be in the cards, at least for now. That's basically in line with economists' thinking going into the year. Next week's jobs report could be the next major catalyst helping to shape Fed thinking as the June meeting draws closer. March jobs growth was on the light side, so the April data might help shed new light, as will April inflation data.
On Your Mark
Get ready for auto and truck sales Monday. Last year and the year before, each month seemed to open with more great news from this sector, but lately the tidings haven't been so exciting. The recent lower sales pace could reflect higher interest rates, or maybe the last two years of record and near-record results simply played out, and demand is deflating a little. That would suggest a more natural cycle, rather than one dictated by any economic jitters. Job growth, aside from last month, has been mostly robust, while the housing market keeps sending positive signals. So let's see if auto and truck sales rebound a little as well.
Frozen Bank Policy
Both the European Central Bank (ECB) and the Bank of Japan (BOJ) left their monetary policies unchanged this week, which aligned with analysts' expectations. In comments after the ECB decision, ECB President Mario Draghi said the European recovery is "increasingly solid," according to media reports. But he still thinks an accommodative policy is necessary, partly because inflation remains low. From a stock market perspective, the policy is arguably working. The German DAX index, for instance, is up more than 8% year to date, outpacing the S&P 500 (SPX). French stocks are also up about 8%.
Posted-In: Analyst Color Earnings Commodities Forex Treasuries Global Econ #s Federal Reserve
View Comments and Join the Discussion!