Sunoco Boasts Best Deal Team In The Game; Citi Upgrades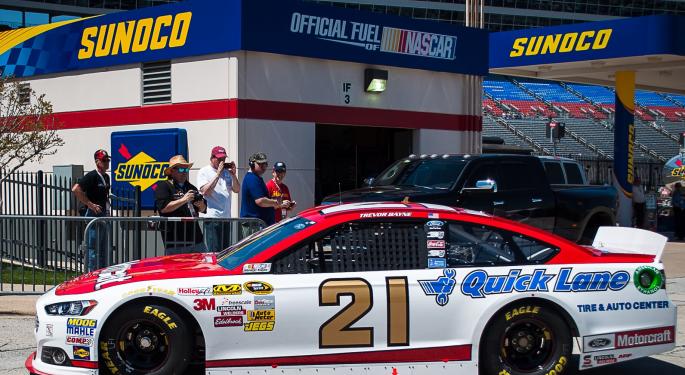 Borrowing a catchphrase from President Donald Trump, Faisel Khan of Citi upgraded shares of Sunoco LP (NYSE: SUN) from Sell to Neutral with a price target boosted from $22 to $29 due to the "art of the deal."
Faisel referenced a deal Sunoco struck with the convenience store chain Seven-11 in which Sunoco agreed to sell 1,110 of its retail stores. In fact, the analyst believes that Sunoco's management is the "best deal team in the game."
According to Faisel, Sunoco's management team has proven to be among the best in its space in terms of deal execution. Prior to the deal with Seven-11, Sunoco was not only "significantly" overlevered but unable to cover its distributions and "headed for capitulation."
"With this sale, that narrative appears to have changed dramatically," the analyst wrote.
Why Just A Neutral Rating?
The analyst reiterated that while the asset sale is a "game changing" move, it doesn't fully erase the case against owning the stock. Specifically, the company's management didn't provide answers to key questions around the deal, including the tax implications of the transaction and plans to address an apparent hole in coverage.
Faisel also argued that similar "aggressive deal making" in the past is responsible for Sunoco's unit prices to tumble for a multi-year high of $37.25 to a low of $21.01 before the Seven-11 deal prompted a sharp rebound.
"As we ponder all the qualitative and quantitative analysis we have done to date on SUN, we have decided that the most practical advice we can give investors who choose to invest in SUN is to follow the smart money," the analyst concluded. "The smartest money here is inside money. If SUN's GP required a 10 percent yield on preferred securities, which are senior to SUN LP units. We would not recommend investors bid the LP units above a 10 percent yield."
Related Links:
Jefferies Upgrades Sunoco Following Multi-Billion Deal With 7-Eleven
7-Eleven's $3.3 Billion Expansion In The U.S.
___________
Image Credit: By Marco Becerra - http://www.flickr.com/photos/mbecerra/8652939427/, CC BY 2.0, via Wikimedia Commons
View Comments and Join the Discussion!
Posted-In: Art Of The Deal Citi convenience storesAnalyst Color News Upgrades Asset Sales Analyst Ratings Best of Benzinga