Your Survival Guide To This Week's Potential Government Shutdown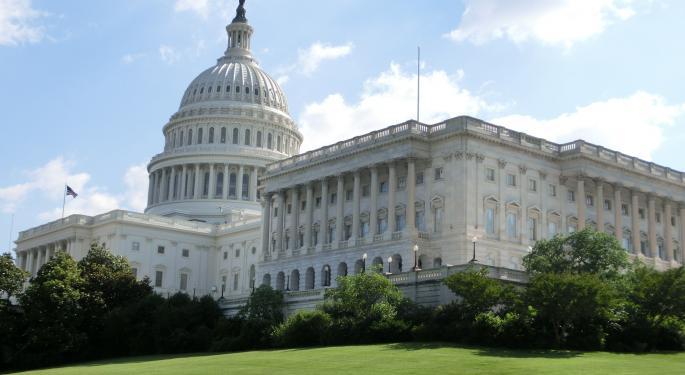 With a partial government shutdown on the line, Congress and the White House aim to work out kinks in the spending bill before the continuing resolution expires April 29.
Weighing critical negotiations surrounding the Mexican border wall, military funding and Cost-Sharing Reduction payments, Height Securities posted 25-percent odds of a shutdown prior to May 5 and less than 20 percent odds of a shutdown this weekend.
"Considering House members do not even return to DC until Tuesday afternoon and the number of procedural hurdles to jump over in the Senate, it seems all but assured a weeklong CR extension will pass prior to Friday," Height analysts Peter Cohn and Stefanie Miller wrote in a Monday note.
What's The Hold Up?
At this point, the CSR payments appear guaranteed, but President Donald Trump has intimated his willingness to withhold them if his demands surrounding the border wall and military spending are unmet.
Trump proposed a $1.4 billion–$3 billion budget for the wall and $30 billion for defense. Democrats are expected to concede smaller amounts for each, provided the former is assigned to generic "border security" and the latter is matched with allocations for non-defense projects, such as foreign aid.
"Ultimately if they don't reach agreement on this extra pot of funds (above the underlying amount of $583.7 billion for DoD in FY17), we think negotiators will agree to defer Trump's supplemental defense request rather than less optimal options such as a full-year [continuing resolution] at current levels, under which O&M and readiness funding would take a sizeable hit," Miller and Cohn wrote.
What Can Be Done?
Congress can avert a shutdown by passing an unlikely appropriations bill, extending a continuing resolution or passing a part omnibus, part continuing resolution. An extension of the continuing resolution could conceivably fund the government through the end of the fiscal year on Sept. 30, when an entirely new bill will be negotiated.
Height acknowledged two primary risks favoring a shutdown. In the first scenario, House Democrats reject even a one-week extension if Trump fails to approve any compromise. In the second, Trump refuses to accept a bill that does not meet his demands and allows a shutdown to occur.
"We ultimately think Trump will prove flexible and Democrats provide the necessary votes to make up for the 40-plus House Republicans who will likely vote 'no' in addition to the eight Senate Democrats needed to get to 60 votes," Cohn and Miller wrote.
How Have Shutdowns Hurt You?
Government shutdowns are not unprecedented. The first Bush Administration had one, the Clinton Administration had two and the Obama Administration had a 16-day shutdown in 2013. They were only barely avoided the last three years.
Each time the government closed, the average citizen got hurt. Nationally managed sites — parks, zoos, museums — locked their gates. Passport applications weren't processed. Neither were permit applications through the Bureau of Alcohol, Tobacco, Firearms and Explosives, or federal loan applications for small businesses or homes.
The last shutdown cost the U.S. economy an estimated $24 billion.
SPDR S&P 500 ETF Trust (NYSE: SPY) was trading up 1.1 percent Monday in advance of the Friday deadline.
Related Links:
Breaking Down Trump's 'Skinny Budget'
Fed Moves Markets With First Rate Hike Of 2017: On Path To 'Beautiful Normalization'
View Comments and Join the Discussion!
Posted-In: Analyst Color News Education Previews Politics Events Economics Trading Ideas Best of Benzinga