Why Fannie Mae, Freddie Mac Recapitalization Could Take Much Longer Than Expected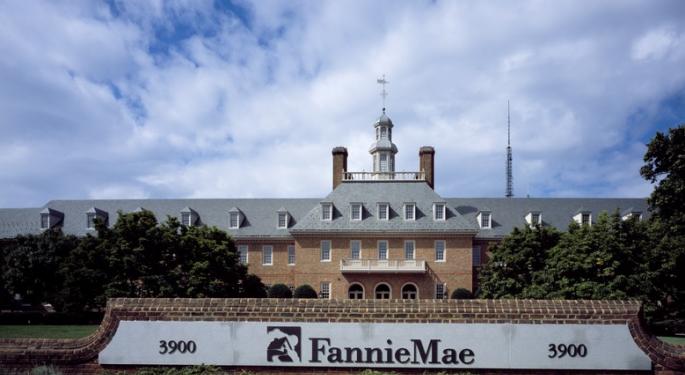 The path forward for Federal National Mortgage Assctn Fnni Me (OTC: FNMA) and Federal Home Loan Mortgage Corp (OTC: FMCC) shareholders has gotten much narrower in the past five months. According to Height Securities' Edwin Groshans, that path may also be much longer than investors realize.
Fannie Mae and Freddie Mac recently paid their full $10 billion Q4 dividends to the U.S. Treasury, dispelling any rumors that the Trump administration may immediately begin the process of recapitalizing Fannie and Freddie and returning control to shareholders.
Each quarter Fannie and Freddie pay 100 percent of their income to the government bumps back the timetable for potential recapitalization. Height estimates that at this point, it would take five to six years for Fannie and Freddie to get to the 4.5 percent minimum Tier 1 Common Equity ratio if they stopped paying dividends entirely.
"However, the compliance timeframe extends to 16–21 years using a capital surcharge of 250 basis points (bps) and systemically important financial institution (SIFI) buffer of 100 bps while paying a 5 percent dividend to Treasury," Groshans explained.
Dodd-Frank And The Courtroom
Of course, Fannie and Freddie shareholders could argue that President Trump has said, "We're going to do a very major haircut on Dodd-Frank." Those Dodd-Frank roll-backs could reduce the potential capital requirements necessary for Fannie and Freddie to be release from government conservatorship.
Back in February, Fannie and Freddie shareholders suffered a major blow in the courtroom when an appeals court ruled that investors could no longer pursue legal claims against the U.S. government related to the government's "net worth sweep" of Fannie and Freddie's profits. Shareholders have argued that the government illegally amended the terms of Fannie and Freddie's conservatorship, and that shareholders have a legal claim to Fannie and Freddie's profits.
So far in 2017, Fannie Mae and Freddie Mac shares are both down more than 38 percent.
Related Links:
Despite Courtroom Losing Streak, Legal Action Still Best Route For Fannie Mae, Freddie Mac Shareholders
Fannie And Freddie Shareholders Shouldn't Expect Resolution In 2017
________
Image Credit: Carol M. Highsmith [Public domain], via Wikimedia Commons
Posted-In: Edwin GroshansAnalyst Color News Politics Legal Economics Analyst Ratings General Best of Benzinga
View Comments and Join the Discussion!