Here Are The Likely Options On The Table As Trump Weighs Tax Reform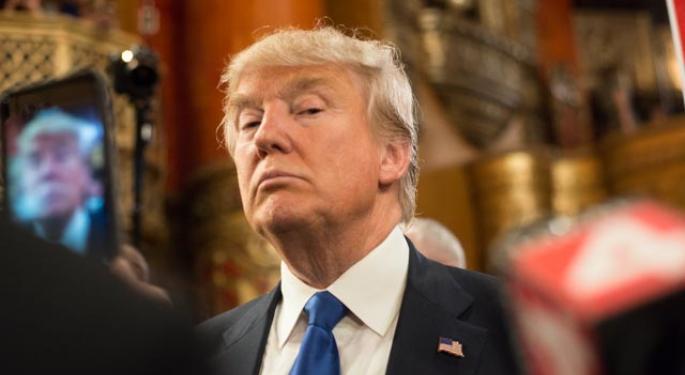 White House officials are preparing to brief President Donald Trump Thursday on options for comprehensive tax reform, according to a Bloomberg report.
As far as is known, the presentation will include House Speaker Paul Ryan's "Better Way" plan featuring a destination-based cash flow tax, as well as the 2014 tax reform draft of former House Ways and Means Committee Chairman Dave Camp.
Odds On The Camp Plan
Height Securities suggested the voice of National Economic Council Director Gary Cohn, an alleged opponent of a border adjustment tax, could diminish appeal for Ryan's plan.
At this point, the firm considers the Camp blueprint a viable possibility. Not only are Senate staffers evaluating it as an alternative to the House GOP proposal, but Republicans are warming to the concept of tethering tax reform to infrastructure, "which could enhance prospects for passage in 2017."
"The Camp draft has political problems lingering from 2014, and there are also procedural problems with passing it under reconciliation," Height wrote. "But the Camp proposal (or at least pieces of it, particularly on international anti-base erosion measures) remains a sleeper alternative in our view."
A Likely Timeframe
Despite the diversity of opinion yet hindering a unified Republican plan, rumors suggest the House GOP could release a tax proposal sooner than the anticipated mid-May report in an effort to precede White House announcements and hasten the approval process.
"The drawback of that approach is that the FY18 budget resolution is unlikely to be completed by that point," Height wrote. "Therefore, release of the tax bill could complicate efforts to round up the votes for the budget plan if the latter is considered the means to fast-track the House tax bill through reconciliation.
"There has been some discussion of using the FY17 reconciliation bill 'shell' left over from the wreckage of the American Health Care Act (AHCA), but that would require a deficit-neutral tax plan in the first 10 years as well as beyond, and there are also rumblings that healthcare may get a second look."
Height maintains equally low optimism regarding Treasury Secretary Steven Mnuchin's plan to enact a tax reform bill prior to or shortly after the August Congressional recess.
"[It is] a timetable which we consider unrealistic (we think year-end is more doable) particularly with ongoing divisions within the Administration," the firm wrote.
Related Link:
Analyst Sees Odds Of U.S. Border Tax Passage Increasing To 75%
How Trump's Plan For Taxes And Infrastructure Is Really A Resurrected Obama-Era Concept
Image: Emily Elconin
Posted-In: Dave Camp Donald Trump Gary Cohn Height SecuritiesAnalyst Color Politics Analyst Ratings General Best of Benzinga
View Comments and Join the Discussion!