Snap's Fortunes May Be Tied To Apple And Vodaphone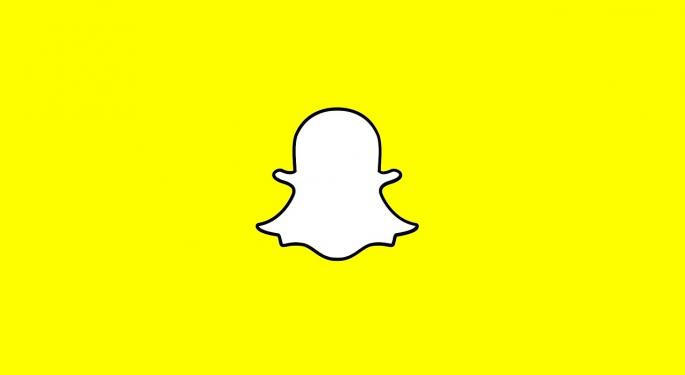 After a string of mostly negative commentary from Wall Street, Snap Inc (NYSE: SNAP) investors cheered the stock's first pair of Buy ratings this week, one of which came from Drexel Hamilton analyst Brian White.
Investors may have been so excited about the bullish ratings and White's $30 price target that they overlooked some important commentary about how the near-term fate of Snap may be tied closely to a handful of other companies, including Apple Inc. (NASDAQ: AAPL).
All About Growth
As Twitter Inc (NYSE: TWTR) investors know all-too-well, Snap's story in the next couple of years is going to be all about growth. For Snap, that growth likely means expanding its international presence, specifically in Asia and India.
According to White, that growth will also require some assistance.
"Snap users need a high-end smartphone and a high-speed mobile network to fully leverage the Snapchat platform," White explains.
Related Link: Brian White Sees Snap As More Than A Camera Company
Without high-end smartphones made by Apple, SAMSUNG (OTC: SSNLF) and other companies, there would be no Snapchat. Without mobile providers such as Verizon Communications Inc. (NYSE: VZ), there would also be no Snapchat.
India, Not China
Snapchat and other American mobile apps are banned in China, the world's largest emerging market. But White believes India could be one of the largest growth opportunities for Snap.
"GSMA estimates that half of the 1.9 billion new smartphone additions between 2016-2020 will come from Asia with the largest contributions from India (~339 million) and China (~175 million)," White says.
Just this week, British telecom giant Vodaphone Group Plc (ADR) (NASDAQ: VOD) announced a deal with Indian company Idea Cellular that will give Vodaphone access to 400 million customers in India. There are currently an estimated 900 million Indians that still don't have internet access.
Facebook Over Everyone?
But while Snap is waiting for Vodaphone and other companies to expad high-speed mobile coverage in India, Aegis analyst Victor Anthony says competitors like Facebook Inc (NASDAQ: FB) may beat Snap to the punch.
"Emerging markets like India are an opportunity for all the social media companies, but in Snap's case the internet and communications infrastructure in those markets will have to be greatly improved to support Snap's video-centric, bandwidth-intensive product," Anthony tells Benzinga.
"Unfortunately for Snap, that improvement will take years. During that time, Facebook's collection of apps replicating Snap, particularly WhatsApp, could outpace Snap in those markets over time."
It might be difficult for Snap to deliver significant growth from developed markets in North America and Europe, but with Apple, Samsung and Vodaphone paving the way in India and Asia, Snap may be able to tap a massive new market in coming years.
In the meantime, Snap investors have to hope that by the time the infrastructure is in place for them to expand, competitors haven't already taken all the market share.
View Comments and Join the Discussion!
Posted-In: Brian WhiteAnalyst Color Emerging Markets Top Stories Exclusives Markets Analyst Ratings Tech Best of Benzinga