Infrastructure, Immigration And 7 Key Takeaways From Trump's Address To Congress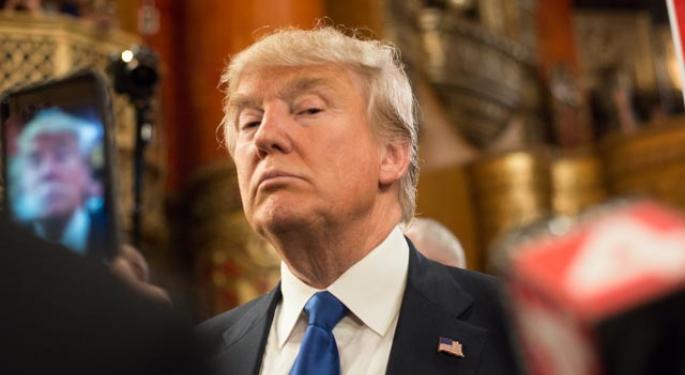 With the SPDR S&P 500 ETF Trust (NYSE: SPY) up 1.5 percent on Wednesday, it seems President Trump hit a home run in the eyes of investors with his Tuesday evening address.
In a new note, Height Securities' Peter Cohn gave a brief rundown of the major investor takeaways from the speech. Here's an overview of what Cohn had to say.
Looking presidential: Cohn gave Trump high marks for appearing presidential, appealing to both sides of the aisle and staying on topic. The speech was likely reassuring to investors concerned with Trump's temperament.
Policy details: Trump devoted much of his policy discussion to healthcare, saying that "Obamacare is collapsing" and replacing it is "not a choice—it is a necessity." Trump also mentioned specific policy goals for his Obamacare replacement: guaranteed coverage for people with preexisting conditions, tax credits and expanded HSAs for uninsured Americans, block-granted Medicaid to allow state-by-state flexibility, lower drug prices "immediately" via medical liability reforms and expanded ability to purchase insurance across state lines.
Related Link: 8 Of The Most Popular 'Fake News' Websites
Drug approval process: Trump pledged to bring down drug prices, but also vowed to help speed up the process of getting new drugs to market.
Tax reform: Corporate taxes are the top policy issue for many investors, and Trump was steadfast in his commitment to slash corporate taxes. Trump said he wants to reward companies that invest in America by cutting taxes and creating a "level playing field." In addition, Trump touched on the idea of a "reciprocal tax" against foreign countries that require U.S. companies to pay high tariffs. Finally, Trump pledged to provide "massive middle class tax relief" via his tax reform plan.
Infrastructure: Trump added little clarity to his previous plan for $1 trillion in infrastructure investments. Cohn called this part of Trump's speech "a bit of a dud," pointing out that the majority of Democrats and Republicans in rural states believe the plan is insufficient. Height is optimistic that the administration can begin pumping repatriation tax profits into infrastructure projects in the near future.
Immigration: Trump is interested in reforming U.S. immigration policies to be more in-line with the systems of Canada and Australia. Cohn believes these statements leave the door open for compromise with Democrats on the topic of legalization of undocumented immigrants.
Miscellaneous: Trump also touched on a number of lower-priority policy topics, including childcare accessibility, paid family leave, women's health, clean air and water and public school choice "for disadvantaged youth." At the same time, Trump criticized the Obama administration for piling on "more debt than nearly all other Presidents combined," suggesting other areas of government spending could see dramatic funding cuts.
Takeaway: Cohn didn't see the speech as earth-moving, and none of the policy specifics Trump mentioned came as a total surprise. However, as the stock market movement suggests, Trump's speech was an overall success.
"Investors should not expect quick movement based on this speech," Cohn explains. "Nonetheless, Trump did what he needed to do to assuage concerns with his personal performance and to keep the legislative agenda on some semblance of a track."
In addition to SPY's big Wednesday move, here's a look at how some relevant ETFs and are reacting to Trump's speech:
Image: Emily Elconin
View Comments and Join the Discussion!
Posted-In: Donad Trump Height Securities immigrationAnalyst Color Politics Top Stories Economics General Best of Benzinga