Digesting Fed Minutes: Vague Language Keeps Market Participants Guessing
Many market participants seem focused on yesterday's Fed minutes. But to get a picture of how the economy is doing, it may make more sense to look at an earnings report also announced Wednesday.
Though it's important not to generate too many conclusions from one earnings report, luxury homebuilder Toll Brothers Inc (NYSE: TOL) posted strong results that are worth a mention. The housing sector has been really robust lately, and the company's results appear to offer more evidence of that. Arguably, the strength in home sales illustrated by TOL's earnings may say as much or more about the economy than the Fed minutes did.
Stocks look flat early Thursday after the Dow Jones Industrial Average ($DJI) closed at a record for the 28th time since the election. It looks like the market is still digesting yesterday's Fed minutes, and there's not much data on today's plate.
"Fairly soon." That's the Fed's prediction for the timing of the next rate hike, according to Fed meeting minutes. How soon is "fairly?" In some ways, the minutes might have made the tealeaves a little harder to read, and it seems like we've gone back to those days of trying to make sense of rather ambiguous terms. The main takeaway seems to be that things haven't really changed that much, at least judging by the market's reaction to the minutes, which wasn't too dramatic.
Arguably the best way to judge what "fairly soon" means is to simply do what investors typically do, which is monitor Fed funds futures. Chances of a March hike fell to below 20% early Thursday, futures prices indicated. Odds are near 50% in May, so perhaps the thinking has turned toward that month rather than June, as many market participants seemed to be focused on a month ago.
The Fed meeting participants expressed some uncertainty about how potential economic stimulus from the new administration might affect inflation and gross domestic product (GDP) growth as the year continues. In a sense, it's possible — as we've mentioned over the last few weeks — that fiscal policy is starting to wag the dog a bit more, unlike the past decade when everyone focused on the Fed's next move. The Fed itself seems, by its words, to also have recognized that.
Speaking of policy, Treasury Secretary Steven Mnuchin said Thursday that he wants to see "very significant" tax reform passed before Congress' August recess. "We want to get this done by the August recess. We've been working closely with the leadership in the House and the Senate and we're looking at a combined plan," he said on CNBC.
On the earnings side Tesla Inc (NASDAQ: TSLA) shares rose 1% in pre-market trade Thursday after the company easily beat revenue estimates. Revenue rose 88%, beating Wall Street analysts' consensus by $100 million. However, the company reported a bigger loss than analysts had expected.
Strong housing starts released Wednesday were another in a string of recent bullish economic reports. New home sales are due Friday (see below), but the data schedule is sparse today.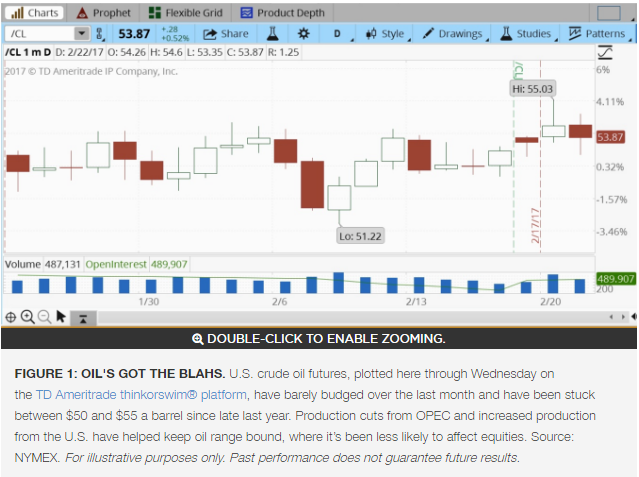 New Home Sales Up to Bat Tomorrow: After existing home sales for January knocked the ball out of the park earlier this week with a 10-year high reading, investors get a look early Friday at new home sales. Wall Street analysts' consensus is for a jump to a seasonally adjusted annual rate of 566,000, up from what analysts called a "disappointing" December reading of 536,000. The question is whether the pattern seen in December — with prices rising significantly and falling sales of less expensive homes — continued into the new year. Rising mortgage rates and higher prices may be posing a barrier to lower-income families buying new homes, Briefing.com said last month.
How Does Sentiment Shape Up? Anyone watching earnings and the stock market couldn't be blamed for thinking positive sentiment must be rather strong. But investors get the official read Friday morning with the final February University of Michigan Consumer Sentiment data. Recent reports have shown sentiment improving to a one-decade peak in January after a flat period early last year, and recent retail earnings data might point to a rather positive consumer picture as well. One question the sentiment data may address is what consumers think of the new administration's economic policy plans, which in recent surveys have factored into the sentiment readings, according to the university.
90% of the Way There: Earnings season is about 90% over, and Q4 earnings generally came in better than expected. That means full-year 2016 earnings may end up having risen about 0.3%, according to CFRA, a research firm. That's certainly better than what many analysts had forecast earlier in 2016, especially back in the first quarter of the year when earnings slumped. CFRA sees Q4 earnings rising nearly 6% year over year once all is said and done, with full-year 2017 earnings growth projected at 11%. That 11% number has remained pretty much the same for a while now, CFRA said, with financials, materials, and tech seen leading the way.
Posted-In: Analyst Color Earnings News Guidance Previews Events Econ #s Economics
View Comments and Join the Discussion!