Hasbro Vs. Mattel: Which Was The Better Toy Story In 2016?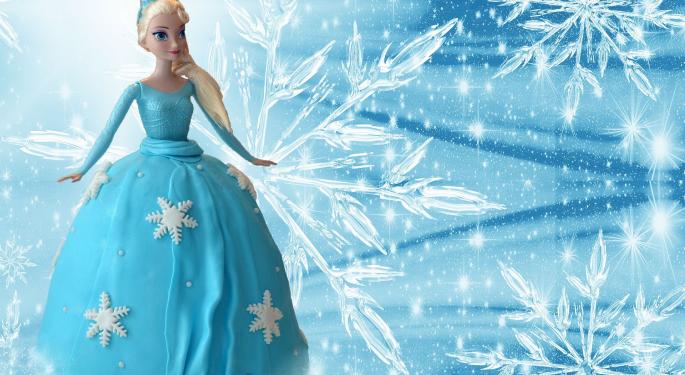 The toy stories are published, done and dusted. It is now time to take stock of which of it was engrossing from an investor perspective. Given that the quarter encompassed the key holiday selling season, the faring this quarter assumes importance for the Hasbro, Inc. (NASDAQ: HAS)– Mattel, Inc. (NASDAQ: MAT) duo, which dominate the organized toy industry along with their European peer LEGO A/S.
Fourth-Quarter Showdown
Hasbro reported Monday fourth-quarter adjusted earnings of $207.4 million or $1.64 per share. Revenues rose 11 percent to $1.63 billion from $1.47 billion last year.
Analysts, on average, expected earnings of $1.27 per share on revenues of $1.5 billion for Hasbro.
Meanwhile, Mattel's fourth-quarter results released in late January showed that fourth quarter adjusted earnings came in at $0.52 per share and revenues fell 8 percent to $1.83 billion. Constant currency sales were down a more modest 6 percent. The bottom line results were down from $0.65 per share in the year-ago quarter.
Mattel's adjusted earnings per share sorely missed the consensus estimate of $0.71 per share.
Hasbro's strength was in the girl's category (24 percent of total), which saw 52 percent revenue growth. In 2014, Hasbro wrested the Disney Princess contract from Mattel, which had been making Disney Princess dolls since 1996. The deal took effect from 2016. Games revenues (32 percent) rose 11 percent. However, boys (34 percent) and pre-school segments saw 3 percent and 4 percent revenue declines.
The girl's category benefited from strong offtake of Hasbro's line of DISNEY PRINCESS and DISNEY FROZEN fashion and small dolls, the successful launch of DREAMWORKS' TROLLS and significant growth of BABY LIVE.
Brand-wise, Mattel Girl and Boys Brands saw a 7 percent decline in sales to $1.05 billion. The company's flagship Barbie brand sales fell 2 percent. Sales of Other Girls brands, which included Disney Princess and Monster High, slumped 41 percent. The Entertainment business sales were flat but Wheels category sales rose 13 percent. Fischer-Price brands declined 3 percent to $607.7 million.
Geography-wise Mattel saw a 7 percent drop in North American sales and a 10 percent drop in international sales. Mattel said its gross margin fell 320 basis points, hurt by elevated discounting and the negative impact from changes in constant currency basis.
Full-Year Scorecard
For the full year, Hasbro reported adjusted earnings of $566.1 million or $4.46 per share on revenues of $5.02 billion, up 13 percent year-over-year.
The results exceeded the consensus estimates, which called for earnings of $4.10 per share on revenues of $4.89 billion.
Mattel reported full-year adjusted earnings per share of $1.06 on net sales of $5.46 billion, down 4 percent on a reported basis and 2 percent in constant currency basis.
The United States and Canada, which accounted for 51 percent of the full year revenues for Hasbro, saw 15 percent revenue growth. The segment's operating profit was up 21 percent. Revenues from its international operations rose 11 percent, while contributing 44 percent to total revenues. Operating profit climbed 15 percent. Entertainment and Licensing reported 8 percent revenue growth, while the segment's operating profit tumbled 35 percent.
Mattel's North American revenues were down 2 percent and the international segment's revenues fell 8 percent.
Other Metrics
Hasbro ended the year with $1.28 billion in cash. This compares to $869.5 million for Mattel. The former's operating cash flow was $774.87 million, more than Mattel's $590 million.
Stock Performance
Following the release of its results on January 26, Mattel's stock plunged 17.7 percent to $25.99 and has been moving sideways since.
Hasbro's stock was gaining 15.37 percent to $95.33. On January 26, in a sympathy move, Hasbro's stock fell a little over 6 percent.
Hasbro's stock gained roughly 16 percent in 2016 and has tacked on an incremental 6 percent thus far this year. In comparison, Mattel was up a mere 1.4 percent in 2016. In the year-to-date period, the stock has been down 6.3 percent.
The average analyst recommendation for Mattel's stock is Buy and the mean price target is $31.27, which suggests there is upside from current levels. Hasbro has a Hold average analyst recommendation, with a mean price target of $86.
Thus, it is likely to be the Hasbro story that is more appealing to investors currently, with the snaring away of the Disney Princess franchise giving it an edge. Mattel apparently has issues with its other core brands, namely Barbie and Fischer-Price, as is evidenced by the lackluster showing by these two brands. Unless, the Mattel story incorporates in itself a formula for resurrecting its core brands, Hasbro could well be a run-away hit at least in the short term.
Posted-In: BarbieAnalyst Color Earnings News Analyst Ratings Movers Trading Ideas General Best of Benzinga
View Comments and Join the Discussion!