It Looks Like Somebody Is Slowly Accumulating A Massive Stake In CSX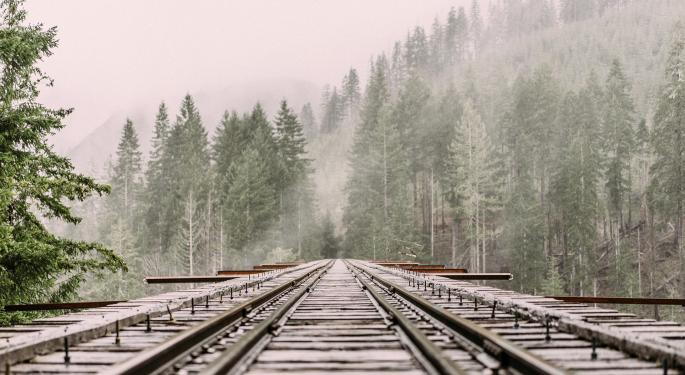 Traders watching CSX Corporation (NASDAQ: CSX) in Wednesday's after-hours session and Thursday's premarket have been in for a crazy ride.
Shares of the railroad company are up more than 20 percent to $43 Thursday morning, and the dramatic overnight move has many scratching their heads.
What's The News
On Tuesday, CSX reported its Q4 sales numbers — which dropped the stock about $1.
Shares traded around $38 throughout Wednesday until after the bell, when a report surfaced that outgoing Canadian Pacific Railway Limited (USA) (NYSE: CP) CEO Hunter Harrison has teamed up with activist investor Paul Hilal to target a purchase of the company.
That's when things got interesting.
The Overnight Move
PreMarket co-host Dennis Dick was watching the after-hours action. He explained the price action on Thursday's show:
"Here's CSX, disappointing earnings report yesterday, now they're going to buy it up 16 percent here because some CEO might get together with another firm and possibly make a bid? This seems like a ridiculous move.
"It traded a ton of stock last night. There is somebody, and I don't know who it is, but there is some institution that keeps putting iceberg buys out there and they keep on buying. Why do I say it's one institution? I've just never seen that many iceberg buys in a row.
"I would bet that iceberg buy order has probably bought at least 5 million shares already. Originally, I thought 'Is this a bad algo?' Because I've never seen an iceberg buy come back this many times in a row for this much stock. But they just keep coming."
An iceberg order is a large order broken into smaller parts. The idea is that only the "tip" of the iceberg is seen at any given time, so other investors can only see the small orders being placed. This is a common tool used by institutional traders who want to conceal the actual size of their order and minimize volatility.
Dick, who went short the stock, noted this presented a good learning opportunity.
"Trying to fade those aggressive buyers doesn't work. Take it from me."
He asserted that investors cannot do much to win on the action unless they were already share owners.
"Don't fight the tape," he said, adding that investors should act with discipline. "Don't fight a big buyer. It's important to cut your losers."
The Market's Reaction
The move in CSX had traders buzzing Thursday morning.
Douglas Kass tweeted, "It does not get wilder than $CSX trading in after hours last nite."

Multiple firms responded with CSX upgrades. Morgan Stanley raised its price-target to $37, while Scotiabank raised its to $43. Still, with the excessive overnight activity on the stock, the upgraded targets are now below the actual price.
Dick noted that other rail stocks received a sympathy pop. Norfolk Southern Corp. (NYSE: NSC) and Kansas City Southern (NYSE: KSU) were both up as of writing.
"In my 17-year professional trading career I've never seen an iceberg investor buy so much in premarket," Dick said. That is the most aggressive buyer that I think I've ever seen in after hours."
Listen to the full discussion at 4:43 in the clip below.
PreMarket Prep is a daily trading show that airs live from 8–9 a.m. ET here. You can also listen to the podcast here.
View Comments and Join the Discussion!
Posted-In: Analyst Color News Travel Insider Trades Markets Movers Media Trading Ideas Best of Benzinga