Dissecting The Economy Trump Is Inheriting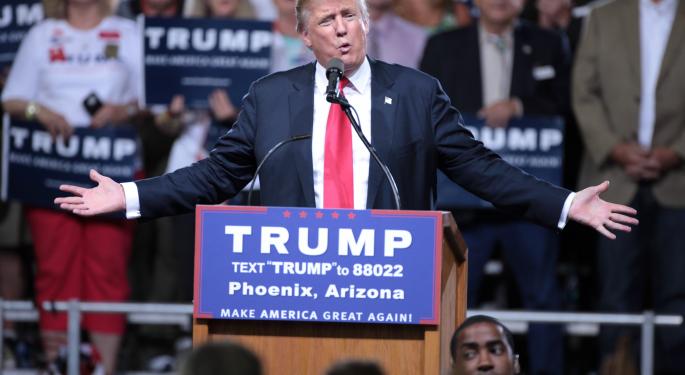 The stage is set for Donald Trump to take over following eight years of Democrat President Barack Obama being in office. The economy behaved relatively well under Obama.
Argus, in a note released on Thursday said Trump has been elected on a mix of discontent and hope: discontent at the economy not expanding robustly and workforce being left behind in the global economy and hopes on solutions envisaged for problems such as overseas job losses and rotting infrastructure.
Robust Private Sector Activity Seen
Jim Kelleher, the director of research at Argus, noted a purchasing managers' survey early in the year showed optimism regarding the new administration could achieve. Markit's manufacturing PMI for December rose 0.2 points month-over-month to 54.3 in December, up from 51.2 a year-earlier. The non-manufacturing or services PMI, accounting for a larger share of economic activity, came in at a better than expected 53.9. The composite PMI, combining manufacturing and services activities rose 0.4 points to 54.1.
Jobless Rate Consistent With Full Employment
The firm pointed out that non-farm payroll growth slowed, although the jobless rate trending around 4.6 percent to 4.7 percent is consistent with full employment. This has engendered wage inflation, according to Argus. The December non-farm payrolls report showed wages rising at an annual rate of 2.9 percent, well above the Fed's 2 percent inflation target.
Retail Sales Growth Explosive
Argus also highlighted the retail sales that surged up 0.6 percent in December, thanks to year-end auto sales. Receipts at service stations climbed 2 percent and sales at auto dealers were up 2.4 percent. Core retail sales, a measure used in GDP calculation and the retail sales after stripping autos, gasoline and building materials were up a more modest 0.2 percent.
Broader Growth In Line With Recent Trend
Argus referred to Bloomberg data on the consensus GDP growth estimate of 2.3 percent for the fourth quarter of 2016, the last quarter of Obama's presidency. For 2017, economists are looking at a run rate of 2.3 percent, substantially lower than the growth promised by the new president.
Trump Program Threatens Deficit Reduction
Argus noted that the Obama administration has reduced the budget deficit in its second tenure, both on an absolute basis and as a percentage of GDP. The federal budget deficit for the October 2016 government fiscal year was $587 billion or 3.2 percent of the GDP, the firm added.
This was a marked improvement from the $1.41 trillion deficit, representing 9.8 percent of GDP, for 2009, the first full year of the great recession, with the bloating attributed to the government's emergency stimulus measures to support the economy.
After 2011, the government cut the deficit drastically due to sequestration-mandated cuts, reducing government outlays, higher tax receipts due to Obama rolling back the Bush-era tax cuts and the economic recovery. Now, Argus sees Trump's policy prescription to boost growth, including a double dose of fiscal stimulus, tax cuts and government-funded infrastructure spending, possessing the potential to blow up the federal deficits.
Concluding, Argus said the level of GDP growth estimated currently cannot compensate for a reduction in tax revenues and aggressive federal outlays. The firm also noted that the risk of reflation in the budget deficit have increased. While noting that the economy recovery is mature, Argus said any turn in the cycle toward negative GDP growth would only aggravate a shortfall in government revenue.
Image Credit: By Gage Skidmore from Peoria, AZ, United States of America - Donald Trump, CC BY-SA 2.0, via Wikimedia Commons
View Comments and Join the Discussion!
Posted-In: Argus Bloomberg Donald TrumpAnalyst Color News Politics Econ #s General Best of Benzinga