What We Know Now About The Nintendo Switch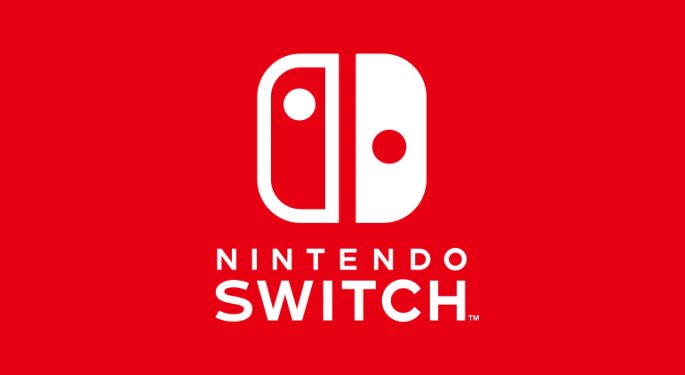 Nintendo Co., Ltd (ADR) (OTC: NTDOY) on Thursday unveiled its upcoming new video game console, the Switch.
Switching To The Switch
For those keen to know what a Switch is, it is a hybrid between a television-based gaming device and handheld gaming device. The console was announced in October 2016 and came after the lackluster showing by the Wii U launched in 2012. Switch can be played on one of the three models:
TV, in which the device is connected to a television.
Tabletop, in which the device is propped up on a table or other flat surface, utilizing a built-in kickstand.
Handheld, in which the Joy-Con controllers are attached to the sides of the device.
Pricing, Sale Date
The Switch gaming console is priced at $299.99 and will go on sale on March 3, 2017, in the United States and several other foreign countries. The company also indicated that there will be a paid Nintendo Switch online service, with the pricing to be announced later in 2017.
Innovative Features
Loop Capital said in a note on Friday the two most innovative aspects of Switch are its ability to play connected to a television or on a standalone basis and the Joy-Con controller, which can be used as one device or as two separate controllers, allowing two gamers to play.
Game Lineups
Loop Capital also stated the initial title lineup appears limited, with the company providing just a few extended gameplay demonstrations during its presentation. These included:
"1-2 Switch": A game in which gamers can play without looking at the screen.
"Arms": A fighting game that is a combination of boxing and shooting.
"Splatoon 2": A multi-player game of paintball on steroids.
"Super Mario Odyssey": An open world game featuring Nintendo's most iconic character.
"Legend of Zelda Breath of the Wild": A fantasy game.
Of these, "1-2 Switch" and "Legend of Zelda" will definitely be made available at launch. The company also clarified that over 50 third-party publishers are currently working on over 80 games, including titles in the popular Skyrim and FIFA franchises.
Concerning Aspects
Though impressed by Switch, Loop Capital expressed some concerns about the device:
Inferior graphics compared to Sony Corp (ADR) (NYSE: SNE)'s PS4 and Microsoft Corporation (NASDAQ: MSFT)'s Xbox One.
Limited battery life of 2.5 to 6.5 hours, limiting the usefulness of the portability.
An underwhelming initial title lineup, which might prevent gamers buying the console because of the dearth of compelling titles and third-party publishers not developing more titles because of the small installed base.
Image Credit: By Nintendo [Public domain], via Wikimedia Commons
Posted-In: Nintendo Swithc SwitchAnalyst Color News Analyst Ratings Tech Trading Ideas General Best of Benzinga
View Comments and Join the Discussion!