Commodities, Financials And Politics: LatAm's 'Increasingly Critical' Situation Explored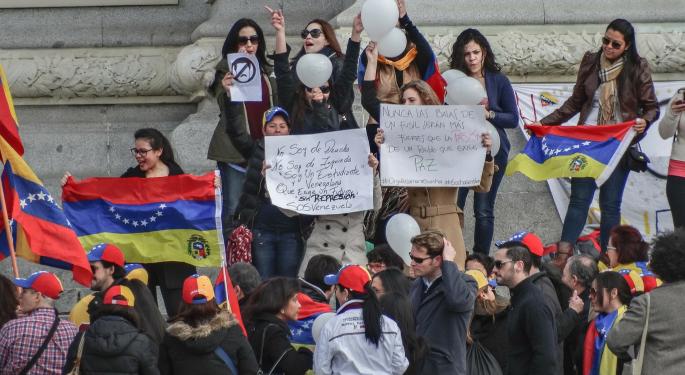 "As of December of last year, we've seen a very large shift in expectations with Mauricio Macri's victory [in Argentina], given that the third economy in the continent, trailing Brazil and Colombia, turned drastically from a populist, economic growth model to a more pro-liberal pro-market model," Diego Martinez Burzaco, chief economist at the world's leading Spanish-language financial analysis firm, Inversor Global — an Agora Inc. partner, told Benzinga in a recent interview.
Venezuela's Surging Isolation
The expert classified Macri's win as a "first blow to Venezuela," which was followed by the trial and impeachment of Dilma Rousseff in Brazil, and her replacement with Michel Temer. "The Venezuelan populism in Latin America has been left very diminished, only keeping Bolivia and Ecuador as allies, while missing the support of the largest economies in the continent."
"I believe, nowadays, [Venezuela's] populism is isolated, has internal problems, and lacks of regional support. The only way this can be sustained over time is that oil prices rebound very strongly, as it could generate excess resources for Venezuela. Nonetheless, I think the situation is becoming increasingly critical," he added.
For instance, on Tuesday, PDVSA, the country's state-owned oil and natural gas company, delayed the payment of three interest coupons from three different bonds. "This is a first approach to a possible default, as the company's bonds are showing in the market," Martinez Burzaco expounded. "So, on top of an internal crisis, Venezuela is now seeing an international financial isolation crisis arise."
Oil In Latin America
Benzinga moved on to ask about oil in Latin America.
"The very short term driver is the OPEC meeting on November 30. Initially, they [the countries involved] would decide there to cut crude oil production, and this could generate some kind of partial rebound in the commodity's price," Martinez Burzaco explained.
Thinking about the longer term, he said investors need to watch what President-elect Donald Trump does. The Republican has declared intentions of energetic self-sufficiency, and "this means he could remove many regulations within the oil market in the U.S., pushing production up." This, in turn, could have a large impact on the global energy market, the economist explicated.
I think that an oil price stabilized around $50 or $60 per barrel is probably the most likely thing to see over the next year. If this turns out to be the case, it would be good for the region, because we know that Petroleo Brasileiro SA Petrobras (ADR) (NYSE: PBR), for example, is a very important player in offshore oil reserves, and needs a relatively high price to be able to extract that oil. We also know that Argentina has the second largest reserve of non-conventional oil and gas at Vaca Muerta, which is in the hands of YPF SA (ADR) (NYSE: YPF), and would also benefit from higher oil prices.
Revisiting The Mining Outlook
Finally, Benzinga inquired about mining. In a previous article, Martinez Burzaco said he was watching some mining companies active in Latin America, including Vale SA (ADR) (NYSE: VALE), POSCO (ADR) (NYSE: PKX) and OROCOBRE LTD NPV (OTC: OROCF).
"Since Trump won, the mining sector is undergoing a rough patch, especially because precious metals have tumbled drastically (…) [which has particularly affected] companies with large reservoirs of gold and silver," he explained.
"On the other hand, we had a pretty interesting rally in industrial minerals: copper, zinc, and some other minerals involved in industrial processes. This somewhat stems on iron, and the idea that Trump's aggressive infrastructure plan could boost the demand for these minerals," he supplemented, mentioning a few winners from this situation, like COMPANHIA VALE DO RIO DOCE, S.A. ORDINARIAS (BME:XVALO) and Ternium SA (ADR) (NYSE: TX).
Finally, he said, it might be time to bet on the domestic market in Latin America. In this line, Brazilian and Argentine banks like Banco Bradesco SA (ADR) (NYSE: BBD), Itau Unibanco Holding SA (ADR) (NYSE: ITUB) and Grupo Financiero Galicia S.A. (ADR) (NASDAQ: GGAL) could represent good investments.
View Comments and Join the Discussion!
Posted-In: Analyst Color Long Ideas News Emerging Markets Commodities Politics Topics Global Best of Benzinga