Comparing The Competition In Home Services: HomeAdvisor, Amazon Home Services And Angie's List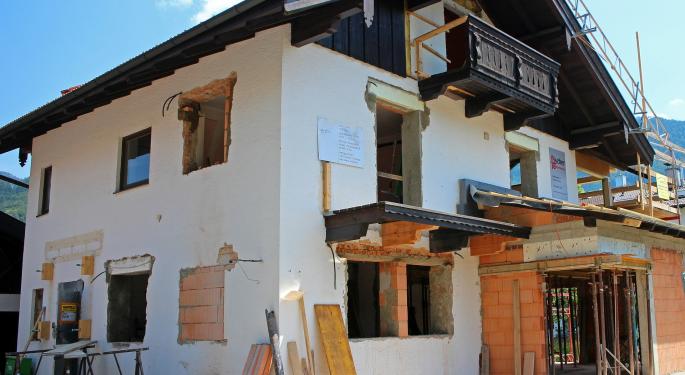 The holiday season is around the corner, and many households use the "down time" to build/renovate their homes. As part of this process, many decide to invest in home services to aid their process, thus finding themselves confronted with a plethora of choices.
Lucrative Market
The home services industry is worth more than $400 billion and constitutes services such as HVAC, house cleaning, flooring, plumbing, landscaping, and moving and storage services. The lucrative market has attracted heavyweights such as Amazon.com, Inc. (NASDAQ: AMZN) into the field.
This week, Amazon announced the expansion of Amazon Home Services into 20 new metropolitan areas including Indianapolis; Las Vegas; Ann Arbor, Michigan; and Cleveland after announcing the service in March 2015.
Amazon's catalogue includes service providers from almost 60 professions offering over 1,200 unique services (up from 700). The e-commerce giant also upped its service availability to include 50 metro areas throughout the United States.
With the advent of online and mobile booking, Home Services became a win-win for both professionals as well as consumers.
On one hand, consumers can avail friendly, on-time professional services at a pre-determined reasonable price. On the other hand, service providers get maximum reach for their business, with many new leads, and get the best possible price for their services.
Competition Within The Space
Apart from Amazon, HomeAdvisor and Angie's List Inc (NASDAQ: ANGI) are the other well-known names in the industry.
IAC/InterActiveCorp's HomeAdvisor
For IAC/InterActiveCorp (NASDAQ: IAC), HomeAdvisor (HA) is a key revenue contributor. The company aims to grow adj EBITDA in HA 50–100 percent next year as they expand into Europe. HA recently acquired 70 percent of MyHammer, the leading home services marketplace in Germany.
During the third quarter, HomeAdvisor revenues grew 34 percent to $134 million, above consensus of $130 million and adj. EBITDA of $16 million also beat consensus' $10 million. Over time IAC believes HomeAdvisor could be a 20 percent EBITDA margin business.
"HomeAdvisor's two-sided marketplace connects service professionals (SPs) with people looking to start home improvement projects. HA has over 137,000 paying SPs in the network (+48 percent Y/Y); each paying ~$300 / year annual subscription plus an add'l ~$300 / month for leads," Jefferies analyst Brian Fitzgerald wrote in a note.
Angie's List
Meanwhile, Angie's List has a membership count 4.5 million at the end of the third quarter, with new member engagement metrics approximately tripling. The company saw net participating service provider additions of 1,367, the highest in over two years, and an increase from the second quarter of 2016.
However, Angie's reported a net loss of $16.8 million for the third quarter versus net income of $0.1 million for the third quarter of 2015. Adjusted EBITDA loss of $7.5 million was compared to adjusted EBITDA of $3.2 million a year-ago.
The continued losses have led the company to engage Allen & Company LLC and BofA Merrill Lynch to explore strategic alternatives. In November 2015, IAC offered to buy Angie's List for $8.75 a share, or about $512 million in cash.
As such, the booming home services market makes an attractive and interesting option for investors.
At Last Check
HomeAdvisor's IAC/InterActiveCorp was up 0.41 percent at $66.34.
Angie's List was down 0.35 percent at $8.55.
Amazon was up 0.64 percent at $751.30.
Posted-In: Amazon Home Services Brian FitzgeraldAnalyst Color Analyst Ratings Movers Trading Ideas General Real Estate Best of Benzinga
View Comments and Join the Discussion!