Donald Trump Will Be President: What's Next For The Fed?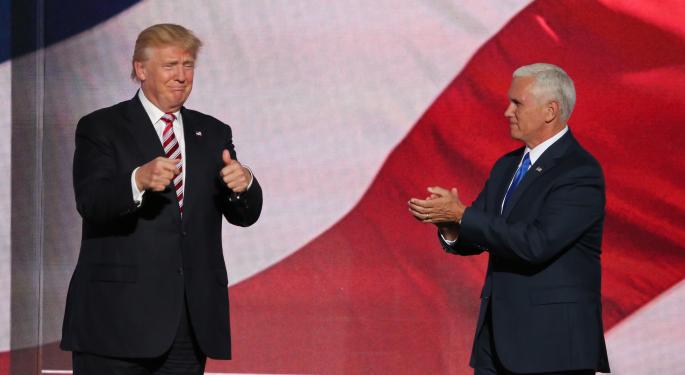 President-elect Donald Trump created a bit of a feud with Janet Yellen and the Federal Reserve, which now creates a bit of an awkward situation.
So now what? According to Gadfly's Marcus Ashworth, it may be business as usual at the Federal Reserve.
Ashworth noted that the two-year Treasury is little changed at a time when U.S. equity futures tanked and stock markets around the world were highly volatile. The lack of movement in the two-year Treasury reinforces the view that the market is pricing in the likelihood of a rate hike after the election results than before.
Meanwhile, the stability of the euro versus the U.S. dollar and the dollar/yen pair also reflects the notion that a rate hike is mere weeks away. In fact, the U.S. dollar is trading pretty much back to where it was prior to the election.
The Fed Hates Volatility
Needless to say, many are arguing that a Trump victory puts the Fed's rate hike on hold. Pantheon Macroeconomics chief economist Ian Shepherdson is among the many who believe this is the case.
"The Yellen Fed hates uncertainty, and falling stock prices, and tends to react to both by not doing what it had previously planned to do," The Wall Street Journal quoted the economist as saying in a research note. "We aren't yet changing our formal forecast numbers, but as of right now the chance of a December hike probably is no more than one in three."
Image Credit: By Ali Shaker/VOA [Public domain], via Wikimedia Commons
Posted-In: Bloomberg GadflyAnalyst Color Politics Top Stories Economics Federal Reserve Media General Best of Benzinga
View Comments and Join the Discussion!