The FDA Missed Egalet's PDUFA Date, But Investors Should Not Be Worried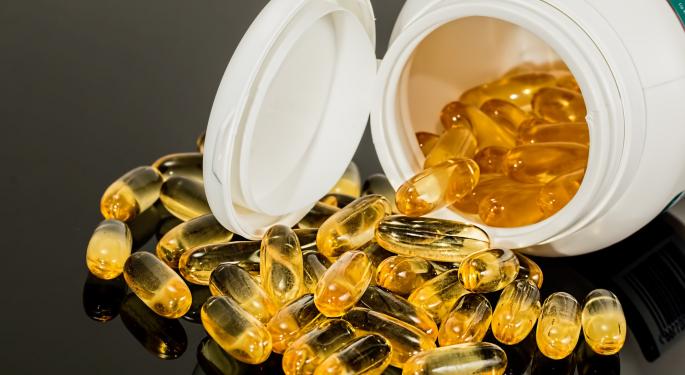 Despite Thursday's FDA announcement that they'd miss the PDUFA date for Egalet Corp (NASDAQ: EGLT), and Friday's sell-off in the stock, the biotech company's top analyst is still very bullish on the stock.
Chiara Russo, Cantor Fitzgerald's Director of Specialty Pharmaceuticals, joined PreMarket Prep on Friday morning to explain her reasoning for seeing upside, and it comes down to the fact that they have great technology and, according to Russo, this is just a case of the FDA being cautious.
Related Link: The FDA Won't Meet PDUFA Goal Date For Egalet's ARYMO ER
"If you look at historically at this point, the FDA has hit a pattern with these opiods coming to market, and it's not a bad thing," said Russo. "It just seems like the process of getting an opiod through the FDA just requires a lot more boxes to be checked. So we're not particularly concerned about the delay. I think they have an exceptional product that they're bringing to the market just in terms of technology. Ultimately we think this is just a temporary delay."
What Egalet Does
Egalet's focus is on abuse-deterrant drugs. ARYMO ER, the drug in question at the FDA, is designed to not be crushed, dissolved, or cooked by abusers.
"Egalet's technology is called the guardian technology, and what they have managed to do is basically create an incredibly hard pill. And if you get to see it firsthand and play with it, it's exceptionally hard, like a Lego. It is an exceptionally interesting and simple way to sort of keep the active ingredient in the pill. Their pill has been known to, for instance, break coffee grinders." said Russo.
Related Link: What is PDUFA?
The Takeaway From Last Night's News
A miss of the PDUFA date, essentially the "go/no-go date for drug approval" as Russo described it, would normally be bad news for a company. In some cases, it signals the FDA is not satisfied with the data they were provided.
But that's not what happened Thursday. The hangup appears to be on the drug's labeling, which Russo said is just the product of them being overly cautious.
She noted that Hysingla was delayed, but ultimately approved, back in 2014. Within the last year Xtampza was also approved after an initial delay.
"This is not anything to get all up in arms about," Russo said. "The FDA is being overly cautious in approving any opioids that are coming to the market, and that's a good thing. We like to see that the optics are good. If the FDA is just letting all opioids come through the system, people are probably going to yell at the for it. So, the FDA's being cautious."
One Problem For The Opiod Space
Russo did note there are a couple of issues that stand in the way of opioid-producing companies like Egalet. For one, she said, there's a lack of doctor education about what options they have available. But more importantly, insurance companies are not willing to pay for them.
"There is this not-so-good disconnect between what the CDC and the FDA and the public in general wants, vs. what insurance companies are trying to pay for. And that in my eyes really sort of is the crux of why the uptick in abuse-deterrant formulations has been sluggish. With insurance, the FDA and CDC and news outlets can all say 'If you're prescribing opioids you should be prescribing an abuse-deterrant formulation.'
However, insurance companies say 'We don't want to pay for it. Use the cheap generic.' And that's sort of the big disconnect here. So until you get the insurance companies on board...it's going to be a slow uptick and uphill battle."
Egalet shares are down 5.3 percent in Friday's session following the FDA news, but Russo sees the drop as a buying opportunity.
"I have a lot of faith in this product, I have a lot of faith in this management. I think, like I said, this fits the pattern of what the FDA is doing in getting opioids approved through the system, and I think this actually fits a positive pattern," she concluded.
Cantor Fitzgerald maintains a $21 price target for Egalet.
Listen to the full discussion at 39:02 in the clip below.
PreMarket Prep is a daily trading ideas show that focuses on technical analysis and actionable short term trades. You can listen to the show live every morning from 8-9 ET here, or catch the podcast here.
View Comments and Join the Discussion!
Posted-In: Analyst Color Biotech Long Ideas News Price Target FDA Analyst Ratings Trading Ideas Best of Benzinga