Earnings Parade: Technology Shines While Other Sectors Also Out-Perform
The slow grind higher persists, and today may resemble a carbon copy of early yesterday, with stocks bouncing around as investors look for something to trade on.
What a week it's been for the technology sector, with Microsoft Corporation (NASDAQ: MSFT), SAP SE (NYSE: SAP) and International Business Machines Corp. (NYSE: IBM) all benefitting in Q2 from their cloud businesses. And after the close Wednesday, Intel Corporation (NYSE: INTC) reported better than expected earnings per share, though its revenue fell a bit shy of Street expectations. Information technology easily led all sectors on Wednesday, rising nearly 1.4%, and the technology-heavy Nasdaq index rose more than 1% on the day, leading all major indices.
Booming quarterly results from technology isn't an isolated phenomenon. Companies from other sectors, especially the financial sector, have also delivered positive surprises, and to date this earnings season, the number of companies reporting above-consensus earnings results is running slightly higher than the historic rate. The latest example was General Motors Company (NYSE: GM), which reported $1.86 earnings per share early Thursday compared with consensus for $1.49, and an 11% increase in revenue. Even in Europe, widely seen as a slumping economy, GM had positive results, and U.S. customers appeared to be snapping up the company's SUVs and trucks at a hefty rate. Behind the robust report, GM raised its guidance for the year.
The earnings bonanza just keeps coming, with other key companies reporting Thursday including AT&T Inc. (NYSE: T), Southwest Airlines Co (NYSE: LUV), Chipotle Mexican Gril, Inc. (NYSE: CMG), Visa Inc (NYSE: V), and PayPal Holdings Inc (NASDAQ: PYPL). This morning, besides GM, a host of reporting companies beat consensus earnings predictions, including Biogen Inc (NASDAQ: BIIB), Alaska Air Group, Inc. (NYSE: ALK), and Johnson Controls Inc (NYSE: JCI). D.R. Horton, Inc. (NYSE: DHI), a large homebuilder, reported earnings in line with consensus but saw revenue rise more than 12%. The housing market has been resilient of late, perhaps contributing to DHI's strong revenue results. The company said homebuilding revenue rose 9% during the quarter.
Tomorrow morning, the focus will be on General Electric Company (NYSE: GE), typically one of the most interesting earnings reports to watch because the company is involved in so many businesses around the world. For investors who want a one-stop picture of what's happening world-wide, GE is it. Consensus is for GE to report EPS of 46 cents.
It's said that "the trend is your friend," and in a rally like this one, where the market just keeps clawing higher, volatility often falls. But it's a bit concerning that VIX futures, which measure volatility, have descended so low, with the VIX just above 12 early Thursday. Investors should be careful not to get too excited simply because the market is at all-time highs. Watch the individual stock stories.
Overseas this morning, the European Central Bank (ECB) elected to keep interest rates unchanged, and said rates would stay right where they are or even lower for an "extended" period. ECB President Mario Draghi is holding his news conference, and sometimes his words can affect markets, so keep that in mind.
From a data perspective, things are a bit quieter this week, with existing home sales and leading indicators due this morning but an empty schedule on Friday. U.S. weekly jobless claims, reported earlier in the morning, came in at 253,000, below consensus of 265,000. Generally, weekly claims have been pretty tame lately, and today's figure marked a three-month low.
There continues to be talk in the markets about how the recent rally may affect Fed policy, but any talk of a rate hike is likely more chatter than reality, and a rate hike isn't reflected by the futures markets. Until prospects for a rate rise at the Fed's December meeting reach 50%, it's hard to take any possibility of a hike before that too seriously.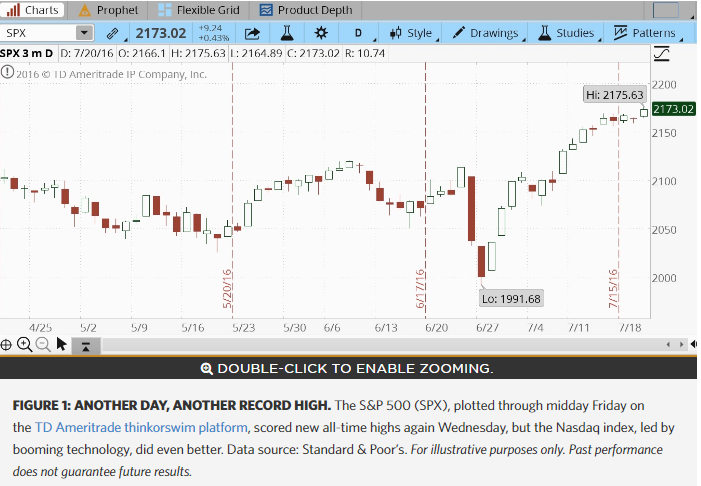 Get Ready for Existing Home Sales: In May, sales of existing homes rose to their highest pace in nearly a decade, and housing market watchers see the boom continuing in June. Consensus for June existing home sales, due at 10 a.m. ET today, is a seasonally adjusted annual pace of 5.5 million, down slightly from 5.53 million in May. This comes as the National Association of Realtors reports that the concept of a "starter home" has started to fade, with young people more frequently buying first homes they plan to live in for the long term. "First-time buyers nowadays tend to be higher earners, due to rising home prices and tighter housing inventories," the association said in an article on its web site today. "As such, these higher earners desire fancier homes." While that sounds good for the economy, it's worth noting that the association also said high prices may be keeping traditional first-time buyers, who typically lack funds for a big mortgage, out of the home market.
Rising Yield Curve May Signal Improving Economy: For weeks now (actually, it's been months), the yield curve on U.S. Treasury bonds has been getting flatter and flatter, meaning the difference between long term interest rates and shorter term rates was on the decline. Typically, a falling yield curve signals that investors are bearish on the country's long-term economic prospects. But this week, the yield curve has seen a bit of movement, with long-term U.S. Treasury yields rising more steeply than short-term yields. While yields remain extremely low by historic standards, any type of major reversal in the yield curve could be a sign that bullish recent data, including retail sales and jobs, may be having an effect on the markets. And a rising yield curve is often helpful for the financial sector, as banks benefit when long-term rates go up. A few weeks ago, the spread between the two-year U.S. Treasury bond yield and the 30-year yield had fallen to 148 basis points, down from 196 at the start of the year. But as of Wednesday, the spread was up to 159 basis points.
Information Technology, Health Care, Leading Rally: It's been nearly a month since the Brexit vote injected a heavy dose of volatility into the market and sent stocks tumbling. Since then, the major averages climbed to record highs. Which sectors are in the vanguard? As of early Thursday, the information technology and health care sectors were leading the charge, with each having posted better than 6% gains over the last month, according to Fidelity, compared with a gain of around 5% for the S&P 500 Index (SPX). But even the worst-performing sectors during the last month (utilities and energy), rose significantly in that stretch, with each up more than 2%. So it's been a pretty broad-based rally, and the this week's strong earnings reports from information technology and financial firms seemed to give it renewed momentum. With the recent move higher across nearly all sectors, the only sector that's lower year to date is financials, which are still down approximately 1%.
Inclusion of specific security names in this commentary does not constitute a recommendation from TD Ameritrade to buy, sell, or hold.
Market volatility, volume, and system availability may delay account access and trade executions.
Past performance of a security or strategy does not guarantee future results or success.
Options are not suitable for all investors as the special risks inherent to options trading may expose investors to potentially rapid and substantial losses. Options trading subject to TD Ameritrade review and approval. Please read Characteristics and Risks of Standardized Options before investing in options.
Supporting documentation for any claims, comparisons, statistics, or other technical data will be supplied upon request.
The information is not intended to be investment advice or construed as a recommendation or endorsement of any particular investment or investment strategy, and is for illustrative purposes only. Be sure to understand all risks involved with each strategy, including commission costs, before attempting to place any trade. Clients must consider all relevant risk factors, including their own personal financial situations, before trading.
TD Ameritrade, Inc., member FINRA/SIPC. TD Ameritrade is a trademark jointly owned by TD Ameritrade IP Company, Inc. and The Toronto-Dominion Bank. © 2016 TD Ameritrade IP Company, Inc. All rights reserved. Used with permission.
View Comments and Join the Discussion!
Posted-In: Analyst Color Earnings News Previews Analyst Ratings Trading Ideas Reviews General