Goldman Sachs Negative On SolarCity Moments Before News Hit Of Tesla's Interest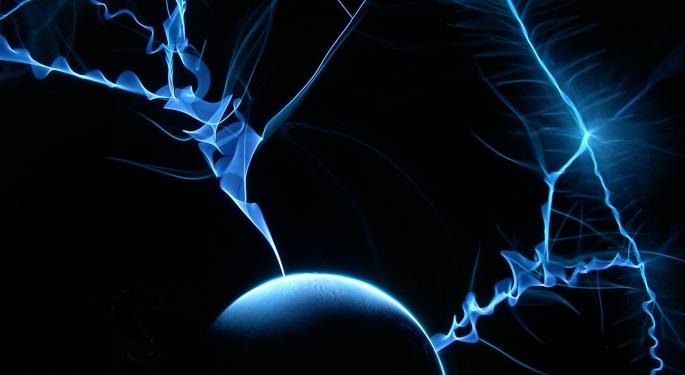 After hours on Tuesday, before news hit that Tesla Motors Inc (NASDAQ: TSLA) proclaimed interest in SolarCity Corp (NASDAQ: SCTY), Goldman Sachs once again showed the amazing timing they have in lieu of the Chinese Wall that exists between research and investment banking. Recall on May 18 when Goldman upgraded Tesla overnight and placed the company on its Conviction Buy List and by the end of the day we learned of Tesla's $2 billion offering.
This time around, Goldman came out swinging negatively on SolarCity's debt structure roughly 30 minutes prior to the news of Tesla's interest hitting desks just after 5 p.m. EDT.
Related Link: Musk Be Nice? SolarCity Spikes 20% Amid Acquisition Offer From Tesla
In the note, Goldman's Brian Lee said, to wit:
"SCTY is facing $1.5bn of pending debt maturities by the end of 2017 – the majority of which are shorter-term debt facilities that will likely need to be refinanced with longer-tenor debt or paid down via capital raised from cash equity monetization per recent actions."
Lee isn't the first to be wary of SolarCity's debt set up. On June 6, Credit Suisse's Patrick Jobin penned his concerns over SolarCity's third-party loan model:
"Using SCTY's recent introduction of the 20-year loan at 4.99%, we back into value creation metrics for the loan compared to leases. We estimate considerable margin pressure from the loan product (~$0.48/watt in NPV) compared to the value potential of a lease system held on balance sheet (~$0.93/w in NPV assuming only the 20-year contracted period and a 6% discount rate; even at an 8% WACC we see the transaction as margin dilutive)."
Getting back to the timing of the team at Goldman Sachs, Lee said investor feedback has yielded the like minded view that "SCTY's covenants are a particular point of focus in the very near term."
So why would Tesla even be interested in SolarCity? One could speculate it would relate to the funding pinch Elon Musk is in after pledging his own shares and Tesla company shares as a means to secure loans. Recall what was disclosed in Tesla's May 18 filing:

Given that Musk is now in an epic pinch for funding, it's not entirely surprising that eight years into the Fed-driven recovery Musk feels his best shot at further funding would be to buy SolarCity. The Tesla blog said it would be looking to exchange one SolarCity share for 0.122x-0.131x of Tesla equity.
Goldman highlighted the horrible positioning SolarCity has among peers when it comes to percentage of debt that is due by 2017: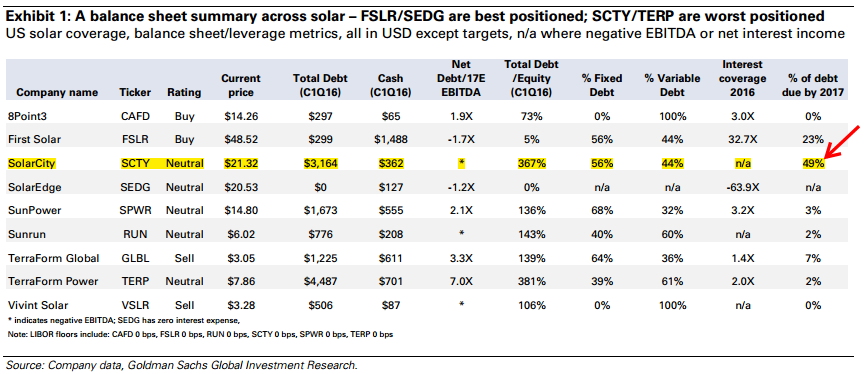 SolarCity isn't exactly sitting cash rich as its Total Debt to Shareholder equity remains elevated just shy of 400 percent, which dwarfs that of its peers: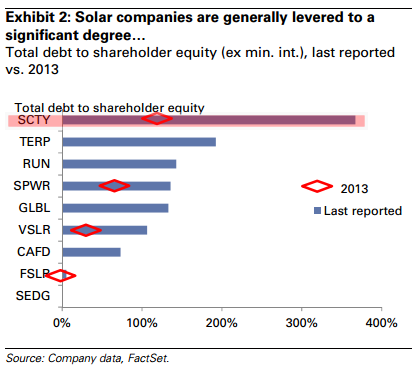 As Hunter S. Thompson has been credited with saying, "When the going gets weird, the weird turn pro."
View Comments and Join the Discussion!
Posted-In: Brian Lee Credit SuisseAnalyst Color M&A News Opinion Top Stories Analyst Ratings Best of Benzinga