Could Anadarko's Debt Be The Reason No M&A Rumors Have Come To Fruition?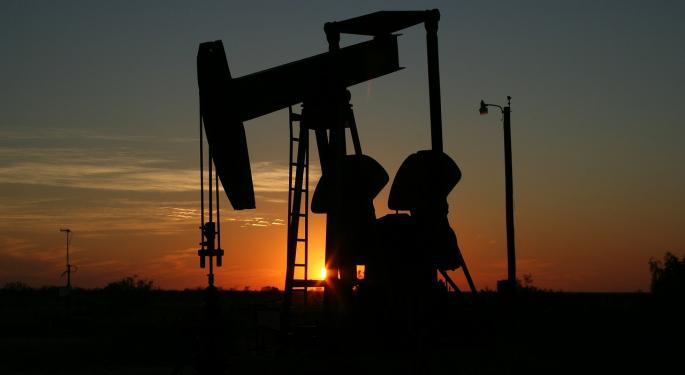 Less than an hour after the open on Tuesday, chatter circulated trade desks mentioning possible interest from Chevron Corporation (NYSE: CVX) for Anadarko Petroleum Corporation (NYSE: APC).
Anadarko has been a regularly mentioned takeover candidate primarily due to the company's exposure to the longer-cycled deep water assets. After the dust settled Tuesday, whoever held the lottery ticket for Chevron July 2016 Calls on the 105 strike saw a return over roughly 103 percent on the day. Bravo!
Anadarko's Metrics Show Signs Of Pressure
A late May note from Citigroup's Robert Morris contained the following table highlighting Anadarko's year-on-year change in Dry Gas spending and Exploration & Development budget growth. Dry Gas, relative to the group, has essentially disappeared: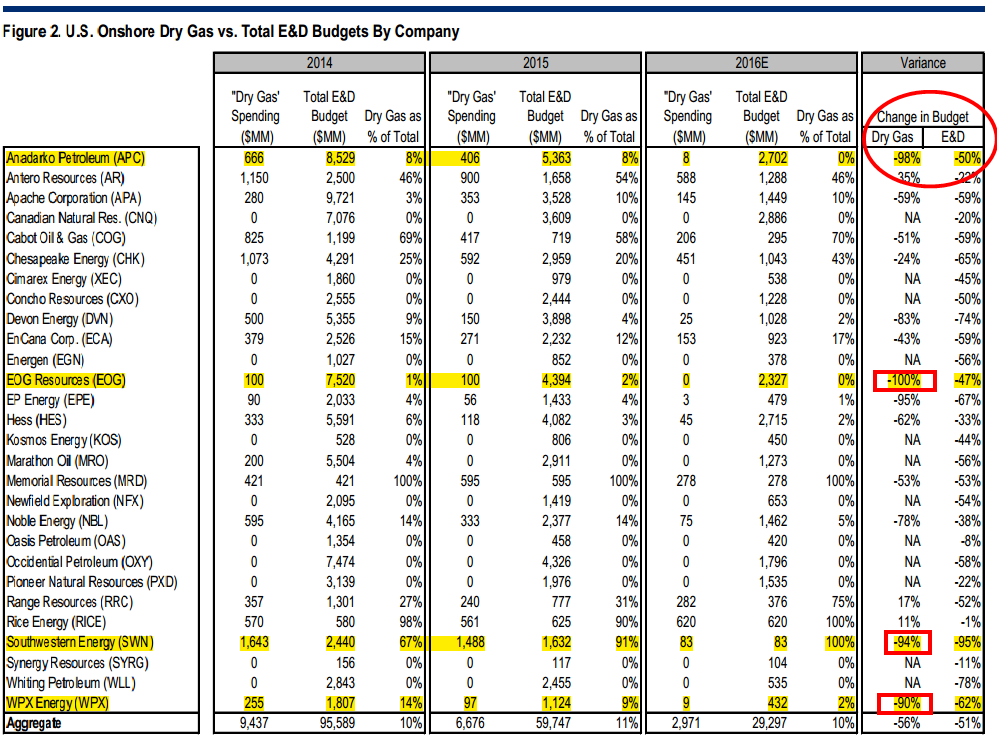 Goldman Sachs' Brian Kinsella said his note on June 3 that hedge funds have found weaker positioned names appealing.
Kinsella wrote:
"...conversations have centered around APC, MRO, NBL, APA, DVN – each benchmark large caps. Hedge funds are still looking for opportunities for weak balance sheet stocks that may be helped by $50+ oil prices or $3+ natural gas prices and are more willing to consider opportunities below the "next rung down" balance sheet-wise."
Lending for the distressed names in the oil complex has been difficult, which is no surprise to those well-verse in the industry.
Citigroup said loans to large firms have tightened, leaving companies primed for loans to come from sources other than the banks.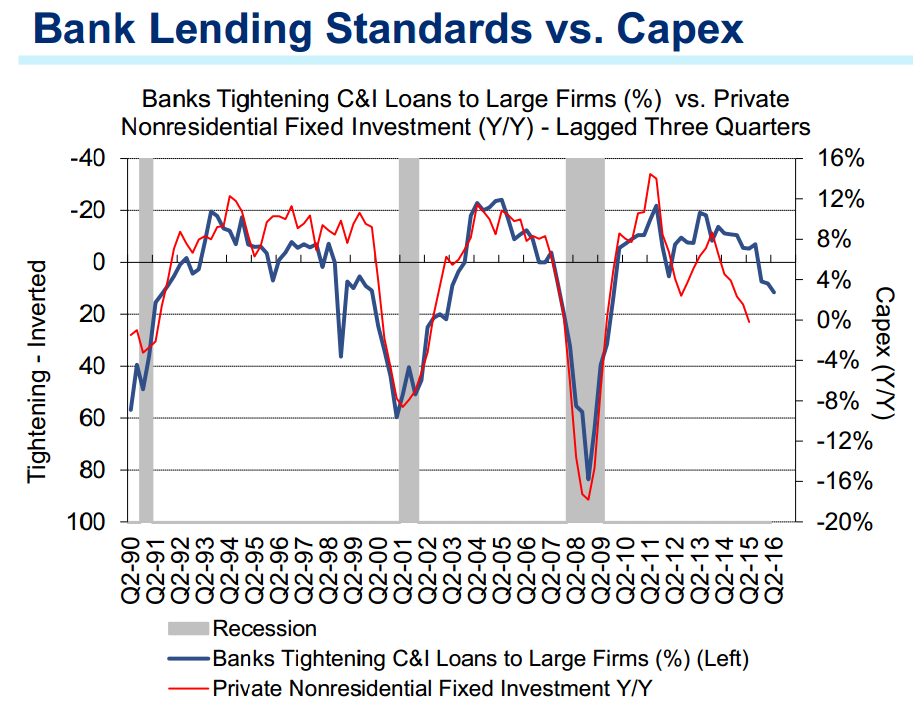 Debt Management
Financing pressures are nothing new in lieu of the Zero Hedge exclusive about the Dallas Fed meeting with banks to help control the destruction to balance sheets following years of ZIRP. A majority of the oil complex firms don't necessarily require higher oil prices; they merely require stable prices according to RF Lafferty's energy specialist Jaime Perez. As the market searches for equilibrium, value investors continue to poke around for out-of-favor names offering Alpha opportunities.
Perez told Benzinga in a phone interview Tuesday, "private equity and hedge funds are being used, when necessary, to provide alternative financing" on deals in the oil complex and the coal complex. Perez said his primary concern with Anadarko is the company's debt level, which is pushing $19 billion and the Debt/Equity ratio has exploded from 0.23 to 0.70 over the 20 months or so: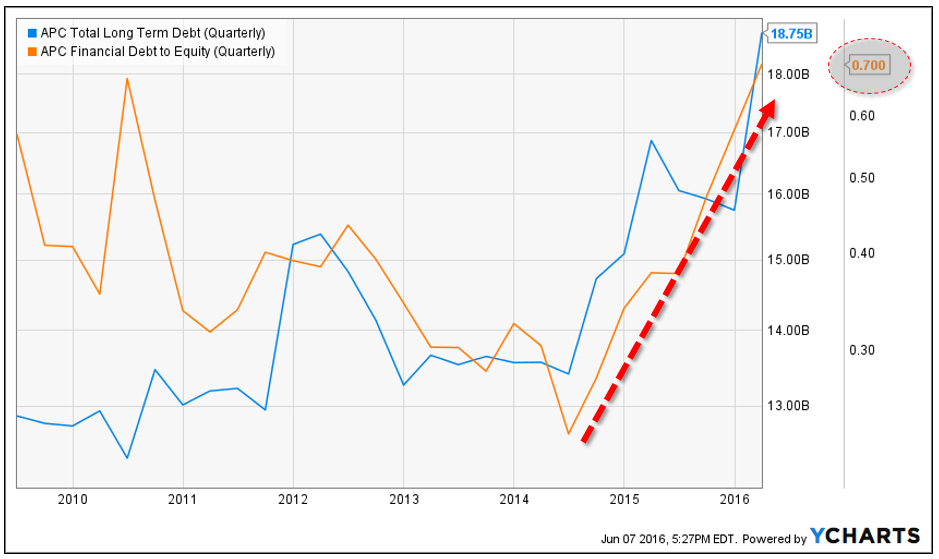 Goldman laid out the performance of Anadarko's paper and it's not doing too well if you're long: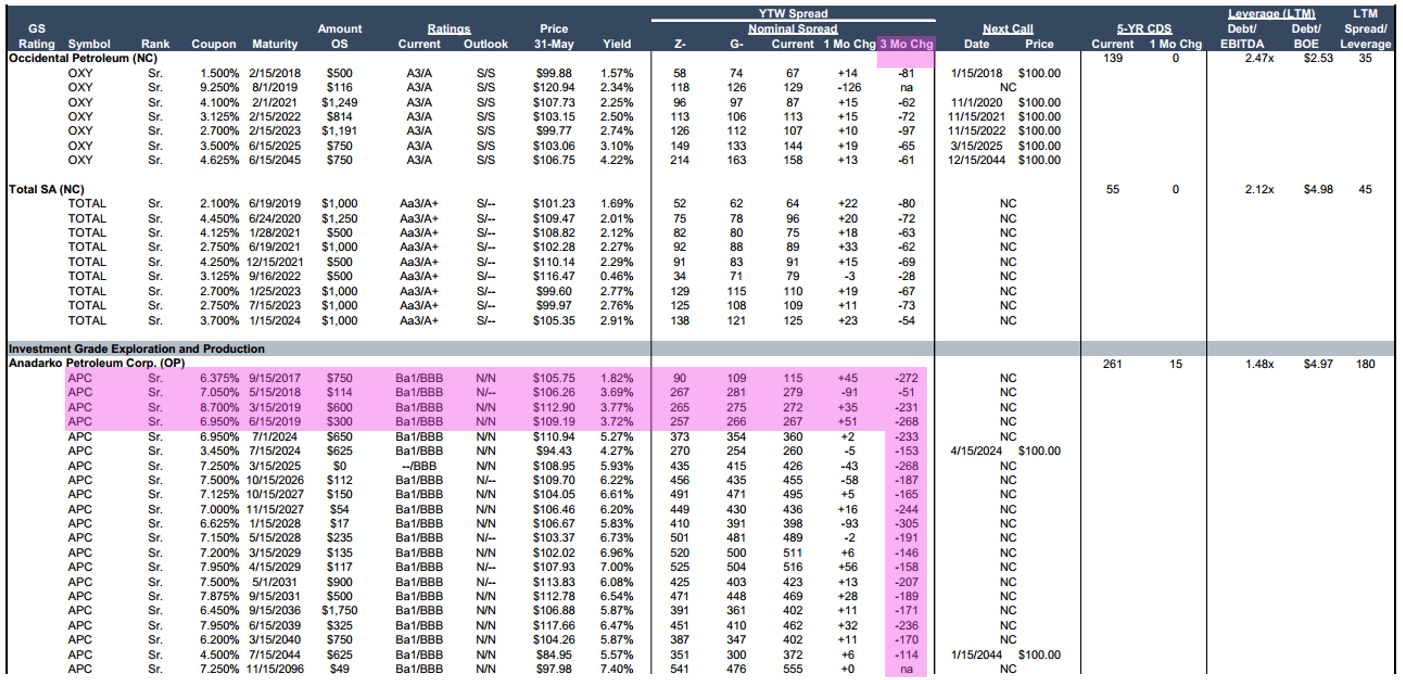 In a May 4 note, Credit Suisse's Edward Westlake commented on Anadarko's debt saying, "It's quite impressive to see how much debt has a duration beyond 2023 (at which point some investors think we will be driving Tesla's)."
Westlake said the limited maturities due between 2017-2019 coupled with Anadarko's execution/disposal ability leaves little headwinds for the company in the near-term.
Anadarko's debt structure leaves little hope that anyone would come in an buy the company.
Chevron Management Leaves Little To The Imagination
After Tuesday's close, Barclays poured some water on the M&A chatter fire when they released a note reviewing a meeting with Chevron management.
The note essentially relayed the view that Chevron isn't looking to buy anybody, let alone Anadarko.
To wit:
"Management continues to think that the bid­ask spread remains too wide and does not see many opportunities. In addition, CVX is skeptical that the current downturn will trigger an industry­ wide consolidation trend. For large cap IOCs, management believes the ratio of potential synergies is too low relative to companies' market cap in order to make many potential transactions attractive. Also, management thinks the regulatory environment may prove more challenging today for large consolidations compared to the late 1990s/early 2000s. Equally important, management does not believe a new wave of major consolidations will solve the industry's current underlying challenges."
And also, "CVX has no plan to expand its U.S. or the global refining exposure"
Sorry speculators. It appears Chevron isn't interested in courting Anadarko.
But Wait, There's More!
Chevron's comments don't mean Anadarko will see a drop off in interest from other firms. Possible suitors that would be a better fit for acquiring would likely be BHP Billiton Limited (ADR) (NYSE: BHP) or Statoil ASA(ADR) (NYSE: STO), according to Perez. He told Benzinga BHP or Statoil would make more sense due to their subsidiary presence in the US.
Posted-In: Analyst Color News Rumors Commodities M&A Top Stories Exclusives After-Hours Center Best of Benzinga
View Comments and Join the Discussion!