JPMorgan Comments On April Class 8 Engine Factory Shipments Share Data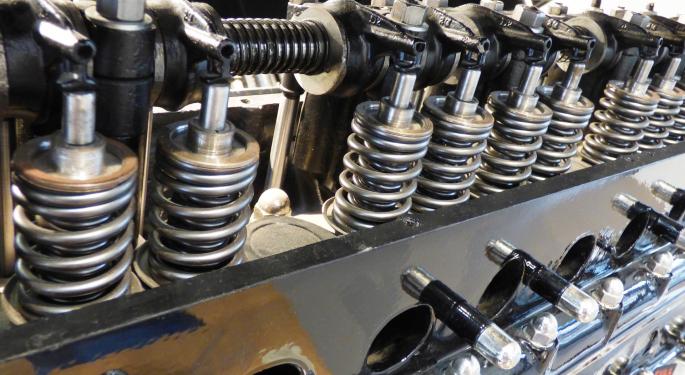 JPMorgan's Ann Duignan commented on the Ward's Automotive's Class 8 engine market share data and its impact on Navistar International Corp (NYSE: NAV), PACCAR Inc (NASDAQ: PCAR) and Cummins Inc. (NYSE: CMI).
According to Ward's data, Navistar's share of Class 8 truck engine factory shipments increased 180bps MoM to 13.5 percent. Paccar's market share of factory shipments with its own engine was 12 percent in April, up from 11.5 percent in March and Cummins's overall Class 8 share increased slightly to 32.7 percent in April, from 32.6 percent in March.
On a month-over-month basis, Navistar's share of factory shipments (with its own engines) was flat MoM in April at 5.0 percent (4.4 percent in second quarter). The company's share of factory shipments was 13.5 percent in April and 11.7 percent in the second quarter.
"CMI engines made up 63 percent of NAV's shipments in the month (an additional 8.5 percent of overall engine shipments, up from 6.8 percent in March) and 63.1 percent in FQ2. NAV's share of Class 8 retail sales was 12.2 percent in April (~11.6 percent in FQ2)," Duignan wrote in a note.
Paccar's share of factory shipments grew from a 2.3 percent share in 2010 to 10.8 percent in 2015 to 12 percent in 2016 year-to-date.
"PCAR still relies on CMI for its 15-L engine, accounting for ~56 percent of PCAR shipments in April, down from 59 percent share in 2015. PCAR's share of Class 8 retail sales was 27.6 percent in April (~25.9 percent in 2016 YTD)," the analyst said.
For Cummins, the company's year-to-date share of total Class 8 engine shipments is 32.8 percent, above CMI's 2016 guidance range of 27-30 percent. Cummins's share has been trending down from the 2009 peak (about 46.9 percent).
Meanwhile, the analyst noted that Volvo AB (ADR) (OTC: VOLVY) has gained share in April, but Detroit Diesel lost share. Volvo's share was up 130bps MoM to 9.3 percent in April and was 8.6 percent YTD, while Detroit Diesel's engine share was 29.4 percent in April (down from March's 32.9 percent) and 32.3 percent YTD.
Freightliner's Class 8 retail truck share was 41.5 percent in March and 43.3 percent YTD and it relied on Cummins for 19.8 percent of its engines in April (vs. 22.1 percent in March) and 20.9 percent YTD.
"We will continue to watch this trend as OEMs aggressively pursue vertical integration which has steadily reduced CMI's engine penetration in recent years," Duigan highlighted.
Shares of Navistar closed Tuesday's regular trading session at $11.27, Paccar at $55.75 and Cummins at $114.47.
View Comments and Join the Discussion!
Posted-In: Ann Duigan navistar PACCARAnalyst Color News Analyst Ratings Best of Benzinga