Intel: What Everyone On The Street Thinks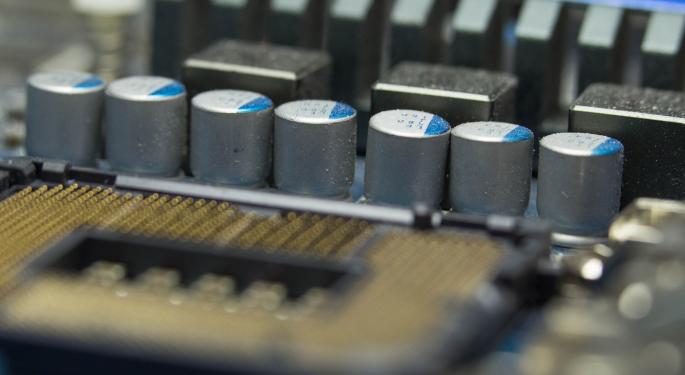 Intel Corporation (NASDAQ: INTC) reported mixed Q1 results after Tuesday's close. Revenue came in at $13.8 billion, above the $13.7 billion consensus, but down 7 percent quarter-over-quarter. Gross margins came in at 62.7 percent, above company guidance of 62 percent, and EPS was six cents above the consensus at $0.54.
Below is a rundown of analyst sentiments, ratings and valuations following the results.
SunTrust: Neutral, $31.60 PT
SunTrust's William Stein commented, "Transformation from PC to Cloud accelerates; Bull/Bear thesis stays balanced. INTC's transition from a PC to a Cloud company accelerated in CQ1, but the bull vs. bear views remain balanced. A PC shortfall triggered restructuring to re-focus investments away from PCs, to DCG (Cloud) and IoT.
"Bulls will highlight INTC's improving profitability and exposure to growth markets. Bears will highlight five years of approximately flat EPS and CCG still represents >50 percent/revs."
"We acknowledge both views, and ultimately are concerned that INTC's DCG growth is dependent on ALTR and 3D Xpoint that remain unclear to us," Stein concluded.
SunTrust upped the 2017 EPS from $2.60 to $2.66.
Related Link: Buy The Dip, Mentality Reigns Supreme In Intel
Brean Capital: Buy, $36.00 PT
Brean Capital analyst Mike Burton focused on the mixed results, stating that the EPS beat was not that great, and revenue ultimately disappointed.
"Netting out all the moving parts, we are slightly decreasing our CY16E EPS by $0.03 (or 1 percent) and raising our CY17E by $0.10 (or 4 percent) […] Intel delivered disappointing revenue but better EPS," Burton began. "Given its size and maturity, Intel generally trades at a discount to our coverage universe of mobile, consumer and communications semiconductor companies and above its 'large cap tech' peers."
Brean adjusted estimates as follows:
Q2: non-GAAP revenue down to $13.5 billion from 13.9 billion
CY16: non-GAAP revenue and EPS down to $56.8 billion/$2.32 billion from previous $57.7 billion/$2.35
CY17: non-GAAP revenue down from $62.2 billion to $59.6 billion and EPS up from $2.60 to $2.70
Citi: Neutral, $31.00 PT
Citi analysts, led by Christopher Danely lowered estimates, while maintaining the firm's neutral view on the company, citing "belief in downside to consensus."
"We believe Intel guidance is still too aggressive as the company appears to expect stronger revenue growth in 2H16 versus 2H15. Although we believe Intel could have a design win at Apple, we believe the revenue will be insignificant as will impact the earnings. We expect Intel's 2016 guidance to come down again, similar to last year. We would also note Intel missed expectations for DCG in 1Q16."
Danely lowered C16 revenue estimates to $56.9 billion from the previous $58.7 billion, and maintained the $2.35 EPS for C16. C17 revenue estimates were likewise lowered from $60.1 billion to $59.1 billion, while the EPS for C17 was lowered by three cents to $2.51. For C18, revenue and EPS estimates were lowered from $61.8 billion/$2.61 to $61.4 billion/$2.60.
Related Link: Intel To Cut 12,000 Jobs, 11% Of Its Workforce, In Restructuring Effort
Goldman Sachs: Neutral, $33.00 PT
Goldman Sachs analysts led by Toshiya Hari maintain the Neutral rating on Intel, but lowered their price targets.
"While INTC's restructuring initiatives is a move in the right direction, the efforts are more of an acknowledgement of what has been a difficult environment for quite some time, rather than a true proactive measure, in our view," Hari said.
"With all signs pointing to continued weakness in PCs (Vs. previous industry hope the market would see stabilization in 2016) and DCG growth continuing to fall short of expectations in 1Q (last four quarters have been below INTC's 15 percent long-term targeted growth rate), we see limited avenues for estimate upside from here and thus remain sidelined."
Besides the lowered price target, Goldman Sachs did not change any other valuation estimates at this time.
Credit Suisse: Outperform, $40 PT
Credit Suisse highlighted that the C1Q results were "mostly in-line" with the previews, and while the guidance for C2Q was below the firm's estimates, it remains "consistent with seasonality."
"On INTC, our thesis remains intact as the Company begins to show operating leverage from prior investments, a scarcity value as most large cap tech companies have been choking investment in favor of financial engineering," the analysts explained.
Credit Suisse lowered its CY16 revenue estimates to $57.29 billion from a previous $57.62 billion. However, EPS estimates were raised to $2.40 from $2.35.
For CY17, Credit Suisse maintains the EPS estimate of $2.70, but lowers the CY17 revenue to $59.60 billion from $61.66 billion.
JPMorgan: Overweight, $39.00 PT
JPMorgan analysts "are confident in double-digit DCG revenue growth" following Intel's earnings, despite PC remaining weak and the restructuring announcement.
"Although some investors remain skeptical of DCG being able to achieve double-digit y/y revenue growth, management remains confident, as are we, that the team should be able to drive such growth," Harlan Sur stated.
JPMorgan adjusted revenue and EPS estimates for 2016 from $57.6 billion/$2.30 to $57.4 billion/$2.40.
Related Link: Intel's Restructuring Efforts Are A "Bad Paint Job"
Deutsche Bank: Buy, PT $37.00
Analyst Ross Seymore and peers believe that despite the weak outlook and mixed quarterly results, Intel's restructuring will help improve profitability.
"Intel reported 1Q16 revenues in line with our reduced outlook, but 2Q guidance was much weaker, which will likely weigh on the stock in the near term," Seymore explained. "That said, we applaud Intel for finally taking decisive actions to address its cost structure with an announcement of significant restructuring."
Deutsche Bank subsequently raised its 2017E EPS to $2.50 from $2.45.
Summit Research: Buy, $37 PT
Srini Sundararajan, Srini Nandury and Jonathan Kees proclaimed, "Who says elephants can't dance!"
"Intel keeps capex the same and aims to become nimble," the analysts explained. "Intel kept its $9.5+ billion/$0.5 billion capex unchanged and it would seem that Intel wants to ge4t back to its two-year tick-tock cadence instead of its 2.5-year cadence […] Keeping capex the same while proceeding with a layoff confirms that Intel is trying to be more nimble and re-focusing itself away from the PC. We maintain a Buy because 2H looks much better than 1H."
Summit Research decreased the second quarter's estimates to $13.6 billion/$0.44 (excluding restructuring charges), or $13.6 billion/$0.22 (including restructuring charges) from $13.8 billion/$0.45. For the full year, the estimates change to $58.1 billion/$2.30 (ex-restructuring charges) from $57.9 billion/$2.35.
Bernstein: Underperform, $26.00 PT
On the other hand, Bernstein is less pleased with Intel's report, calling it "like a bad paint job."
Stacy Rasgon and other Bernstein analysts stated, "Compared to recently lowered expectations into the print, the quarter was OK, with revenues roughly in-line and an EPS beat. However, as we expected the company materially reset Q2 and full-year business outlook, guiding well below consensus for Q2, and lowering 2016 revenue and gross margin forecasts."
Bernstein thus increased their EPS estimates, but cautioned, "[T]he drivers are low-quality." The EPS for 2016 was raised to $2.39, 2017's to $2.31 and 2018's to $2.37.
"While cost cuts may give optimistic investors something to grasp for now, in general we question why investors would want to pay for these kinds of 'improvements' while the fundamentals of the company continue to deteriorate."
2016 revenue estimates were subsequently lowered to $57.1 billion from $57.8 billion.
2017 revenue estimates were also lowered, from $59.8 billion to $58.8 billion.
2018 revenue estimates were lowered from $61.1 billion to $60.0 billion.
Posted-In: Analyst Color Earnings Long Ideas News Guidance Top Stories Analyst Ratings Trading Ideas Best of Benzinga
View Comments and Join the Discussion!