Phil Davis On What To Expect From, And How To Play, The Doha Meeting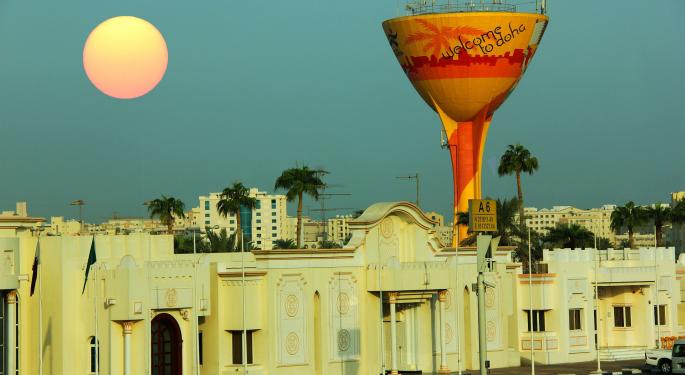 As depressed oil prices persist, some of the world's top oil-producing countries will meet in Doha, Qatar, this weekend. The 13 OPEC members, Russia, Mexico and another five non-OPEC nations will get together to discuss possible strategies, including a production freeze at January levels, to drive oil prices up.
On Friday morning, Phil Davis, founder of Phil's Stock World, was on Benzinga's Pre-Market Prep show, and discussed a few implications of, and ways to play, the Doha meeting.
The Meeting And Circumstances
The meeting "will not have the impact people think it's going to have," he assured. "OPEC is getting together with Russia [and] that's a big deal, that's never happened before." And, what they will try to do is agree on a production freeze, Davis went on to explain.
Related Link: Asian Stocks Dip Lower Following Concerning China Report; Oil Falls Ahead Of Doha Meeting
The expert explicated that there clearly is surplus of oil right now; according to Phil's Stock World's calculations, the surplus now reaches roughly 3 million barrels a day – almost double what official figures suggest. "So, freezing production at a level where you have a tremendous glut is not going to solve the situation… They are also not getting anyone in America to agree to a freeze," and the situation is similar in Europe. So, if prices go up, this will lead to more American and European oil coming online, he explained. And, of course, this would not help OPEC countries.
How To Play The Doha Meeting
Following the recent run-up (or about 30 percent) in oil prices, Davis began shorting the commodity on Thursday on the belief that, even if an agreement is reached, oil will go back to the high 30s.
Talking about banks, their "bad loans" and exposure to the oil markets, Davis said his firm shorted the Nikkei and the S&P on Thursday. In fact, he noted, the S&P futures were still a good short at 2,075 on Friday morning.
The problem for banks is that they are very exposed to oil, and smaller companies, on the verge of bankruptcy, can pose big issues for them, "and everybody is praying that OPEC is going to save everybody; once they don't— things are going to start collapsing," the expert concluded.
Disclosure: Javier Hasse holds no positions in any of the securities mentioned above.
Posted-In: Analyst Color News Commodities Events Global Exclusives Markets Analyst Ratings Best of Benzinga
View Comments and Join the Discussion!