Disappointing March Auto Sales Spell Trouble For 2016 Targets; Autos React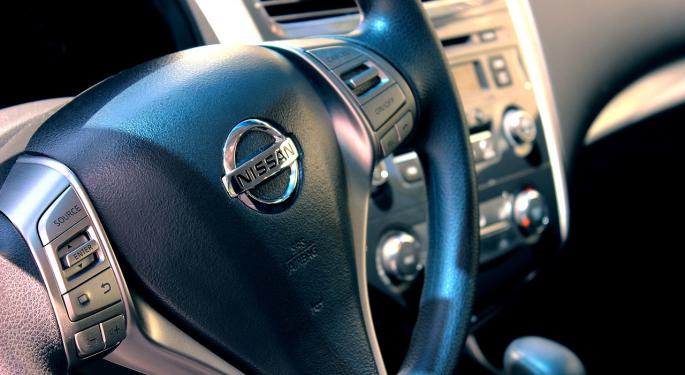 U.S. auto sales figures have come in for March, and despite strong February numbers, March did not follow suit.
March's Seasonally Adjusted Annual Rate (SAAR) fell short, coming in at 16.46 million. The slip subsequently led to increased risk for 2016's NA production, according to analysts at Credit Suisse.
SAAR Concerns
For the first time in 13 months, light vehicle SAAR numbers came in the 16 million handle.
"The retail selling rate also appeared to slow again, as we estimate the retail SAAR landed in the mid-to-high 12 million rang," the analysts explained.
In addressing the possibility of seasonality headwinds, the analysts shrugged off the possibility that Easter weekend had much influence over the disappointing figures:
"While the timing of the Easter holiday may have contributed to the weaker than expected sales figures, we note that historically the March SAAR has been relatively unaffected by the holiday. Since 1997, there have been four other instances of Easter Sunday landing on the final weekend of March; each time, the March SAAR was roughly in line with the corresponding 6 million trailing average."
Related Link: February Car Sales Expected To Hit 15-Year High
Downside Risks Emerge
While final inventory numbers have not been calculated as of yet, the analysts are doubtful of any improvement compared to February's figures. "We don't expect there was an improvement vs. February, where estimated seasonally-adjusted dealer stocks were 5 percent above normal."
Therefore, the analysts concluded, "But looking at Q1 overall, production levels are not justified by Q1 demand and it's beginning to appear that even our flat y/y production forecast in 2016 could be at risk."
"For context," they elaborated, "we estimate a 400 bps reduction in 2016 NA industry production would cut supplier earnings (vs. cons) by ~5 percent on avg with DLPH displaying the lowest downside risk."
A Few Names
Broadly speaking, the analysts expect price discipline to remain consistent in the mid-term for automakers. However, ex-GM, Credit Suisse sees "significant risk" to Q3 production schedules."
The analysts spoke on General Motors Company (NYSE: GM) and Ford Motor Company (NYSE: F) specifically.
From their calculations, the analysts stated that GM retail figures are up, but the decline in rental sales has resulted in an essentially flat growth portrait. "Better retail mix should benefit current GM margins…and we see low production risk for GM given tight inventories."
Related Link: Play Strong Auto Sales Without Buying Car Stocks
For Ford, the analysts noted the opposite is true, with retail sales down 2 percent, but rental rates up 67 percent. "Ford looks to be in the opposite situation in terms of retail/fleet mix, with meaningful production risk if demand doesn't increase."
Ford was trading down roughly 2 percent at $12.84, while GM was down 1.67 percent at $29.96.
Delphi Automotive PLC (NYSE: DLPH) is currently down 3.67 percent at $70.99.
Honda Motor Co Ltd (ADR) (NYSE: HMC) is down 1.68 percent at $26.11.
Nissan Motor Co Ltd (ADR) (OTC: NSANY) is down 2.65 percent at $17.48.
Toyota Motor Corp (ADR) (NYSE: TM) is down 2.09 percent at $101.38.
Daimler AG (OTC: DDAIF) is down 1.22 percent at $74.63.
Volkswagen AG (ADR) (OTC: VLKAY) is down 0.78 percent at $28.03.
View Comments and Join the Discussion!
Posted-In: Credit SuisseAnalyst Color Top Stories Analyst Ratings Movers Best of Benzinga