DeVry: Creating A Workforce Or Cutting Employees?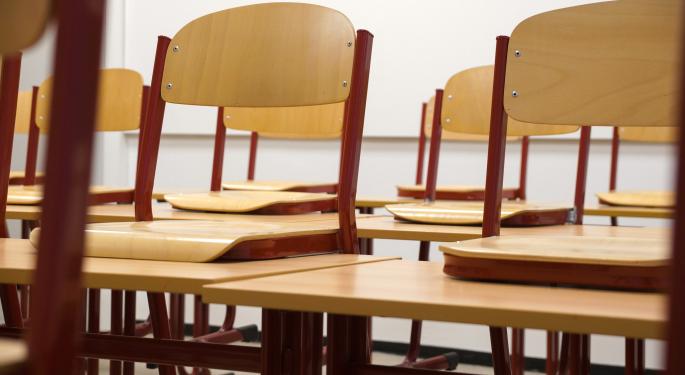 The for-profit education industry has long been in decline. Over the past five years, these post-secondary education stocks have tumbled. Many take note of the demise of Corinthian Colleges, whose stock once traded as high as $35.81 in 2004 before being delisted in February 2015, as a warning sign for the industry.
Some other notable names in the space and their subsequent five-year slide include:
American Public Education, Inc (NASDAQ: APEI): High of $49.29, now trades at $20.64.
Apollo Education Group Inc (NASDAQ: APOL): High of $58.29, now trades at $8.18.
ITT Educational Services, Inc. (NYSE: ESI): High of $95.52, now trades at $3.15.
Another name under pressure has been DeVry Education Group Inc (NYSE: DV), whose stock in February fell from the $26 level on FTC reports that the company made deceptive claims that 90 percent of graduates would land jobs within six months. Benzinga also heard the company was looking to make several hundred layoffs in the near future.
According to Indeed, DeVry's job postings decreased compared to competitors leading up to these recent events.
There is a notable drop-off in late June 2015, followed by a steady decline heading into the new year. So what spurred this drastic change?
A simple reason would be that the company's business is enduring a tough period. Another reason could be that they are prepping for coming legal pushback from Defense to Repayment rulemaking by the Department of Education.
At its most basic, the Defense to Repayment obligates the federal government to forgive federal loans from former students.
'Most Concerning'
Credit Suisse's Trace Urdan, in a note on March 28, believed the changes being proposed could have "as great an impact on the industry as the controversial Gainful Employment rules." In his research, he noted that litigation is likely to increase in the area, with the greatest risk facing for-profit education sectors.
Urdan noted to Benzinga that DeVry is the name he is most concerned with in light of these potential rule changes.
He believes the potential job cuts wouldn't be a cause of this ruling, but rather to a declining core business. The cuts actually may be beneficial for investors, as the company becomes leaner. Either way, Urdan said the media coverage surrounding this issue has been light, and doesn't expect it to pick up until July when the Department of Education's draft will be reviewed.
Now What?
DeVry continues to face not only FTC legal pressure, but also industry rule changes. Despite this, the company has held up well compared to many of its peers over the past five years. It remains to be seen the impact this new post-secondary legislation will have on not only DeVry, but its competitors as well.
The company has declined to comment multiple times since January.
View Comments and Join the Discussion!
Posted-In: Analyst Color Education Rumors Legal Top Stories Market-Moving Exclusives Exclusives General Best of Benzinga