11 Things We Learned From Warren Buffett's Annual Shareholder Letter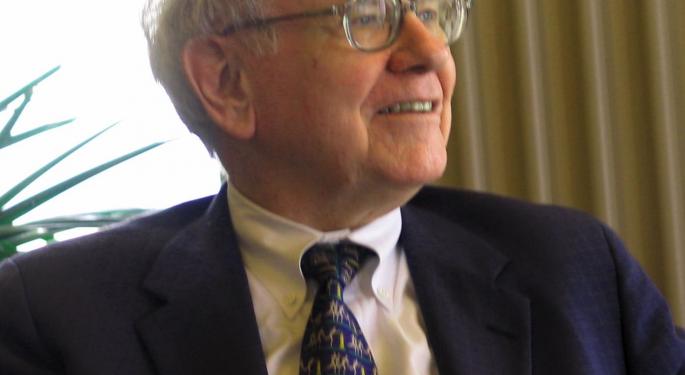 Berkshire Hathaway Inc. (NYSE: BRK-A) (NYSE: BRK-B)'s 51st annual shareholder letter was released Saturday.
Here are 11 things (in quote form) the public learned from Buffett this year.
1. "Berkshire's gain in net worth during 2015 was $15.4 billion, which increased the per-share book value of both our Class A and Class B stock by 6.4 percent. Over the last 51 years (that is, since present management took over), per-share book value has grown from $19 to $155,501, a rate of $19.2 percent compounded annually."
2. "We've had experience with both outcomes: I've made some dumb purchases, and the amount I paid for the economic goodwill of those companies was later written off, a move that reduced Berkshire's book value. We've also had some winners – a few of them very big – but have not written those up by a penny. Over time, this asymmetrical accounting treatment (with which we agree) necessarily widens the gap between intrinsic value and book value."
3. "The most important development at Berkshire during 2015 was not financial, though it led to better earnings. After a poor performance in 2014, our BNSF railroad dramatically improved its service to customers last year. To attain that result, we invested about $5.8 billion during the year in capital expenditures, a sum far and away the record for any American railroad and nearly three times our annual depreciation charge. It was money well spent."
4. "BNSF is the largest of our 'Powerhouse Five,' a group that also includes Berkshire Hathaway Energy, Marmon, Lubrizol and IMC. Combined, these companies – our five most profitable non-insurance businesses – earned $13.1 billion in 2015, an increase of $650 million over 2014."
5. "Next year, I will be discussing the 'Powerhouse Six.' The newcomer will be Precision Castparts Corp. (NYSE: PCP) ('PCC'), a business that we purchased a month ago for more than $32 billion of cash. PCC fits perfectly into the Berkshire model and will subsequently increase our normalized per-share earning power."
6. "With the PCC acquisition, Berkshire will own 10 ¼ companies that would populate the Fortune 500 if they were stand-alone businesses. (our 27 percent holding of Kraft Heinz Co (NASDAQ: KHC) is the ¼.) That leaves just under 98 percent of America's business giants that have yet to call us. Operators are standing by."
Related Link: 11 Things We Learned From Warren Buffett's Annual Shareholder Letter Last Year
7. "Berkshire's huge and growing insurance operation again operated at an underwriting profit in 2015 – that makes 13 years in a row – and increased its float. During those years, our float – money that doesn't belong to us but that we can invest for Berkshire's benefit – grew from $41 billion to $88 billion. Though neither that gain nor the size of our float is reflected in Berkshire's earnings, float generates significant investment income because of the assets it allows us to hold."
8. "Our Heinz partnership with Jorge Paulo Lemann, Alex Behring and Bernardo Hees more than doubled its size last year by merging with Kraft. Before the transaction, we owned about 53 percent of Heinz at a cost of $4.25 billion. Now we own 325.4 million shares of Kraft Heinz (about 27 percent) that cost us $9.8 billion. The new company has annual sales of $27 billion and can supply you Heinz ketchup or mustard to go with your Oscar Mayer hot dogs that come from the Kraft side. Add a Coke, and you will be enjoying my favorite meal. (We will have the Oscar Mayer Wienermobile at the annual meeting – bring your kids)."
9. "It's an election year, and candidates can't stop speaking about our country's problems (which, of course, only they can solve). As a result of this negative drumbeat, many Americans now believe that their children will not live as well as they themselves do. That view is dead wrong: The babies being born in America today are the luckiest crop in history."
10. "Considering this favorable tailwind [the supporting facts for today's youth being 'the luckiest crop in history'], Berkshire (and to be sure, a great many other businesses) will almost certainly prosper. The managers who succeed Charlie and me will build Berkshire's per-share intrinsic value by following our simple blueprint of: (1) constantly improving the basic earnings power of our many subsidiaries; (2) further increasing their earnings through bolt-on acquisitions; (3) benefiting from the growth of our investees; (4) repurchasing Berkshire shares when they are available at a meaningful discount from intrinsic value; and (5) making an occasional large acquisition. Management will also try to maximize results for you by rarely, if ever issuing Berkshire shares."
11. "It seems highly likely to me that climate change poses a major problem for the planet. I say 'highly likely' rather than 'certain' because I have no scientific aptitude and remember well the dire predictions of most 'experts' about Y2K. It would be foolish, however, for me or anyone to demand 100 percent proof of huge forthcoming damage to the world if that outcome seemed at all possible and if prompt action had even a small chance of thwarting the danger […] Up to now, climate change has not produced more frequent nor more costly hurricanes nor other weather-related events covered by insurance […] As a citizen, you may understandably find climate change keeping you up nights. As a homeowner in a low-lying area, you may wish to consider moving. But when you are thinking only as a shareholder of a major insurer, climate change should not be on your list of worries."
Image Credit: Public Domain
View Comments and Join the Discussion!
Posted-In: Analyst Color News Education Politics Events Top Stories Trading Ideas General Best of Benzinga