Sitting Down With An M&A Analyst: What To Expect Amid 2016's Mini-Crash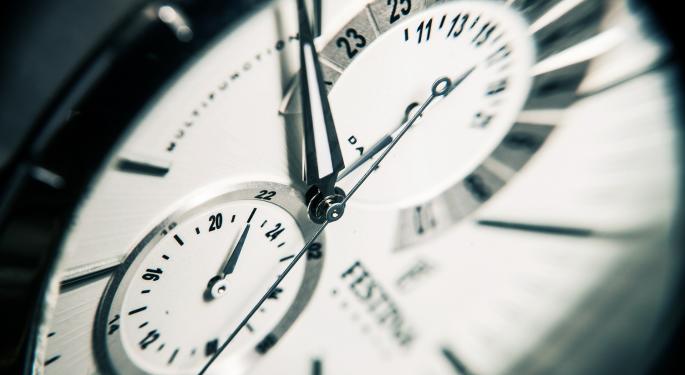 The recently released IntraLinks Holdings Inc (NYSE: IL)'s Deal Flow Predictor (DFP) for 1H 2016 forecasts 3.5 percent growth in global deal announcements over the same period in 2015.
That's significant said Matt Porzio, vice president of M&A strategy and product maketing at IntraLinks, because the first half of 2015 "was a great first half."
Porzio spoke with Benzinga, providing insight for investors and deal makers alike.
Related Link: IntraLinks' Matt Porzio On The Effect Of Fed Rate Hikes On M&A Activity<
Benzinga: Fed interest rate hike talk won't go away. Predictions are all over the map. Can you untangle this as it relates to the latest DFP?
Matt Porzio: For the foreseeable future, we will remain in an historically low interest rate environment. The alternative (for companies) of not doing deals and instead trying to grow organically is probably not their best option.
When rates start to climb, say a couple of points, then you start to see deals that are contingent on financing not being able to get done. That is not in the foreseeable future.
BZ: So, to sum it up, no alarms, bells or whistles at this point?
Porzio: No direct effect, but there is a sort of threat or fear in the back of people's minds that if, all of a sudden, there are four or more significant rate hikes in a year, money starts to get expensive and some of these deals might not be able to get done.
Inflation matters more than rate hikes. A total noninflationary environment on a global basis makes it hard for companies to grow organically. That's going to have a bigger effect on M&A than the expected rate moves over the next year.
BZ: The most recent DFP contains terms like "cautious optimism" and "modestly high volume." Is there a little hedging going on here?
Porzio: (laughs) When we say "Growth is generally slower than a year ago," people tend to think, "Oh, we're hitting a decline?" The answer is, "No, we're still operating at a very high level of M&A, but it's natural that it can't keep growing at the same rate it has been historically."
Basically, we're starting to have more reasonable M&A growth. That's not bad because we're at historic high levels of M&A activity. Nothing indicates we're going to fall off a cliff but we may plateau and that plateau could last years. Nobody really knows.
BZ: Does this become a challenge when it comes to forecasting M&A activity?
Porzio:I don't think so. Based on our data through 2015 Q4, we're able to predict through the first half of 2016. Anything beyond that, we'll start to get clarity as this (current) quarter progresses.
We are highly confident, and our predictor has proven this out, about predicting announced deals over the next six months. DFP will continue to be an accurate predictor. We don't see any issue with the model at all.
The question now is, "What will happen in the second half of 2016?" The drivers are still going to be there. The inorganic growth is proven to be a winner. We'll know more soon, but M&A is still going to grow over the first half of 2015 – which was a great first half.
BZ: The most recent sentiment survey indicates what looks to be an impressive bump in optimism. Do you consider it significant?
Porzio: When I look at it as a whole complete data set, I don't think it's significant. I actually think it's getting back to where we were. I think last quarter's sentiment was based on some of those initial fears in China. I actually think we've kind of 'normalized."
EMEA is leading the way when it comes to optimism. That's because in Europe, the Central Bank is going to continue quantitative easing and keep boosting the economy. They didn't recover as quickly or as much as North America did.
Europe still has legs. There's a lot of optimism and a good environment being fostered by the Central Bank. That, I think, is driving the uptick in optimism overall.
In addition to the Central Bank and quantitative easing, the economies are indeed getting better. From an M&A perspective valuations have been more reasonable. In addition, EMEA is a little more isolated/protected from APAC/China issues.
BZ: The interview with Dr. (J. Keith) Dunbar was interesting in that it focuses on corporate leadership as a predictor of M&A success. Is there a place for such a model within the framework of DFP?
Porzio: Dr. Dunbar's research is about measuring deals after they are completed so it is the opposite of predicting. Over a period of time, you could perhaps see not only how much volume, corporate earnings or profitability good leadership would drive.
Unfortunately that would involve a lot of input we couldn't get on our platform. That is something for 20 years from now.
BZ: What besides China, should investors focus on moving forward?
Porzio: As an individual investor myself, the question becomes what levers are companies using to grow profitability? You can grow topline, cut costs and reduce risk by diversifying or expanding. You can do those things organically or you can go out and buy it.
Growth in M&A becomes an indicator of the confidence of those companies that they can grow and outperform their organic growth strategy by doing M&A. They probably feel they are going to hit their earnings projections and perform well.
As an investor, it gives me confidence when I see that companies are M&A active.
Related Link: IntraLinks Dealnexus Shows More Than 50% Year-over-Year Increase in Deal Profile Volume, Announces Latest Cross-Border Success Story
BZ: Do any sectors stand out for investors as it relates to M&A activity?
Porzio: Real estate. That's a sector we've highlighted two quarters in a row. Two years ago, I didn't even know real estate M&A still happened.
Look at it now, the growth rates are an overall indicator of decent confidence in the economy around the world. When we look at something like Asia Pacific where real estate deals picked up pretty significantly that tells me that as much as China is a fear that is weighing on people, people think rentals are going to continue to grow, people are going to continue to pay, companies are going to get new offices.
Other sectors typically follow real estate in terms of performance. That's a pretty good indicator.
Oil and gas is another example. We finally started to see on a quarter on quarter basis, the energy, oil and gas industry pick up in terms of deal flow. Some of that is distressed divestments. Some of the bigger companies saying, "This is a good time to pick up some values."
If I'm an investor and I look at oil and gas and say "Some of these names that are pretty beaten up, if they can get the right valuation, do they start to sell off assets and make a comeback?" I think it's a signal – and listen, I'm by no means trying to call the bottom – people are saying, "How much downside risk do I have at this point? If I'm a small guy, I probably can't wait for prices to come back but if I'm a big guy, I'm probably buying near the bottom of the market."
Finally, industrials. Corporations are beginning to see the effects of cheap oil prices helping their balance sheets and maybe making it possible to put some of that cash flow to work by buying more companies.
You haven't seen a lot of activity in industrials but in our Deal Nexus platform in the midmarket, we're seeing earlier stage deals just coming to market pretty heavy in industrials. That could be a precursor. I guess it's all sort of inner-connected.
At the time of this writing, Jim Probasco had no position in any mentioned securities.
Image Credit: Public Domain
Posted-In: Analyst Color Long Ideas Education Topics Top Stories Exclusives Markets Analyst Ratings Best of Benzinga
View Comments and Join the Discussion!