Piper Jaffray: Valeant's Business Could Be Broken Up In 2016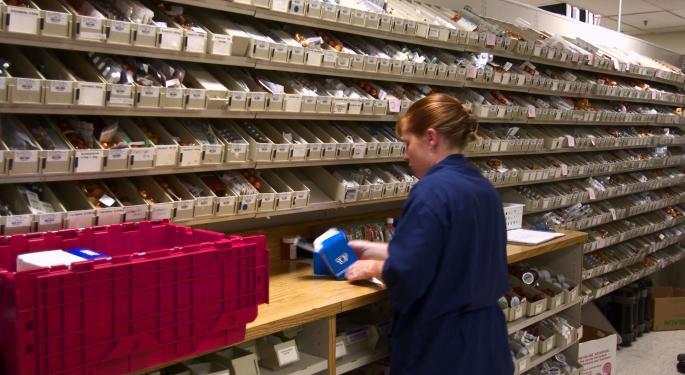 Shares of Valeant Pharmaceuticals Intl Inc (NYSE: VRX) have lost around 55 percent since peaking at $264 back in August.
Joshua Schimmer of Piper Jaffray suggested that Valeant could break up its corporate structure in 2016.
The analyst suggested that many large investors might begin thinking the company would be worth more when broken into pieces.
As part of a bold set of "provocative" predictions for the biopharmaceutical space in 2016, Joshua Schimmer of Piper Jaffray argued that Valeant Pharmaceutical will split itself into various different companies.
Schimmer noted that shares of Valeant have tumbled nearly 55 percent since peaking at $264 back in August following a multi-pronged attack from short sellers and drug pricing concerns. Since then, the company attempted to address investor concerns, as evidence by a recent agreement with Walgreens Boots Alliance Inc (NASDAQ: WBA) as a new pharmacy partner for its dermatology product portfolio.
Management Is 'Relatively Sanguine'
Schimmer continued that Valeant's management remains "relatively sanguine" surrounding the dermatology's growth prospects given its guided double-digit organic growth expectations for 2016. However, the analyst pointed out that Valeant's stock is trading at a current 2016 P/E of 9x his earnings per share estimate of $13.29, which accurately reflects the company's 2016 guidance. Meanwhile, the brand specialty pharma group is trading at a 14x P/E valuation.
Schimmer further noted that Valeant's business would remain under "regulatory scrutiny" for the time being. In addition, the company's senior management has seen their credibility "damaged" following the Philidor "mess." As such, it is merely "logical" for investors to wonder if the stock will see any "meaningful" expansion and recovery – even at a time when the company demonstrates "relatively clean" and "steady execution."
Related Link: Here's Why Valeant Is Worrying Deutsche Bank And Morgan Stanley
Schimmer's Justification
"This brings up a logical question. Do we eventually get to a point where key large shareholders conclude that Valeant will not get a fair multiple even if the business starts to turn around?" Schimmer wrote, "or put another way: is the company worth more when broken into pieces?"
Schimmer offered a "quick thought experiment" to evaluate the market's perception of Valeant's business as a stand-alone company or as various broken up entities.
"Consider for a moment if the Salix inventory debacle had never occurred. In that scenario, what kind of P/E would Salix, as a stand-alone entity, garner today? Prior to the inventory debacle, we estimated that Salix (SLXP, covered pre-acquisition) would deliver north of $11 per share in diluted EPS by 2017 (this was inclusive of meaningful contribution from Xifaxan in diarrhea-predominant irritable bowel syndrome).
"With a durable, high-growth asset like Xifaxan dominating the top-line, and the potential for contribution from the oral form of Relistor, it could be reasonable to conclude that visibility on a long-term earnings CAGR for stand-alone SLXP would be north of 20 percent (and indeed that is certainly the case with these assets under the Valeant umbrella).
"If we assume that SLXP could trade at a multiple in line with a company such as Shire (SHPG; not an unrealistic assumption in our view given that it is viewed has having a relatively durable, high-growth product portfolio), which currently trades at a 2016 P/E of 16x our estimate, respectively, that would translate into a market cap approaching $15 billion for SLXP (and frankly, we could easily see stand-alone SLXP getting an even higher multiple given the continued strong prescription growth for Xifaxan and the potential for oral Relistor in the pipeline). That represents almost of 40 percent of VRX's current market cap, for a product portfolio that by our estimate will not account for more than one-fourth of VRX's EBITDA for 2016E."
The analyst expanded, "Another case in point is B&L. VRX acquired the company for around $9 billion in 2013 (B&L recorded around $3 billion in 2013 revenue). B&L has shown organic growth of north of 10 percent in 2014, and actually has a fairly robust pipeline (both for the pharmaceutical and contact lens/lens care business; one example is glaucoma agent latanoprostene bunod, which is currently under FDA review).
"Given these dynamics, B&L could easily be worth north of $11+ billion today assuming it trades in-line with its peers on an EV/Revenue basis. Between Salix and B&L, that is over $25 billion in value, or just north of 60 percent of VRX's current market cap, for assets that taken together will account for well under half of the top-line contribution in 2016."
Image Credit: By U.S. Navy photo by Chief Warrant Officer 4 Seth Rossman. [Public domain], via Wikimedia Commons
Posted-In: Analyst Color Biotech Long Ideas Health Care Top Stories Analyst Ratings Trading Ideas General Best of Benzinga
View Comments and Join the Discussion!